Mike Pence talks taxes, jobs, infrastructure, workforce and tourism.
by Michael Puente
The 2014 Indiana legislative session was considered a "short session." While the session was short in length, it was not short on substantive issues.
From the controversial elimination of a business property tax to economic-development initiatives, Gov. Mike Pence tells Northwest Indiana Business Quarterly that he views the past session, his second since taking office in 2013, as a successful one.
But what about expansion of the South Shore Rail Line and poor road conditions that plagued Northwest Indiana during a brutal winter season this year? Pence addresses those issues in our interview. We start off the conversation with a very basic question.
NWIBQ: With the session having wrapped up recently, were most of your goals for this session met?
Pence: Every Hoosier will be glad to know that this session brought real progress on jobs, roads and schools. Efforts to reform taxes, invest in infrastructure and open doors of opportunity to quality pre-K education for disadvantaged kids all prove that a short session need not be short on accomplishments for Hoosiers.
The work we have done has built on the success of the last legislative session and, I believe, will lead to a more prosperous future for Indiana. Last year, we achieved historic tax relief for Hoosier families. This year, we provided tax relief to Hoosier businesses to grow and create jobs.
Last year, we dedicated tens of millions of dollars for Indiana's roads and bridges. And this year, we are investing another $400 million for projects to put Hoosiers to work now and make sure we remain the Crossroads of America. Last year, we expanded opportunities for low-income kids to attend the school of their choice. This year, for the first time ever, Indiana has funded pre-K education so low-income kids can start school ready to learn.
Throughout this session, this General Assembly and our administration have put Hoosier families and children first. We helped veterans and their families by expanding access to the Military Family Relief Fund. We improved the well-being of families by creating an Indiana adoption credit. We launched a comprehensive assessment of career and vocational education for our students, expanded adult high schools to help more workers earn a high school diploma, and created a new program for adult workers who need to improve their skills to reach their full potentials.
And Hoosiers will be glad to know that most of what we accomplished was passed with broad and bipartisan support. So on behalf of every Hoosier, I offer my heartfelt thanks to each and every member of the 2014 Indiana General Assembly, especially House Speaker Brian Bosma and Senate President Pro Tem David Long, for a job well done.
NWIBQ: Why did you make passage on the elimination of the business personal property tax one of your top priorities?
Pence: Job creation is job one in Indiana, and we are in a national and global competition for jobs. The tax reform that I recently signed into law will allow Hoosier businesses to grow and create jobs by making it possible to phase out the business personal property tax. This is important because this tax discourages new investment in the equipment and technology businesses need to grow. The tax reform I signed also lowers the corporate tax rate, giving Indiana the second-lowest corporate tax rate in the nation, up from 25th, and lowers the financial institutions tax.
These two changes will save Hoosier job creators $185 million per year when fully implemented, improve our pro-business tax environment, and strengthen our competitive edge to attract new businesses and good-paying jobs to our state.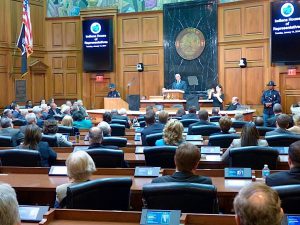 NWIBQ: What do you say to communities in Indiana who are worried about losing revenue?
Pence: After listening to local communities across our state, I have informed legislative leaders that I am open to full state replacement revenue for local governments to cover the cost of eliminating the business personal property tax on small businesses with less than $25,000 in equipment, as proposed in Senate Bill 1. This would ensure that any reform of this tax does not unduly burden local governments or shift the cost of this tax onto hardworking Hoosiers.
NWIBQ: What do you see as challenges or hindrances in attracting business to Indiana? What still needs to be done?
Pence: Our economy is improving. January's decrease in unemployment was the fourth-largest drop in the country; Indiana's unemployment is the lowest among our Midwest neighbors and is now below the national average.
At the same time, we are seeing more Hoosiers returning to the job market. In 2013, the state added more than 50,000 jobs and our labor force grew at the sixth-fastest rate in the country. In addition to being the best state for business, we need to continually be improving the talent and skills of our workforce. This includes retaining more of our college graduates, improving career and technical education, and helping to retrain individuals already in the workforce for opportunities available in today's more technical economy. We have made great strides in aligning our education with available jobs, and providing retraining opportunities, but this is an ongoing challenge. The availability of highly skilled and highly motivated talent is always one of the most important factors in attracting business to the state.
The state also needs to continue efforts to increase entrepreneurial activity; this includes improving access to capital and ensuring our legal and regulatory structure allows more new businesses to start and grow right here in Indiana.
NWIBQ: Specifically in Northwest Indiana, public transportation is a major issue. Cities and towns are now deciding whether to fund an extension of the South Shore Rail Line. Proponents say it's a good idea in that it might help to attract people from Illinois. Do you have a position on whether Northwest Indiana should extend the South Shore train system and should the state help in that effort?
Pence: We need a transportation system that allows for the efficient movement of people, and that may include the use of rail. The key question is whether rail is a cost-effective option for a particular area or region.
Northwest Indiana's dense population and proximity to Chicago creates a unique opportunity for passenger rail, but such a decision needs to be carefully considered to ensure economic sustainability. Ultimately, whether to extend the South Shore line is a decision that local officials and residents need to make.
NWIBQ: This winter has certainly been a difficult one for Indiana and especially Northwest Indiana. Snow, icy roads, car accidents and potholes continually made for negative headlines regarding Indiana's ability to respond to inclement weather. Do you think this will hurt business opportunities in Northwest Indiana or do you think business will realize that winters aren't always this bad in Northwest Indiana?
Pence: The impact of this year's severe winter has been seen in recent reports of decreased retail sales and slower factory output. I am confident, however, that companies recognize that these are short-term impacts–we've had difficult winters before.
After all, individuals and businesses that are exploring opportunities in Northwest Indiana are considering a myriad of other factors such as the tax and regulatory climate, the infrastructure, and the skilled workers the area has to offer.
NWIBQ: Both as the governor of Indiana and as an outside observer, what does Northwest Indiana have to do to continue attracting new businesses and economic opportunities to the region, especially from Chicago?
Pence: Northwest Indiana has historically been known for manufacturing and heavy industry. As our economy changes, we need to ensure that our workforce has the skills necessary to be competitive for the new high-tech manufacturing opportunities that are becoming more prevalent. It may also be helpful to think about how yesterday's factories could be retrofitted or updated to be attractive locations for today's new businesses.
NWIBQ: The Indiana Dunes draw tourists far and wide. What can the state do to enhance Northwest Indiana's top tourist attraction?
Pence: Indiana Dunes is our state's biggest attraction, bringing over 3 million visitors to the Indiana lakeshore each year. The dunes will feature prominently in the new Honest-to-Goodness Indiana branding campaign. We want to showcase Indiana's great geographic diversity. The impact of tourism on our state's economy has become more well-known and the state can continue to devote resources to tourism development and marketing that will encourage even more travelers to explore all corners of the Hoosier state, especially the great assets in Northwest Indiana.