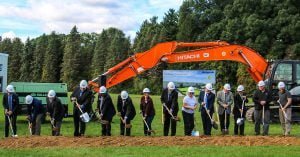 Commitments from businesses in 2019 could bring more than 27,000 new jobs to Indiana in the coming years.
The state in a Jan. 6 statement said 2019 marked a third consecutive year of record-breaking economic development for Indiana. The Indiana Economic Development Corp. secured 296 commitments from companies to locate or grow in the state.
The combined business investments in Indiana total more than $8.44 billion and could create up to 27,137 new jobs with average wages of $28.60 hour. According to the state, the figures represent the highest annual records for capital investment and average wages since the IEDC was established in 2005.
These investments include a commitment by Sullair in Michigan City and its parent company Hitachi, to spend $30 million on facility rehabilitation and expansion, which could create up to 40 new jobs.
"I'm excited to announce yet another record-breaking year for economic development in Indiana as we work every day to ensure that Hoosiers have the best place possible to live, work and play," Gov. Eric Holcomb said. "As a state, we have worked tirelessly to create a nationally ranked, pro-growth business climate, and the results have solidified Indiana's reputation as a global destination for business, creating high-quality career opportunities for Hoosiers in the process."
The state has seen low unemployment rates in recent years. The state's jobless rate in November was 3.2%, down from 3.3% when compared to November 2018.
In November, there were 3,259,150 employed Hoosiers, which was down from 3,276,017 when compared to November 2018. Unemployed Hoosiers in November totaled 106,202, which is a drop from 111,876 in November 2018.
The state said the new jobs are expected to offer annual wages of nearly $59,500, which is above the U.S. average wage and 21% higher than the state's average hourly wage of $23.01 from 2018.
The largest announced investments in 2019 in Indiana include:
Abbott (305 committed jobs in Hamilton County)
Allison Transmission (300+ committed jobs, $400 million investment in Marion County)
Catalent (200 committed jobs in Monroe County)
Cormo USA (250 committed jobs in Rush County)
eHealth (500 committed jobs in Marion County)
Eli Lilly ($400 million investment in Marion County)
Energizer Holdings Inc. (440 committed jobs in Johnson County)
Gordon Food Service (400+ committed jobs in Hamilton County)
Greenleaf Foods, SPC (460 committed jobs, $310 million investment in Shelby County)
FedEx Supply Chain (225 committed jobs in Marion County)
PharmaCord (850 committed jobs in Clark County)
Saab (300 committed jobs in Tippecanoe County)
Sitel Operating Corporation (350 committed jobs in Hamilton County)
Zotec Partners (300 committed jobs in Hamilton County)
The state said the IEDC, in partnership with local communities, secured 80 commitments from businesses in 2019 to establish new operations in Indiana. Of these, 18 were new companies committing to locate startup operations in Indiana, and 62 were companies already established and headquartered elsewhere in the U.S. or around the world.
Indiana is home to more than 1,030 foreign-owned business establishments that support 203,000 Hoosier jobs – a number that continues to grow, the state said. In 2019, 38 foreign-owned businesses headquartered in 17 countries and territories committed to locating or growing in Indiana.
The state said the IEDC also supported entrepreneurs and small businesses through the Indiana Small Business Development Center and Indiana Procurement Technical Assistance Center. In 2019, the Indiana SBDC assisted in 406 new business starts, which led to 4,360 new jobs.
The state said the Indiana PTAC registered 312 new clients and helped secure more than $162 million in federal government contracts, which allowed businesses to grow and create 433 new jobs for Hoosiers.