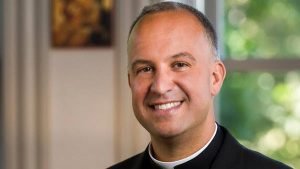 The University of Notre Dame named Rev. Gerard Olinger vice president for mission engagement and church affairs.
Olinger is a former Notre Dame trustee and succeeds Rev. William Lies, who was elected provincial superior of the Congregation of Holy Cross, United States Province of Priests and Brothers.
Olinger currently is Portland's vice president for university relations, responsible for the offices of alumni and parent relations, development, marketing and communications and university events. He is a concurrent assistant professor of political science in the university's college of arts and sciences.
Prior to his work in university relations, Olinger served as vice president for student affairs at Portland.
A native of Springfield, Penn., Olinger graduated magna cum laude with a bachelor's degree in history and government from Notre Dame. He earned two postgraduate degrees from Notre Dame: a juris doctor cum laude in 2004 and a master of divinity degree in 2009. Olinger entered formation with the Congregation of Holy Cross, made his final vows in August 2009 and was ordained a priest in April 2010.
He is a member of the state bars of Indiana and Pennsylvania.