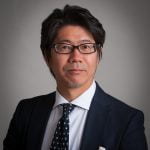 Charlie Takeuchi recently was named new president and CEO of Sullair in Michigan City.
Takeuchi succeeds Jack Carlson who retired March 31.
Sullair, a maker of compressed air equipment and affiliated with Hitachi, said under Carlson's leadership, Sullair grew in sales, market share and profitability. He also is credited for leading the company through its acquisition from private equity owner Accudyne Industries to Hitachi in April 2017.
"It was a tremendous honor to serve as CEO of Sullair alongside our dedicated employees around the globe," Carlson said. "Sullair has a 55-year legacy of delivering reliability, durability and performance to our customers. As Charlie takes over, I am confident that Sullair will continue its growth trajectory as he and the team build on this strong foundation."
Takeuchi said he is ready to lead the company into its next phase of growth.
"I look forward to continuing to work with the team to build on our company's history of delivering great products, while working to better meet our customer's needs through product transformation and digitization," he said.
Takeuchi served as the company's chief operating officer and executive vice president since July 2017. Before joining Sullair, Takeuchi served numerous executive roles with Hitachi.