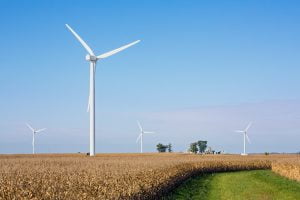 Northern Indiana Public Service Co. is increasing its options to get additional power from green sources.
The Merrillville-based subsidiary of NiSource Inc. in statement said it has entered into an agreement with EDP Renewables SA, through its subsidiary EDP Renewables North America LLC to bring the 302-megawatt Indiana Crossroads Wind Farm to White County.
The wind farm is expected to be built and operational by 2021, NIPSCO said. The wind farm will generate enough power to provide electricity for 83,000 average-sized Indiana homes annually.
"It's exciting to see another home-grown renewable project and investment break ground in Indiana," said Violet Sistovaris, NIPSCO president. "We're proud to be working with EDP Renewables on Indiana Crossroads, as we continue on our path of our customer-focused, 'Your Energy, Your Future' plan."
The Indiana Crossroads Wind Farm was selected through a request for proposal solicitation that NIPSCO ran as part of its 2018 Integrated Resource Plan process.
In addition to Indiana Crossroads Wind, EDPR and NIPSCO are partnering to bring the 102-megawatt Rosewater Wind Farm to White County, which was announced on Feb. 1. Rosewater recently received approval from the Indiana Utility Regulatory Commission and White County to begin construction, which started in October.
The Rosewater Wind Farm is expected to start operations in 2020, NIPSCO said.
Northern Indiana Public Service Co. serves about 820,000 natural gas and 460,000 electric customers across 32 counties in Northern Indiana.