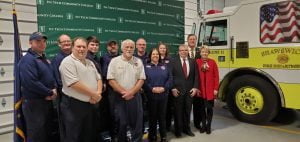 Volunteer firefighters can earn a two-year degree through Ivy Tech Community College at no cost.
The Indiana Volunteer Firefighters Association and Ivy Tech Community College are partnering to provide volunteer first responders across Indiana the chance to earn a two-year associate degree, tuition free. Ivy Tech has already seen enrollments using the scholarship and expect to see more leading up to the start of classes on Jan. 13.
Ivy Tech said as long as a volunteer first responder is enrolled as a degree seeking student, and holds good standing with a volunteer fire department, the individual may be eligible to receive a two-year associate degree for free. This offer applies to future and current Ivy Tech students; however, students must maintain satisfactory academic progress to remain eligible.
Ivy Tech is providing $250,000 over two years to pay for tuition and fees for volunteer first responders to attend academic programs, except for flight aviation and general studies.
"It's just the right thing to do," said Sue Ellspermann, Ivy Tech Community College president. "We hope that piloting the scholarship program will give other potential funders the information and inspiration to continue to fund a statewide program beyond these next two years."
Ellspermann and other officials recently visited the Shawswick Township Volunteer Fire Department in Bedford to announce the scholarship and thank members for their  volunteer service.
Find additional information at www.ivfa.org or IvyTech.edu/volunteer.