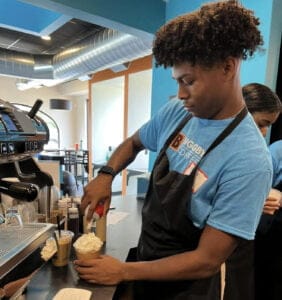 Two families of five have taken the term "bestie" and turned it into coffee dreams. They plan to open a Biggby Coffee on June 27 in Highland.
Catherine and Mario Sullivan met Rick and America Echeverria after their daughters, Layla and Savannah, became fast friends shortly after the Sullivans moved into their Munster home six years ago.
"The girls were constantly hanging out together at either their house or ours, and it was inevitable that we would all become good friends," Catherine Sullivan said.
Going into business together seemed like a natural progression of their friendship. All four parents had skills that complemented each other.
"We discovered that we share many of the same values, including our dedication to our families as well as wanting to give back to our community," Sullivan said. "We also realize that the four of us each have something to offer and look forward to utilizing our individual talents when it comes to operating our store."
Mario Sullivan, who served two deployments in Kuwait, is a staff sergeant in the National Guard and a senior planner at Cleveland-Cliffs Inc. Rick Echeverria has a experience in the investment industry, while America is leaving behind her 15-year career as a school secretary. Catherine Sullivan, who also coaches competitive gymnastics, has been focusing on raising their three children for the past 12 years.
However, Sullivan, says her "heart has always been in the food and culinary industry." She earned a bachelor's degree in culinary management from a school in Chicago. As their children have gotten older, she said, they felt it was time for her to pursue her passion.
"Now that our kids are a little older, it felt like a good time to pursue a new career, and Biggby seemed like the perfect fit," Sullivan said.
Sullivan says Biggby Coffee is more than great beverages and bagels.
"Biggby does not want to just serve great drinks, they also strive to improve workplace culture, support coffee farmers, support their franchisees in building a life they love, just to name a few key values," Sullivan said. "All those things attracted us to Biggby, as well as the fact that Biggby has made it attainable and feasible for everyday hard-working families like ourselves to own our own business."
Jaime Balazy, director of marketing for Biggby Coffee, says the organization looks for franchisees who believe "owning a coffee shop is a higher calling." They also look for owners who want to be active in their communities.
"We have families, existing business partners looking for a new adventure together, mother and son partners, and even a few "besties" who have become franchisees together, too," Balazy said. "Each franchise location and franchisee(s) have their own amazing story."
For Sullivan, part of their story is renovating the building at 8359 Indianapolis Blvd. She said it had been vacant for a few years.
"We were excited for the opportunity to renovate and bring life back to the building, as well as hopefully the surrounding area," she said.
The stand-alone location also has a lobby and drive-thru.
East Lansing, Michigan-based Biggby plans to add more than 20 stores during the next three years in La Porte, Porter and Lake counties. The company already has locations in La Porte, Chesterton, Michigan City, St. John, Crown Point, Cedar Lake, Elkhart and now Highland. There are 23 locations in Indiana, with several more on the way. The goal could bring up to 240 jobs to Northwest Indiana, the company reported.
Biggby Coffee started in 1995 and began franchising a year later. It now has 350 stores in nine states, including Michigan, Ohio, Indiana, Illinois, South Carolina, Wisconsin, Kentucky, Florida and Texas. The company plans to reach 500 locations by 2024 and 1,000 by 2028.