Excerpt from the article: At the Top of Their Game by Laurie Wink.
Women executives excel at juggling career and family responsibilities.
Carol Hiskes co-owns Total Disposal with husband Mark. The Gary-based commercial and residential waste hauling business serves Northwest Indiana and South Chicago suburbs. The couple started Total Disposal in 2001 with one truck. Since then, the business has blossomed to include: Blaine Street Partners LLC, a recycling and transfer facility; and Outer Space Mobile Storage, handling sales and rentals of portable storage containers. They're carrying on a family business tradition that began 30 years ago, when Mark and his brother George worked in the waste management business started by their father.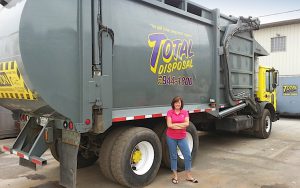 The couple has four sons, ranging in age from 21 to 28, and three of them work for Total Disposal (son Matthew recently started his own trucking company). Carol and Mark grew up in South Holland, met after high school and married in 1986 then moved to Munster. Carol earned an associate's degree in computer programming from Purdue Calumet.
"I really wanted to go into computer programming," she says. "That was my dream. Computers have always been a passion of mine."
After graduating, Hiskes took time out from her career to raise her sons, returning to work when the youngest went to kindergarten. "He'd go [to school] in the morning and I'd pick him up from school and bring him back to the office," she says.
As business manager, Carol Hiskes handles payroll, billing, permits, licensing and the computer system. She supervises a staff of three women and believes in leading by example.
"I try to encourage them to put their family first. Two are mothers and they get lots of phone calls in the middle of the day. Sometimes they're stressed by that. They see that my children come first as well."
Carol and Mark Hiskes have complementary skills and interests. "We truly are partners who depend on each other to take care of different aspects of the business," she says. "He's not a techie. He hands me the [TV] remote control when he can't figure it out."