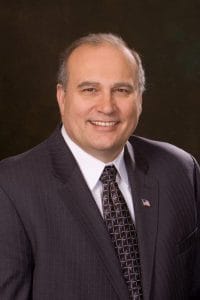 Mike Daigle is ready to help guide higher education policy in Indiana.
Daigle, CEO and executive director of the South Bend International Airport, was among the new members of the Indiana Commission for Higher Education recently appointed by Gov. Eric Holcomb.  Daigle was recommended for the commission by Northern Indiana Advocates, a bi-partisan organization.  
The commission works closely with Indiana's public and independent colleges.
"Higher education is at the foundation of economic development," Daigle said. "I will work to ensure a strong foundation is in place for generations to come to make Indiana a place our graduates want to remain."
The Indiana Commission of Higher Education is a fourteen-member public body created to:
Define the educational missions of public colleges and universities;
Plan and to coordinate Indiana's state-supported system of post-high school education, taking into account the plans and interests of independent colleges and universities;
Review both operating budget and capital budget appropriation requests from public institutions;
Approve or disapprove for public institutions the establishment of any new branches, campuses, extension centers, colleges or schools;
Approve or disapprove for public institutions the offering of any additional associate, baccalaureate or graduate degree or certificate program of two semesters or more in duration;
Review all programs of public institutions and make recommendations to the governing board of the institution, the Governor, and the General Assembly concerning the funding and the disposition of these programs; and,
Distribute student financial aid from state aid programs.
Three board members also were reappointed to the commission by Holcomb: Anne Bowen, Terre Haute, MBA student at Indiana State University, term ends June 30, 2024; Al Hubbard, Indianapolis, co-founder of E&A Industries, term ends June 30, 2025; and Christopher LaMothe, Indianapolis, former CEO of Elevate Ventures; term ends June 30, 2026. Holcomb also appointed Nancy Jordan, Fort Wayne, senior consultant with Bulldog Consulting Services and Tom Saunders, Lewisville, retiring state representative, with terms ending June 30, 2026.