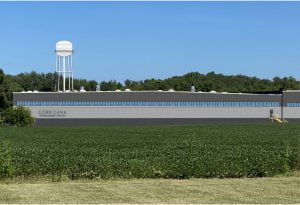 Corsicana Mattress Co.'s new La Porte County site is on track for an early 2021 completion.
This is according to the La Porte County Council, which in late September approved a tax abatement which will provide property tax relief for the Texas-based company. The manufacturer announced in August it was investing $8.6 million in a 165,000 square-foot facility at 755 S 500 West in Pinola near La Porte.
"La Porte County has been incredibly welcoming from our first introduction," James Booth, Corsicana's chief operating officer, said in a statement released by the La Porte County Council. "We could not be more happy with our choice to expand here."
In August, the company said its La Porte County site in would employ up to 350 people by 2023 and will house its domestic boxed-bed manufacturing operations. The company is operating at a temporary location in Michigan City where it is training and hiring new employees.
The company expects its new LaPorte County site to produce more than 1,500 boxed beds daily, reducing lead times and increasing its same-day shipping capacity. Corsicana manufactures five brands including: NightsBridge, Early Bird, Renue, American Bedding and Sleep Inc.
The company said it selected La Porte County for its proximity to foam suppliers and logistics companies, which is expected to reduce freight costs.
The company is receiving up to $2.3 million in conditional tax credits based on the company's job creation plans from the Indiana Economic Development Corp.
Corsicana operates a 100,000-square-foot manufacturing facility in Aurora, Illinois. The factory in Illinois produces traditional, flat-packed mattresses and will continue operations.
Corsicana was founded in 1971 in Corsicana, Texas, south of Dallas. It employs about 950 people in the U.S.