Jose Padilla is the new president of Valparaiso University.
The college announced Padilla's appointment Dec. 2. His most recent role was vice president, university counsel and secretary of the University of Colorado System.
He also previously served in several senior-level administrator roles at DePaul University in Chicago for 15 years.
A statement from the college said Padilla is "a dynamic innovator, thinker and natural leader, (who) brings many skills, experiences and accomplishments in higher education which are ideally suited to the university's needs today and in the future."
"We are delighted to have found such an exceptional leader for our university," said Frederick Kraegel chair of the college's board of directors. "Jose's deep and varied background in all aspects of higher education make him ideally suited to lead Valpo."
Colette Irwin-Knott, a 1981 Valparaiso University graduate and member of its board of directors since 2009, had been serving as interim president-elect since September. Mark Heckler, who had served as president since 2008, announced his intent to step down from the role in 2019.
Padilla said he is grateful for the opportunity.
"(The university's) storied past, exceptional programs, devoted faculty, motivated students, committed alumni and strong Lutheran Christian ethos all attracted me to this incredible opportunity," he said. "Leading Valpo will allow me to practice my Christian faith in the campus community (and) this will enable me to join Valpo's tradition of embracing the intersection of faith and learning."
Padilla was selected following a lengthy search, which took more than a year and more than 100 candidates.
Padilla will serve as president-elect beginning Jan. 1. He and Irwin-Knott will work together to transition the role before he becomes president on or before March 1.
Padilla has a bachelor's degree in education in elementary education from The University of Toledo and earned his law degree from the University of Michigan Law School.
Padilla and his wife Hilda plan to relocate to the Valparaiso.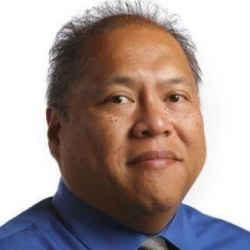 Latest posts by Larry Avila
(see all)