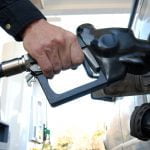 A glut of gasoline and motorists driving less are contributing factors to lower gasoline prices, according to AAA.
AAA reported Jan. 21 that national gas price average was $2.54, which is three cents cheaper than last week, a penny less than last month but 30 cents more than a year ago. Gas prices were cheaper in the last week as gasoline stocks grew, measuring at 258 million barrels – a stock level not recorded by the Energy Information Administration in nearly a year.
Average gas prices in Indiana on Jan. 21 were less than the national average. The average price in Indiana was $2.38, but was slightly higher in Lake County at $2.43.
"Motorists across the country are paying less to fill-up as U.S. gasoline supply outpaces demand this winter," said Jeanette Casselano, AAA spokesperson. "Typically, we see cheaper gas prices this time of year as motorists generally drive less."
On Jan. 21, gas prices were $2.50 or less at 61% of gas stations across the country.

Larry is an award-winning journalist with more than 25 years of experience working with daily newspapers and business-to-business publications around the Midwest. Avila is a Michigan native and a graduate of Central Michigan University.

Latest posts by Larry Avila (see all)