Heightened demand for securing computer networks pushes growth in technology education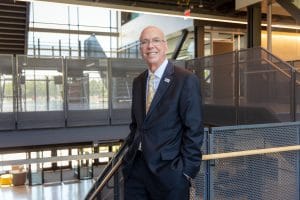 Planned warfare as a form of cyberattack is an area of great concern. Significant infrastructure throughout the U.S. is an obvious target. This is particularly true when the infrastructure is dated. Early forms of infrastructure, like power grids and water distributors, were created with little concern of threat from cyberattacks, and therefore, are much more vulnerable. Small businesses, financial institutions such as banks, educational institutions and health care facilities also are prime targets. In fact, these threats have become so widespread and potentially dangerous that Indiana Gov. Eric Holcomb included the development of "a grant program that will help local governments develop improvement plans" to establish safeguards to strengthen cybersecurity efforts in his 2022 Next Level Agenda.
Purdue University Northwest has become a leader in educating people who can be the future army of individuals to combat cyber disruptions. Purdue Northwest offers a bachelor's degree in computer information technology with a concentration in cybersecurity, and is moving toward offering a Bachelor of Science in cybersecurity, pending final approvals. Since 2014, the U.S. Department of Homeland Security and the National Security Agency have jointly designated PNW as a National Centers of Academic Excellence in Cybersecurity. This designation signifies the strength of cybersecurity education at PNW, and places PNW on the national map of cybersecurity education as one of only a few Indiana CAE-CD institutions offering four-year in-person cybersecurity education.
Additionally, PNW's Center of Cybersecurity promotes cybersecurity education through federal grants, outreach activities, summer GenCyber camps, workforce training and research in cybersecurity. The center has been awarded more than $16 million in federal funding to support its activities. In 2018, PNW successfully secured a five-year, $3.56 million National Science Foundation CyberCorps Scholarship for Service grant award, and later a Department of Defense Cyber Scholarship Program grant award to provide scholarships to students for cybersecurity education. This program supports higher education as a means to prepare an educated and skilled workforce to deal with threats against critical information systems and networks. Scholarship recipients who have graduated from PNW now are employed by many government agencies, including the U.S. Air Force, Federal Bureau of Investigation, Cybersecurity and Infrastructure Security Agency, and Argonne National Laboratory.
Since 2015, PNW has hosted a number of NSF/NSA-funded GenCyber summer camps for local high school students, introducing them to the exciting field of cybersecurity. Finally, PNW students have been actively involved in cybersecurity research projects such as those in the INSuRE (Information Security Research and Education) project and participated in many collegiate cybersecurity competitions, including the National Cyber League, DOE CyberForce Competition, Collegiate Cyber Defense Competition, NSA Codebreaker Challenge and HackIN hackathon. The R.O.A.R Cyber Club at PNW, a student cybersecurity club, provides students with extracurricular cybersecurity-related activities.
This is an exciting and evolving field, and I am confident knowing that PNW students, faculty and staff are leading the way toward securing all our important and most vulnerable computer networks through research, training and education.
Click here to read more from the June-July 2022 issue of Northwest Indiana Business Magazine.

Latest posts by Thomas Keon
(see all)