Valparaiso ready to welcome new residents, balanced growth with gains for all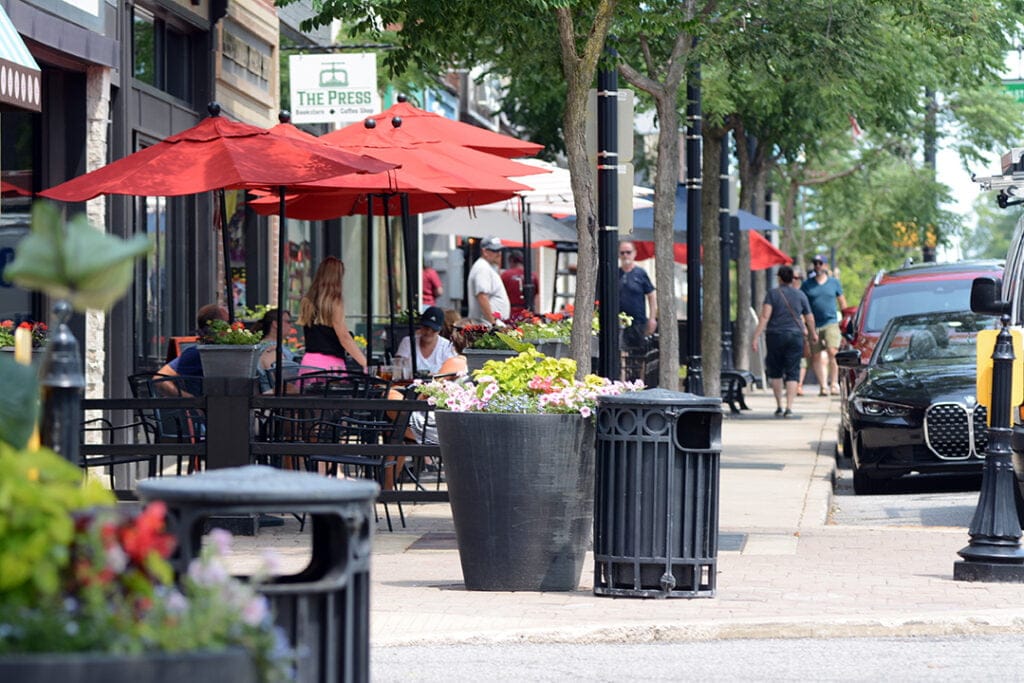 George Douglas knows how Valparaiso has harnessed success for the city's population of today and tomorrow.
"In addition to location, Valpo has worked tirelessly and intentionally at creating a point of difference among other communities in Northwest Indiana," said Douglas, who is the director of development.
The "Valparaiso" moniker is of Spanish origin and means "vale of paradise." That title holds true today. The city, with a population of about 35,000 and average household income of just more than $56,000, according to the 2020 census, has many amenities that matter to people looking for a place to live, he said.
"Our quality of place and quality of life has not been without effort and sacrifice," he said. "From our community's public safety record, quality of our public schools, downtown vitality, quality parks, a nationally ranked university, extraordinary levels of public engagement and philanthropic participation with our strong business-friendly environment, these are all reasons, to just name a few."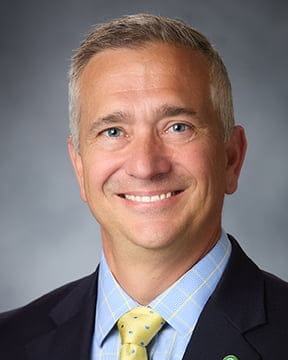 Douglas, who has worked 25 years in various roles with the city of Valparaiso, left his seat on the City Council last year to accept his current position.
Several transformative projects are in various stages of development that are profound and unique in their own ways, Douglas said.
"Journeyman, The Linc, Lincoln Highway Garage, the sports and recreation campus, the old City Hall and police station project, and The Grand Gardner Hotel, are a few," he said. "Certainly, there are many other projects going on around the city, but I would rank these high on my list."
Development for tomorrow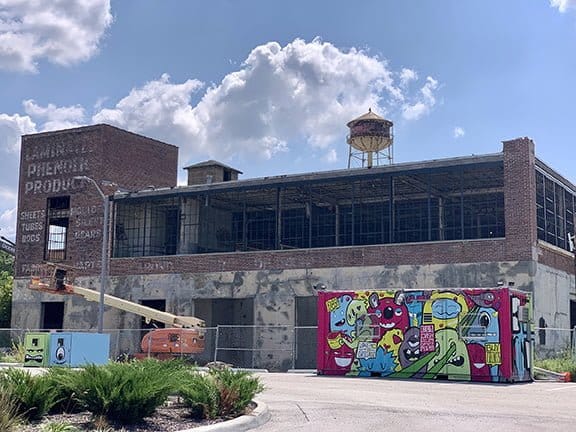 The Journeyman Distillery project, which began in 2017, is entering the home stretch. The site was one the Redevelopment Commission wanted to preserve and clean up.
"Once completed, it will transform this downtown area by attracting new visitors and investment, and it is only the beginning of what will be the 'barrel district,'" Douglas said.
The project repurposes the old ANCO wiper blade factory and is expected to bring about 200,000 visitors annually.
The Linc project, which Douglas calls "transformative," is another new landscape for downtown Valparaiso. Construction will begin in fall, and the Linc will open by late 2024.
The 121-apartment complex blended with a first-floor retail space design will span three-quarters of a city block at the corner of Lincolnway and Morgan Boulevard to Michigan Avenue. It is a $37 million investment.
Tom Dickey, managing director of Hageman Group LLC, the developer for the project, said studies revealed that 95 percent of the available rental property in this city is filled, resulting in the need for new and unique developments.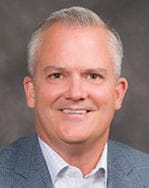 A 362-space parking garage at the northeast corner of Lincolnway and Morgan Boulevard began construction in June.
Dickey describes the apartment designs as "Class A," which are like the apartment complexes featured in their previous projects in Indianapolis, Carmel and Chicago. Apartment options range from a "micro suite," which is a one-room living space of 425 square feet, up to three-bedroom units. Every apartment includes a parking spot in the new garage. Units are priced between $1,200 and $2,400 a month.
Douglas said The Linc is the result of years of public and private investment in downtown, like the success associated with the 2015 final phases of Central Park Plaza. John Siebert, retired director of Valparaiso Parks, considers the plaza one of the main accomplishments of the city's vision.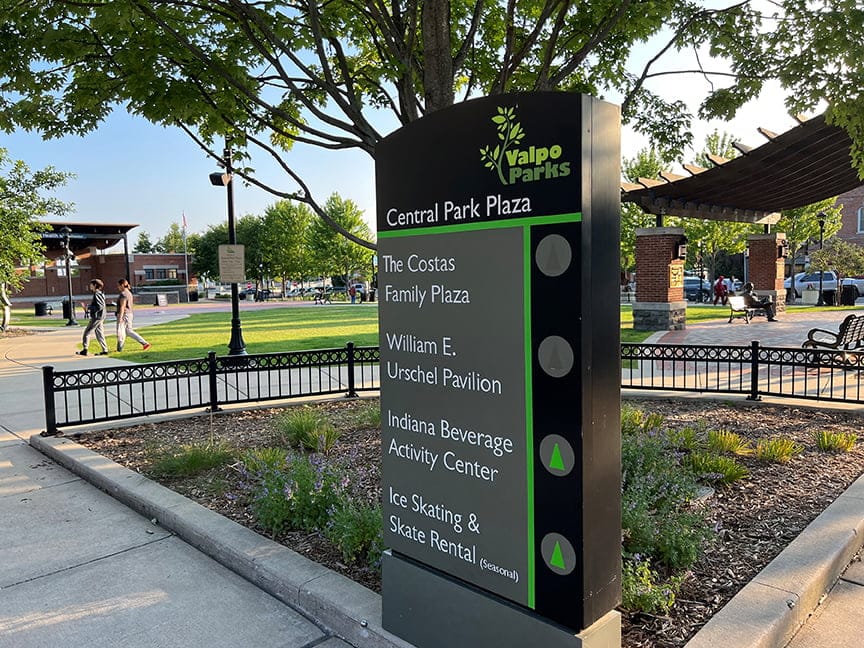 Central Park Plaza continues to draw crowds downtown with the addition of an ice-skating rink, which opened in December 2015, and the summer lawn for an outdoor concert pavilion area, Seibert said.
In April, Siebert led a groundbreaking of the $1.9 million Valparaiso skate park on the north side of the city. Phase 1 of construction is underway and should be completed by fall. Two later phases will follow. Tagged as the Valparaiso next generation skate park project, the 16,000-square-foot area will sit in a corner area of Old Fairgrounds Park.
Renowned visionary and Valparaiso native Dug Ketterman designed the skate park. When completed, it will be a covered and lighted skate park to extend hours and seasons of use. It also will be an accessible space for adaptive athletes. Highlights include a "fish design" bowl structure with fins and ramps for skating feats and a "musical melody pad." The pad is a stretch of turf that will emit tunes based on contact with moving wheels.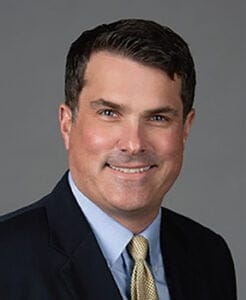 The skate park is only one of the transformative parks projects underway.
Douglas and Siebert said bids in June launched Phase 1 construction plans for the Valpo Sports and Recreation Campus.
"The multi-field sports campus will not only serve youth sports in the community," Valparaiso Mayor Matt Murphy said. "The inclusion of pickleball courts and trails throughout the 250 acres are amenities for the whole community and region."
"For years, Valparaiso residents have wanted an enhanced sports and recreation campus, one that would reflect our vibrant community," Murphy said. "Incorporating turf fields and lights will allow for longer days and longer seasons. This project is a home run for Valparaiso."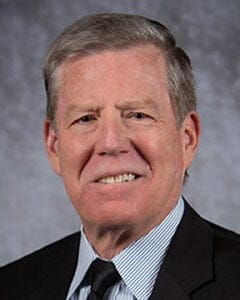 Branded as "Valparaiso's newest park for a new generation," it has an estimated cost of $30 million. The city purchased 248 acres last year east of Indiana 49, extending from Vale Park Road north to County Road 500 North to construct the proposed complex. It will include sports fields, walking paths, wooded trails, shelters, concession structures and the option to build indoor facilities. It is expected to open in summer 2024.
Kevin Nuppnau, who succeeded Siebert in July as the director of the Valparaiso parks department, said one of the key design elements of the planned sports complex is an "overlay field system."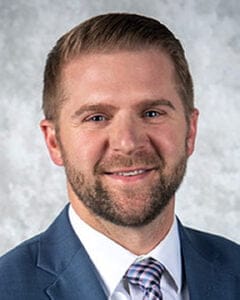 "The turf fields constructed will be universal and can be used for baseball, softball, soccer, lacrosse and football, all using the same footprint," said Nuppnau, who has been with the department for five years.
"And with seven fields in this complex, it will help to cluster sporting events and activities," he said. "For example, a parent who used to have children in multiple sports activities across town at a couple parks, might now likely be able to have all of the activities in one place."
More accommodations
With all the development, visitors will need places to stay.
In May, Valparaiso City Council members gave the green light for the $39.5 million Grand Gardner Hotel, a boutique luxury hotel in downtown Valparaiso.
The new hotel at 354 W. Jefferson St. will incorporate the ornate Romanesque-style turn-of-the-century building that was originally the Gardner School until 1972. Then it was repurposed into the Valparaiso Boys & Girls Club, with a gym later attached. A "land swap agreement" in 2021 with Urschel Development Corp. allowed the school property to be acquired. A new facility for the Valparaiso Boys & Girls Club was built at 708 Evans Ave. and opened in May 2022.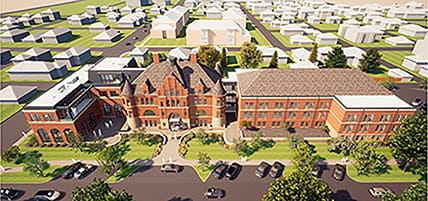 The hotel also will include three residential properties as part of the acquisition.
Jennifer Brooks, director of residential property and development for Urschel Development Corp., told the council the groundbreaking for the project was expected by summer and the construction project completed by late 2024.
The Grand Gardner Hotel design will use the original school structure to house the lobby, kitchen, six guest suites and a speak-easy bar and lounge. The new east wing will include 52 guest rooms and the mechanical and housekeeping areas. The new west wing will provide a banquet and dining area, a breakfast area, spa, fitness center, board room and meeting space and offices.
Douglas said he has high expectations for the area.
"Given the level of investment and redevelopment between the Grand Gardner Hotel and St. Paul's Square, the neighborhood has been stabilized and revitalized with unique developments that complement the downtown and community," Douglas said.
Brooks anticipates the hotel project will result in 24 full-time hotel employee jobs and 68 construction jobs.
Positive results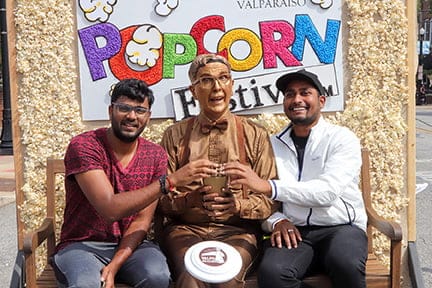 In addition to hotels, Valparaiso University and festival tourism like the annual Popcorn Festival are several factors that contribute to Valparaiso's population growth, Douglas said.
"Valpo has had a healthy, controlled growth in population for the last several decades, but the pandemic accelerated that growth," he said.
Valparaiso's desirable location is part of that success. He cited its proximity to Chicago, the nation's third-largest metropolitan economy, and to Lake Michigan, which features Indiana Dunes National Park. The Dunes national and state parks combined rank fourth in the most visited parks, according to the Indiana Department of Natural Resources.
"My unscientific assessment is that Valparaiso is lucky to have a desirable location … located in the middle of everything," Douglas said. "You can get anywhere in the continental United States within a 3.5-hour flight."
These amenities make Valparaiso a destination to visit and to call home.
"I believe these things matter when people decide where they want to live," he said.
For some residents, starting a business makes sense here, too.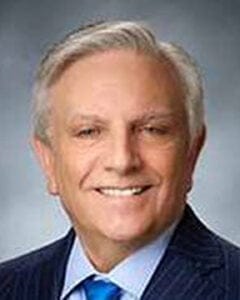 Rex Richards, president and CEO of the Greater Valparaiso Chamber of Commerce and the Valparaiso Economic Development Corp., said the vibrant downtown attracts businesses because of the many opportunities to dine and shop.
"With all the restaurants, Washington Street is right at the heart of our downtown," Richards said.
Both Mayor Murphy and Douglas agree residents sometimes voice concerns about change, but eventually embrace and praise long-term planning and the positive results.
"I think a perfect example of this is Central Park Plaza," Douglas said. "Many people criticized the project and level of public investment in our downtown when the project was being proposed.
"As I look back on the growth and investment since completion, it is hard to imagine what our community and downtown would look like without Central Park Plaza."
Read more stories from the current issue of Northwest Indiana Business Magazine.