Rejuvenating abandoned buildings can be long road but worth journey, experts say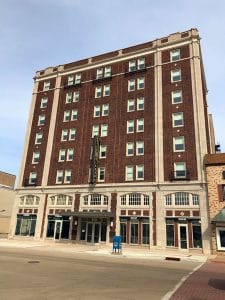 These restoration projects help preserve vintage buildings that hold important places in the histories of numerous locations as well as maintain a community's small-town charm, experts say.
However, reviving an old building and converting it to desirable commercial space is no easy task. But many redevelopment experts are up to the challenge and have tapped a growing niche.
Economic boosts
The Indiana Office of Community and Rural Affairs works to preserve and rehabilitate historic properties and encourages downtown economic development across Indiana through its Historic Renovation Grant Program. Since its inception in 2016, the grant program has provided more than $4 million to 71 projects.
According to Andrea Kern, OCRA director of strategic initiatives, with enough resources, perseverance and time, most historic buildings can be put back into productive use.
"Ultimately, it is up to the property owner, and in many cases the community, to determine the cost-benefit for preservation," Kern said. "That calculation includes more than just financial considerations."
She said various factors should be taken into account, including the importance of the structure to the community, potential for neighborhood or commercial district revitalization, which can increase or stabilize property values, and the environmental impacts of demolition and new construction, among others.
Kern said working with historic building materials often requires engaging the help of professional craftspeople skilled in preservation trades. These are the people who know how to clean historic brick, replace wood windows, repair terra cotta building elements, among many other skills. Kern said finding these craftspeople takes time, and there are fewer of them than there are paying jobs.

"Without a doubt, getting the funding into place is also something that can take a lot of time," Kern said. "For example, OCRA's Historic Renovation Grant Program requires advance approvals from the Division of Historic Preservation and Archaeology office before the yearly grant cycle, and if you need grant funding, the property owner's timeline is often reflective of those grant cycles."
Kern said the value of preservation has been proven time and time again.
"Numerous studies over the years have demonstrated that reinvesting in historic buildings is good for the economy, because it creates local skilled jobs, puts properties back on the tax rolls and keeps more dollars circulating in the local economy," Kern said. "We also know people and businesses alike are drawn to communities with history and character."
She said heritage tourism is a large slice of the positive economic impact in Indiana's tourism industry.
Denny Spinner, OCRA executive director, said preserving Indiana communities' meaningful, historic structures for future generations is always a good decision.

"Through OCRA's Historic Renovation Grant Program and the Indiana Main Street program, I've seen the incredible economic and social impact that comes when communities choose to reinvest in their historic commercial districts rather than let them continue to deteriorate," Spinner said. "For example, in 2017, three historic buildings in downtown Lagro were on the cusp of demolition."
He said knowing how important those structures were to their community's identity and sense of place, the Lagro Canal Foundation was formed to revitalize the three remaining historic buildings in their town of 415 residents.
This nonprofit organization worked hard to receive Historic Renovation Grants from OCRA for all three buildings over the course of two years, Spinner said. Their efforts have spurred new investment in the town's historic neighborhoods, resulting in five new businesses opening and created an overall sense of pride in their community.
"I'd advise anyone taking on a preservation project to heed the mantra, 'all great things take time,'" Kern said. "Preservation requires patience and perseverance. Common roadblocks along the way might include not finding a skilled craftsperson that can get to your job quickly, waiting for design approvals from your local zoning board or preservation commission, or waiting on the timeline of grant cycles or the federal historic tax credit."
Kern said those involved in a building restoration project often will feel they accomplished more than just reopening a building.
"I think you would be hard pressed to find someone that looks back at their preservation project and feels it wasn't worth the extra effort," she said.
Kern offers advice to those looking to possibly return an abandoned site into a usable commercial location:
Be creative in your approach, from potential reuse options to financing and everything in-between.
Look for networks of professional preservationists, including your local Indiana Main Street organization, Indiana Landmarks and many others.
Build connections to find the best people, tools and resources for a building reuse project.
Growing interest in reuse

Mike McMahon, executive vice president of McMahon Associates Inc., which operates a Valparaiso office, said there has been an increasing focus on sustainable construction practices.
"This means that more emphasis is being placed on the reuse and refurbishment of existing buildings and structures, rather than demolishing them and starting from scratch," he said.
When his firm is asked to examine whether a building can be saved or repurposed, the most important factor is the building's overall structural integrity.
"We review the foundation system and framing systems to see if they are sound and to identify any damage or wear," McMahon said. "We check things like load capacity, for example, to understand if the existing structure can support the weight of a proposed new use."
If a building is structurally unstable, McMahon's firm will make recommendations for repairs and, based on architectural impact and cost, the owner can make the determination on how to move forward.
McMahon said the cost of restoration versus demolition and the availability of funding also is important when determining whether a building can be repurposed.
"In some cases, the cost of restoring an old building can be prohibitive," he said. But programs, including those offered by OCRA, can offset some costs.
McMahon said one of the most common challenges when combining old and new but preserving a classic look to a structure is achieving cohesive design.
"It is important to find a balance between the two styles so that the finished product looks intentional," he said.
Then with design comes code compliance, McMahon said.
"Older buildings often predate modern building codes, which can make it difficult to bring them up to current standard," he said. "In some cases, it may even be impossible to make the necessary changes without compromising the integrity of the structure."
In situations where a building cannot be saved, McMahon's firm explores options such as incorporating salvageable elements from the old structure into the new building.
"For example, when a bridge is replaced, the old steel cables may be used to create sculptures or public art," he said. "Similarly, when a building is demolished, the bricks may be salvaged and used to construct a new structure … by finding creative uses for these old materials, we can help to reduce waste and promote sustainable practices."
Preserving a rich history

The repurposing of the old ANCO wiper blade factory in Valparaiso is one of the most visible projects in Northwest Indiana. It has taken a few years to get through the process to convert it to a distillery, production site and several other amenities.
"This location and the plant have a rich history that is a part of this community," said George Douglas, director of development for the city of Valparaiso. "It is exciting to be able to give this new life and see such incredible support from our city."
Valparaiso officials assessed the site and worked with the redevelopment commission to apply for grants and clean up the old factory site. They then started searching for private partnerships to preserve the abandoned site.
Valparaiso and developers faced two challenges — the age and size of the site. Those challenges, coupled with the environmental factors associated with an abandoned factory site, point to the often long journey to turn abandoned sites into usable commercial locations.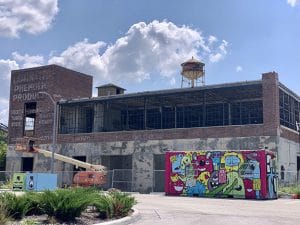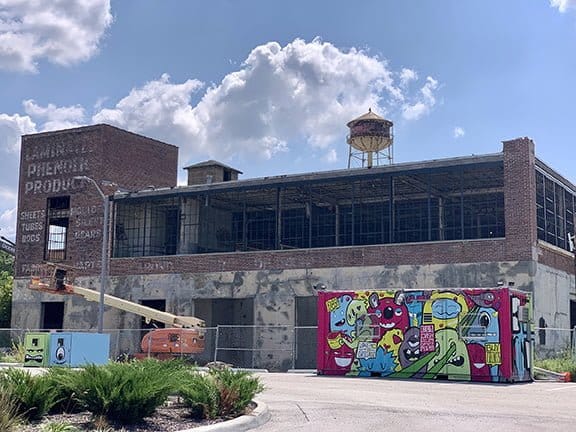 If it wasn't for the operators of Journeyman Distillery, finding a new use for the old factory might have never happened. Now the once-bustling factory is being converted into a 140,000-square-foot mixed-use site near downtown Valparaiso. It's projected to attract an estimated 200,000 visitors annually.
"Not every project is the same, and we have seen other communities struggle with abandoned sites," Douglas said. "We want to be proactive and look for opportunities to turn these sites into beneficial locations for our city."
The Journeyman project not only revives a once-abandoned site, but will be a source of jobs and generate tourism and provide other economic boosts.
Douglas said Valparaiso officials are looking at other sites and projects to redevelop and rehab other areas of the city that could benefit from a project to provide an economic spark. He said officials are feeling encouraged by recent developments and interest in downtown Valparaiso and other parts of the city.
Some of those developments include dining, shopping and living opportunities.
"We are seeing a sort of renaissance in downtown with new retail and parks," Douglas said. "This area is an important connector for downtown and Route 30, and I see these projects as catalysts for change for our city."
Old is new again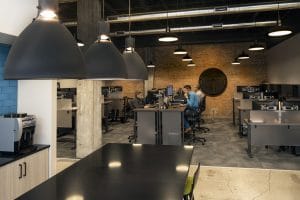 The Hibberd Building in downtown South Bend has a rich history. Built in 1926, it was once home to the Hibberd Printing Co.
Flash forward almost a century, and today the building has new life with a unique aesthetic fully grounded in its roots. The Hibberd also now is home to Shive-Hattery, an architecture and engineering design firm.
"Every space embraces the past — from fully displaying original terrazzo floors from 1926 to an exposed exterior brick wall from a bank built in 1923 to working with items salvaged from the original building," said Jennifer Bennett, president of Shive-Hattery. "Most impressive is a sliding steel fire door hung as a backdrop to the reception area, where a blackened steel logo is simply fabricated of angle iron suspended from the door to cast a shadow, contrasting old and new."
The Hibberd began as a mixed-use renovation where close relationships were developed with architect Kyle Copelin, principal of Shive-Hattery's South Bend office. With perfect timing and synergy, Copelin made the decision to relocate to the offices in the historic site that offered an industrial edge, harkening to the days of historic South Bend.
The space was ideal to develop a vocabulary matching the mission and values established by the firm.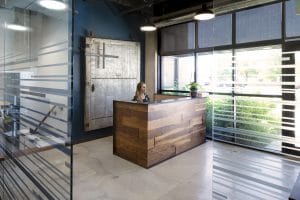 "While all companies want to represent themselves in the best possible manner to their clients and customers, our central focus was on the internal team and how they interacted," Copelin said. "With a combination of open collaborative seating and enclosed flex and conference space, the plan focused on a centralized café space where staff are able to leave their desks to collaborate with colleagues and clients at an expansive black granite island."
He said contributing to that dynamic, the main entrance to the office was intentionally placed at the center of a multi-use center.
The team developed in the South Bend office has a unique bond further emphasized by the environment designed with their needs in mind, Copelin said. While working within a predominately open space, the material selections and private space offered by generous workstations offer the opportunity to focus as individuals or openly collaborate.
This type of thoughtful use has made renovating historic places successful in many communities looking for unique ways to drive economic prosperity.
— Managing Editor Larry Avila contributed to this story.
Click here to read more from the October-November 2022 issue of Northwest Indiana Business Magazine.