Developers consider plans near transit projects to create walkable mixed-use centers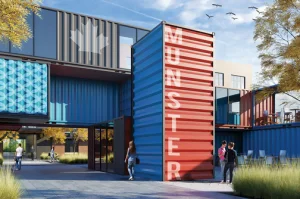 The passenger rail expansion movement has spurred Region leaders and developers to think beyond business as usual.
Their development plans focus on how best to take advantage of transit-oriented projects already in the works.
Two rail projects will expand the Northern Indiana Commuter Transportation District's South Shore Line in the Region.
The goal of the double-track project is to add 25 miles of track, four bridges and upgrades between Gary and Michigan City through a second set of rails. Adding a second track is expected to cut travel times, improve safety and bolster reliability and service frequency.
NICTD's West Lake Corridor Project seeks to broaden rail service from Hammond to Dyer through an 8-mile southerly branch. This plan has received a positive rating from the Federal Transit Administration and has been approved to move into the engineering phase of the FTA's Capital Investment Grant's New Starts Program.
The Double Track Northwest Indiana project also is moving through the grant program process and is on its way to the next phase.
David Wellman, communications manager at the Northwest Indiana Regional Development Authority, said when the organization was redoing its comprehensive strategic plan before the process of funding the rail expansions began, it was estimated that the two projects could bring $2 billion in private investment over 20 years.
"When West Lake entered the engineering phase, there's a level of reassurance reached that has triggered a new level of interest among developers," he said. "These rail projects have been in the works for six or seven years, and people hear about and hear about it, but until the rubber hits the road … now we've finally broken through it."
The RDA is behind the creation of Transit Development Districts as part of the funding for the expansion projects. These districts are in the works at various stages with Dyer, Munster, Hammond and Michigan City as part of the groundwork for development.
"The idea is to accelerate development around stations and quicken the pace for local communities," Wellman said.
"TDDs allow us to create an area about a half mile around stations that will be able to receive incremental tax funding to help with infrastructure improvements, such as sewer upgrades or streetscaping, and to provide incentives to developers to spur development in these areas."
He said development can be expanded to a full mile around the station if the RDA and either a city or town leadership agree to do so.
Movement in Michigan City

Clarence Hulse, executive director at the Economic Development Corp. Michigan City, Ind., said the city already has seen a boom in new restaurants during the last five years as well as interest from developers.
"We have had over 30 independent restaurants open, including Leeds Public House, which invested in an old facility," he said. "We just saw Fluid Coffee Roasting Lab open as well."
Hulse said double tracking is a game changer for Michigan City.
"We are very excited for the future of development," he said.
Possible projects include a $45 million, nine-story building that would include retail and residential space at the old Memorial Hospital site by Michigan City Development Partners LLC. Blue Harbor brings together real estate professionals who are looking at a mixed-use project along the Trail Creek banks. The Harborview Station development would be within a half mile of the Uptown Arts District and Blue Chip Casino Hotel & Spa.
"It would include condos, hotel, microbrewery and distillery," Hulse said. "We foresee work being done the latter part of next year as the Blue Harbor team works on financing and gauging investors. The attraction was because of the double-track project."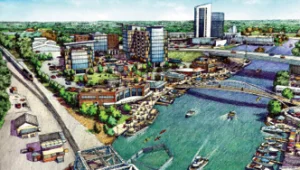 Wellman said the double-track project is expected to cut travel time from Michigan City to Chicago's Millennium Station from an hour and 40 minutes to about 65 minutes.
"People are on the cutting edge and are looking at this as something that is coming along with opportunities," he said. "The Blue Harbor development team is talking about having access to the rail once the double track gets going."
Wellman said the Michigan City Development Partners' project would be blocks from the train station and have lake views.
Base for growth in Munster
Munster Town Manager Dustin Anderson said focusing on zoning ordinance updates will lay the foundation for future growth.
"There is a real demand for pedestrian-centric and human-scale development in Munster," he said. "By updating our zoning code, the town will create a framework for future development that meets our community's expectations for safety and aesthetics."
Recommendations by the Town Planning and Urban Design Collaborative for the Character-Based Code Project: Livable Munster are moving through the channels.
This type of code focuses on connections between buildings' facades and the community and not on separation of uses. It has been implemented across the country to work toward walkable and mixed-use centers.
"A framework for development that incorporates pedestrian-centric site plans and building frontages allows for any development associated with the proposed West Lake extension to evolve organically with both the market and our residents' preferences," he said.
The town's leadership also is highlighting how character-based code can prompt redevelopment of under-used areas in Munster.
Maple Leaf Crossing, at Calumet and 45th Street, will incorporate container architecture, space for retail and professional offices and walkability by incorporating the Monon Trail bike and walking paths.

"The redevelopment encompasses 7 acres," said project developer Jay Lieser with 1st Metropolitan Builders. "We tore down all of the buildings over the summer (and) are looking to do our site work — sewer, storm and utilities — (in early 2020)."
The vision upon completion includes six buildings with more than 120,000 square feet of office and retail space and a four-story Hyatt Place hotel, Lieser said. A unique component of the Maple Leaf project is the use of container architecture at the center of the walking campus. New containers can be offered as a smaller space for business owners.
"The intention is for mom and pops to get space but not have to commit to so much space," Lieser said. "It is more cost-effective, and we have already seen interest from a women's boutique and wine bar."
A School of Rock is also in the works as a tenant. The franchise teaches children how to play through performance-based curriculum by focusing on theme-based music. The plan is to have a home for the students to perform as part of the learning process.
"Every 14 to 16 weeks, they practice based on a theme and perform in front of an audience," Lieser said. "When I was younger, you would take music lessons at someone's home, and you would never prepare for performances. It is like a team sport for musicians, and is really geared toward youth and giving them confidence in the arts."
Downtown Hammond transformation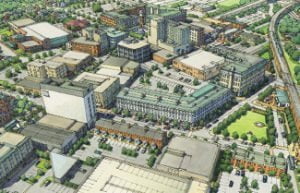 Hammond Mayor Thomas M. McDermott Jr. and the city's economic development department are working on rejuvenating the downtown with a transit-oriented master plan.
"With the upcoming West Lake Corridor project, we are wanting to prepare for its arrival in a meaningful and successful way and take advantage of its potential," said Anne Anderson, Hammond's director of economic development.
"Transportation means people, and people drive housing and redevelopment."
The mayor has proposed a downtown station, which was not in the original West Lake plan, Anderson said.
This will be paid for by the city of Hammond, she said.
"Having this additional train station will ensure our downtown's redevelopment and cement the potential for residential there," Anderson said. "Since the announcement of the station and our new master plan, our economic development department has seen an increased interest in the downtown area from developers already."
Anderson said keeping the public involved and engaged in the process has helped maintain a community-centered focus.
"A city's downtown belongs to everyone, and we want to make sure all future projects reflect the great diversity Hammond has in its residents," she said. "We want to create welcoming spaces and thoughtful commerce that will bring people from all over Hammond and the Region to our vibrant downtown."
She said millennials, empty nesters and all those in-between are seeking dense urban cores in which to live, and Hammond is preparing to cater to demand.
"Along with new residential apartments and condo buildings, we will be creating interesting public spaces that encourage social activity," Anderson said.
Working together
Eman Ibrahim, NIRPC's planning manager, says leaders paving the way for projects is vital to the Region's future growth, as is implementation of rail projects.
"Reducing vacant miles traveled on roads and emissions has big benefits for the whole Region," she said. "Supporting economic development and bringing in businesses that you can walk to and not drive brings vitality and reduces sprawling."
Ibrahim said Munster's review of its zoning code will make it easier for developers to consider what the needs will be around the station, and Hammond is working with urban designer Jeff Speck on the master plan for downtown.
"The proposed (Hammond) train station would be an anchor for all types of development," Ibrahim said. "It's a good step for the city."
The Northwestern Indiana Regional Planning Commission team also is looking at how transportation components could work together.
Ibrahim said, once the TDDs are established, more analysis of the targeted development areas can be done.
Issues ranging from walkability and scheduling between passenger rail and mass transit services can be examined.
"We can look at recommendations of what elements are missing," Ibrahim said. "Communities have already taken good steps in that direction."
She said living around urbanized areas is a hot trend.
"When you have more sprawling, that means you have to build more roads, schools," Ibrahim said. "Having everything together is a good opportunity for all of our communities."
Click here to read more from the February/March 2020 issue of Northwest Indiana Business Magazine.