Humane Indiana expands into Merrillville, hires more help for wildlife program, keeps animals at heart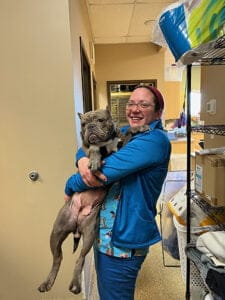 For Humane Indiana CEO Brian Fitzpatrick, pets that are in danger usually point to a problem with their owners.
"Where we see animals in trouble, we see people in trouble," Fitzpatrick said.
Tony Lipka, an artist who lives in Hammond, has adopted or rescued 11 animals from shelters.
"Every single dog I saved had a sad backstory, and I wanted them all to know that there are people who will take them away from anything that hurt them in their past," Lipka said via email.
Volunteers like Lipka are what the organization needs most. He has volunteered there for 11 years.
"We are in urgent need of families to foster pets and help domestic violence victims," said Rachel Hurst, grants and donor relations specialist for Humane Indiana.
The nonprofit based in Munster also serves Gary, Hammond and East Chicago. But to address the need in the community, the animal protection organization expanded its service area into Merrillville. The Estelle Marcus Animal Clinic now serves low-income people from all over.
It also has hired more help for its Wildlife Rehabilitation & Education Center in east Valparaiso. Dr. Kristy Yu was appointed clinic associate veterinarian. And Dr. Lisa Schneider was promoted to medical director.
The clinic spays, neuters, vaccinates and microchips pets at a lower cost than a veterinarian would generally charge.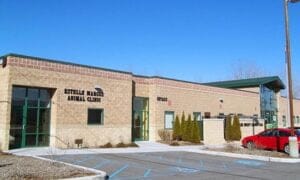 Veterinary care is very expensive, Fitzpatrick said.
"We do everything we can to keep animals out of the shelter," he said. "We want to keep pets with (their) families. I tend to focus on the positive, such as uniting pets with future families."
About 3,000 animals come through the shelter and clinic every year.
As families lost housing during the pandemic and after, or lost their jobs, the number of families who want to adopt has not kept up with the number of stray animals coming to Humane Indiana.
With an ever-expanding crisis foster program, Humane Indiana connects animals with families in a foster network.
"We want to have a nurturing connection in the community, with animals, people and the environment," Hurst said.
The organization even has an incubator for neonatal animals, whose immune systems are not yet developed enough for them to be among the older animals in the shelter.
Because of this immune system issue, neonatal kittens need to be fostered. Humane Indiana provides food, on-site veterinarians and materials such as collars to help with this process.
"We offer training to foster and a coach to help do that," Hurst said. "Now is a great time to adopt."
Training occurs online or on the phone, and families indicate which animal(s) they would like to care for.
For those who would like to volunteer, opportunities include helping at events with crowd control and parking; walking dogs or answering phones at the shelter; helping to clean up or maintain the organization's gardens and yards; cleaning and staining lumber comprising the gazebo; and preparing merchandise such as gift baskets at the resale center.
Humane Indiana changed its name from Humane Society Calumet Area seven years ago. They are unaffiliated with the national Humane Society but do work with them on various projects, including events.
To help Humane Indiana's mission to keep families together, they have a resale and consignment shop in Highland. Donations help local businesses that sell products, including honey, jams, jelly and coffee. For fundraising, Humane Indiana depends on individual donors and community businesses sponsoring programs or events, employee giving programs, fundraisers and event donations.
Humane Indiana's staff educate about 15,000 people each year, with events, camps and a "reversed field trip model," by taking ambassador animals like owls or a fox to schools or libraries.
"How do we teach to be better stewards of the environment? We can all coexist," Fitzpatrick said.
Read more stories from the current issue of Northwest Indiana Business Magazine.