Munster-based Humane Indiana promoted veterinarian Lisa Schneider to chief medical director.
Schneider has been part of the nonprofit's staff since February 2018. She specializes in high-volume spay and neuter techniques.
"Dr. Schneider has proven herself to be a dedicated and compassionate advocate for the Humane Indiana mission," said Humane Indiana's CEO Brian Fitzpatrick in a press release. "We are fortunate to have her on our team and excited about the direction she will lead our organization."
Humane Indiana, which serves East Chicago, Hammond, Merrillville and Gary, offers discounted pet prevention health care, medications, and spay and neuter services to those who meet income requirements.
Schneider also served as an associate veterinarian and veterinary assistant at several Chicago-area clinics. She volunteers with PAWS for Life in Chicago, and is a team member of the wildlife medical clinic at the University of Illinois Veterinary Teaching Hospital in Urbana.
She is a member of the American Veterinary Medicine Association, Association of Shelter Veterinarians, Humane Alliance Veterinary Training Program for continuing education and Pride Veterinary Medical Community.
Schneider is a graduate of the University of Illinois' veterinary medicine program and is certified through the Veterinary Business Management Association.
Schneider's promotion comes after Dr. Kristy Yu was appointed clinic associate veterinarian at Humane Indiana earlier in June. She relocated from Nevada.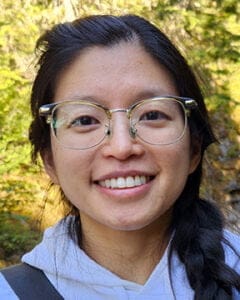 "Dr. Yu's experience and passion for serving both wildlife and domestic pets is the perfect fit for Humane Indiana, and we are very glad to welcome her to our team," Fitzpatrick said.
Yu earned her doctorate in veterinary medicine at Texas A&M University. She will provide veterinary care at the Munster clinic and at the Wildlife Rehab & Education Center in Valparaiso.
The shelter began 2022 with 19 dogs and 15 cats, and ended the year with 38 dogs and 43 cats, according to Asilomar Animal Statistics for 2022. The total intake for 2022 was 2,764 cats and dogs, and 2,124 animals were adopted. Forty pets were euthanized because they were untreatable.
The shelter's kennels also were updated in 2020. The nonprofit counts on public donations to make its services possible.
Caption: Dr. Lisa Schneider cares for Matilda at the Humane Indiana Veterinary Clinic, which provides reduced-cost veterinary services to the Region, with the support of community donations. Schneider was promoted to chief medical director of the nonprofit. Matilda was adopted from Humane Indiana. (Provided by Humane Indiana)