Industry leaders offer insight on how to build customer base with targeted online content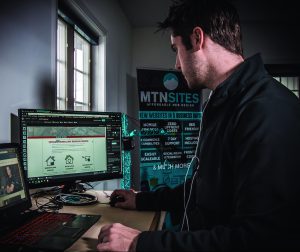 Staying social through content creation, remaining responsive, audience identification and analytical-based ads remains a significant component of marketing for businesses of all sizes, experts say.
"Social media is not just important, it's the largest piece of the puzzle right now especially for brick-and-mortar stores," said Mat Barbur, co-founder of True Mtn Social in St. John. "They're battling online stores, and they need to prompt a commitment from people to get in their cars, drive to them and go through the entire buying process versus just clicking online and having it there in days."
Barbur said businesses need a social presence to build trust.
"Social media allows businesses to document who they are and why they are special," he said. "It's all about building trust and a community that rallies around the business."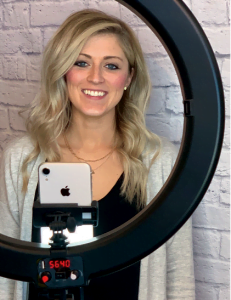 Michelle Andres, president of Group 7even in Valparaiso, said social media is where it's at in terms of brand building.
"I think consumers nowadays are more educated, and they want to purchase from businesses they believe in and that share common values," she said. "You can't do that with just traditional marketing."
To remain relevant in the social media game, marketing industry leaders spotlight how companies can strengthen their social presence by embracing the latest trends and best practices.
In the moment
The story format is sweeping through all social media channels as an engaging avenue to connect with audiences through such platforms as Instagram, Facebook and Snapchat. How long they last is the key difference between posts and stories.
"The story format is a big trend," said Grant Mielke, owner and manager of Elkhart-based Vala Marketing. "It's really echoing how content is getting shorter."
He said the content only is there for 24 hours, and then it's done.
"It helps level the playing field," Mielke said. "It's way easier for a small coffee shop to put in a 10-minute time investment than for a larger company like McDonalds to do something as they have strict content standards to follow."
He said shorter-length story content is another equalizer allowing small and medium businesses to compete and show value.
Barbur said stories allow people to be in the moment with you.
"It's not pre-planned," Barbur said. "Videos are less edited, and it's happening right now."
He said it helps viewers feel special because they caught before it disappeared after 24 hours.
"Facebook and Instagram have made stories top priority as it's the first thing you see on the platform," Barbur said.
Andres said businesses have a brief window to capture audiences.
"We are so overloaded with information (that) you are trying to capture these micro-moments," she said. "People pick up their phones or devices about 150 times a day (and) you have about three seconds to capture their attention."
Know your audience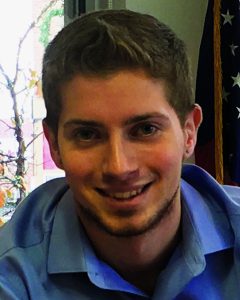 Seth Spencer and his team at SERA Solutions home in on analytics to assist companies with social media marketing.
"We are a very analytical company, (and) now more than ever users and consumers expect a high-quality experience and relevant content," said Spencer, who is founder and CEO of the Michigan City-based business. "Digital marketing can be a very cost-effective and data-centric way to market."
Spencer said tools, including artificial intelligence and analytical platforms, can assist with ad optimization by helping tailor images and headlines to certain segments of the population. He said one in four Facebook pages uses paid advertising and that trend is likely to continue.
"It helps to get to know certain attributes of your customers," he said. "We can use AI in real-time to create ads based on 10 different images or descriptions, and AI can display a combination of images and headlines that is most likely to affect that person on the other side."
Spencer said that's where personalization is effective as people are seeing images or headlines that matter to them.
Part of knowing your audience is embracing flexibility and being willing to test out content—whether it's through organic or paid content.
"It's quick to try out things and find ones that perform better than others, and then you will know your audience better than ever, and your audience will appreciate getting the content it wants," Spencer said. "Everyone is happy there (and) the mindset of continuous improvement through trial and error is low risk."
Andres said entrepreneurs can relate to their audience by simply reaching out to current customers.
"To know your audience, you don't need a big budget," she said. "You can talk to the people (who) you are already serving."
Andres suggests business owners should ask their customers why they are buying and what attracted them to their business.
"You can get an idea of who they are and why they came to you," Andres said.
She said creating focus groups with family and friends is another approach to get more insight on how people think.
While attracting new customers is important, businesses should also focus on those showing interest in their product or service.
Spencer said people who are often overlooked are those who already know a brand and are engaging but not purchasing.
"Re-marketing is important to someone who is already looking at your website but didn't check out or didn't contact you," he said. "A strategy can be offering a sweetened opportunity with a special offer."
Word of mouth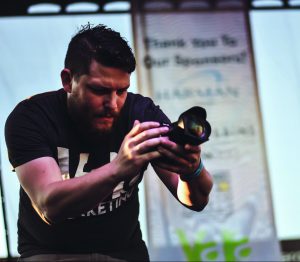 The social aspect of social media is especially beneficial for businesses that respond, engage and communicate with their audiences.
Barbur recommends acknowledging all reviews on social media regardless of whether they are positive or negative.
"If someone is leaving you a positive review, you have to show interest and thank them," Barbur said. "Something such as: 'Thank you for the review, I appreciate it.' You have to acknowledge them."
He said business owners should treat bad and good reviews equally.
Responding to reviews can be an avenue to building brand ambassadors and micro-influencers who will share their experiences with your business online. Micro-influencers are social media users who may have smaller followings but can still have an impact on a brand.
"You have to start small," Barbur said. "You should reach back out to them when you have something such as an event coming up and offer them a VIP ticket."
Barbur said micro-influencers can sell products.
"This is especially important if you are a very small fish in a very large pond," he said.
Spencer said testimonials, customers' experiences and asking customers to post reviews on Facebook can assist with social proofing. This is a way to scale up word-of-mouth through social networks, which can lead to increased awareness of your business.
"Customers are doing the ad for you, and it can be free advertising," Spencer said. "It's no longer about just a service or product but the company behind that and how others are affected, enjoyed or felt about the business."
Andres said there is nothing better than getting people to talk about your product.
"It's like a movie review when your best friend tells you a movie was amazing," she said. "Social does this for brands."
Staying on best social track
Short, subtle and not too serious are the way to go when it comes to social media marketing.
The rule of thumb is short and sweet videos that are less than a minute, said Andres, who notes video is expected to be 80 percent of the content on Facebook by 2020.
"It's all about embracing these micro-moments," she said. "On Facebook, the majority don't listen to any volume, so you have to be sure that you are embracing captions and other techniques to offer a visual experience."
Being entertained remains at the core of why people are on social, Andres said.
"You need to think entertaining, (and) you don't want to just post a flier," she said. "You need to engage the audience and make them want more."
Mielke said social media can't be viewed the same way someone views a magazine.
"If you post only sales or specials," he said. "It's almost like a ticker on a digital sign, and that is never going to work."
Mielke said an informational video showing a product in use can be an entertaining and subtle way to spotlight a product.
"If you are a company selling knives, make a video of a chef making an interesting dish using the knives tastefully and have a link to purchase the knives in the description," he said. "The audience is getting value from it … it's about amplifying."
Barbur said part of the entertainment component is not focusing on perfection but on just being people.
"My advice is to not take yourself too seriously," he said. "It's OK to see employees having a basketball game off the clock or in the lunch room laughing."
Barbur said the human element is important.
"Employees doing something silly … people react to that," he said. "Have human content that you don't run through a series of filters … be humble and don't take yourself too seriously."
Businesses also really can build a level of confidence through social media.
Spencer said it's important to focus on quality not quantity.
"Sharing important updates or stories makes it special rather than just posting as many times a day as you can," he said.
Social shouldn't be seen as the whole enchilada—both in crafting content and as a marketing tool.
Andres said social media can be viewed as an appetizer.
"(But it's) not also dinner (or) dessert," she said. "You have to pull them in and leave them wanting more—maybe pulling them toward your website.
Andres said entrepreneurs think everything is important and that they need to get it all out there.
"It's about knowing how to use it and use it as a tease," she said.
Andres also believes social needs to be matched with other forms of marketing.
"To me, social is not a standalone medium but should be reinforced with some traditional medium," she said. "You want your audience to think that they have heard about you a lot—on social, a billboard, an ad … It's an integrated mix."
Click here to read more from the June-July 2019 issue of Northwest Indiana Business Magazine.