Competitive nature leads Region native to dream jobs with WNBA's Chicago Sky, Lake County Corn Dogs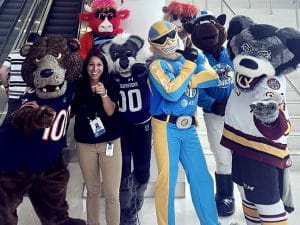 "I'm competitive," said the Munster native and Indiana University graduate. "I've just always known sports would always be a part of my life in some way."
Salzeider played volleyball while attending Munster High School, but when she started college, her interest in team sports became more recreational. However, when it came time to select her major at IU, she discovered the sports marketing program and hasn't looked back since.
"It was the perfect avenue for me," Salzeider said.
These days her competitive nature is focused on running 5K events with her dad, John.
"I got into running after graduation (from IU)," she said. "It also was a way for me to bond with my dad."
Salzeider's first experience with sports marketing was as a member of the Chicago Bears' game-day crew, the Monster Squad. Her time with the Bears led to an opportunity with the WNBA's Chicago Sky.
"I started out in community relations with the Sky," Salzeider said. "(The team) is really good about providing interns with hands-on experiences and opening doors to job opportunities in the industry as well."
Salzeider later secured a full-time position with the Sky.
Now entering her seventh year with the team, Salzeider is director of operations, events and merchandise. In the role, she is responsible for overseeing game-day operations and game-day experiences, as well as on-court promotions and team merchandising.
Workdays can get busy during the WNBA's regular season, which runs from early May through mid-August.
A mission for Salzeider in 2022 is to raise awareness of the Chicago Sky in its home market, including Northwest Indiana, as well as around the league. This task received a significant boost after the Sky won its first WNBA championship in October by defeating the Phoenix Mercury.
It also helps that several of the Sky's current players have Region ties, including Dana Evans, a Gary native who played for the University of Louisville, and Kahleah Copper, a former Purdue University Northwest assistant coach who played for Rutgers University.
"I truly love what I do (for the Sky)," Salzeider said. "If I wasn't loving it, I don't think I'd be entering my seventh season with the team."
Salzeider's Region roots connected her with Ralph Flores, owner of Flores Insurance Group in Munster and founder of the new Crown Point-based baseball team the Lake County Corn Dogs, a member of the Northern League, a developmental baseball league.
Flores approached Salzeider and her fiancé, Alex Teodosi, who is vice president of sponsorship with the Chicago Sky, about becoming part owners of the Corn Dogs.
"It never crossed my mind to be an owner of a sports team," Salzeider said. "But after Ralph approached us, the conversation(s) led to where we are now."
Flores said Salzeider's experience with a professional sports franchise will help build the Corn Dogs brand.
"Samantha's experience with the WNBA's Chicago Sky is invaluable to the success of the Corn Dogs," he said. "This experience brings instant credibility and industry knowledge to the front office of the Corn Dogs."
Salzeider is appreciative of her professional experiences and is grateful for the mentors who guided her.
They include her parents, and Michelle Henstock, formerly with the Chicago Sky but now with the Chicago Red Stars women's professional soccer team, as well as Adam Fox, the president and CEO of the Sky.
"My parents always supported me in everything I chose to do," she said. "When I came on as an intern with the Sky, having Michelle around helped me to navigate the sports world and helped me find my way."
As for the future, Salzeider is focused on the coming seasons for the Sky and her baseball team.
"I want to focus on growing in my current role and continue to (raise) awareness of the (Chicago) Sky and WNBA and now the Lake County Corn Dogs," she said. "I want to learn and incorporate new ideas into the game-day experiences."
She is happy continuing to build on those skills.
"(I want to) give fans a great experience whether they are coming to a Corn Dogs or Sky game, and just really want to perfect those crafts."
Click here to read more from the June-July 2022 issue of Northwest Indiana Business Magazine.