Jazz jam session at Merrimans'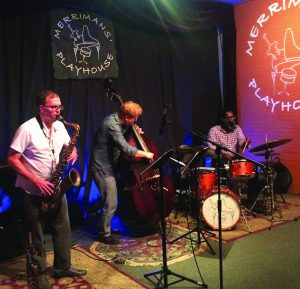 Merrimans' Playhouse in South Bend recently transitioned into a 501c(3) organization. It operates as a nonprofit, but the day-to-day operations aren't affected. Owners Stephen and Mary Merriman host an open jazz jam session every Tuesday night. They also regularly host national and international touring jazz ensembles. On April 17, it's straight-ahead standards with the Doug Stone Quartet. The propulsive piano jazz of the Dave Meder Trio follows April 26. Drummer Keith Hall will try not to get upstaged by his more famous sidemen—saxophonist Andrew Rathbun and bassist Robert Hurst—for a gig by the Keith Hall Trio on May 15. Up-and-coming saxophonist Seth Ebersole appears June 13. (574) 329-3430 or www.merrimansplayhouse.org.
Multimedia experience
The South Bend Museum of Art's latest installation comes from multimedia artist Michael Dinges. His show, titled "A Scarecrow at the Crossroads of an Epoch," will be on exhibit from April 20 to June 30. Dinges embraces a variety of techniques in his pieces, with the goal of exploring notions of identity, technology and globalization, with a focus on personal and cultural artifacts. (574) 235-9102 or www.southbendart.org.
Chamber music competition
The University of Notre Dame's DeBartolo Performing Arts Center is wrapping up its 2018-2019 season with a pair of multi-day offerings. For three nights, May 2 through 4, the American Ballet Theatre Co. presents a program that's a blend of classic and contemporary choreography. From May 10 through 12, classical musicians from around the world converge at Notre Dame for the Fischoff National Chamber Music Competition. In its 46th year, the Fischoff is the largest chamber music competition in America. There are multiple skill levels, so the participants range from young children to burgeoning professionals. All events at the three-day festival are free, although tickets for the finals should be reserved. (574) 631-2800 or www.performingarts.nd.edu.
Spiritual trouble
South Bend Civic Theatre is presenting Heidi Schreck's play "Grand Concourse" from April 12 to 21. It's the story of a nun who runs a soup kitchen in the Bronx. There she faces both day-to-day headaches and deeper spiritual struggles. On May 1, SBCT hosts a special one-night only staged reading of Laurie Nathan's "Lot's Wife." "On Golden Pond" became a beloved movie on the strength of unforgettable performances by Katharine Hepburn and Henry Fonda, but the work began its life as a stage play by Ernest Thompson in 1979. Norman and Ethel have a long and largely successful marriage, but there's still tons of issues bubbling over. The tension can work as well on stage as it did on screen. Another older character is the focus of "Between Riverside and Crazy," which runs June 7 to 16. Stephen Adly Guirgis won the 2015 Pulitzer Prize for Drama for the play, which portrays the life of a retired New York City police officer named Walter "Pops" Washington. (574) 234-1112 or www.sbct.org.
Live blues music returns
In the late 1970s, the first out-of-town gig young Lil' Ed Williams ever played was when the Chicago-based guitarist performed with blues titan J.B. Hutto at a gig at Vegetable Buddies in South Bend. The original venue is long gone, but a new Vegetable Buddies has arisen in the same location—with the same mentality (and now with craft beers). Lil' Ed and the Blues Imperials already have performed at the revamped Vegetable Buddies, and they return for a show April 27. On May 18, it's the celebratory sounds of the part-reggae, part-jam band Giant Panda Guerilla Dub Squad. Blues music returns May 24, when Ronnie Baker Brooks comes town. His father, legendary guitarist Lonnie Brooks, died in 2017 after a long career as an elite blues man. The good news is that the similarly talented Ronnie is still in his prime, and we can catch him in as intimate an environment as Vegetable Buddies. (574) 232-0954 or www.buddiesdtsb.com.
Click here to read more from the Apr-May 2019 issue of Northwest Indiana Business Magazine.