Entrepreneurs find success creating interesting spaces to enhance event experiences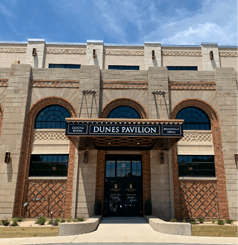 Some have rehabilitated vintage buildings, while others have taken advantage of scenic natural surroundings.
Chef Jason Rudy is involved in two of them: The Market in Valparaiso in the former Strongbow Inn near U.S. 30 and state Route 49 and the Pavilion at Indiana Dunes State Park. He will serve as chef when the Pavilion opens in April.
Patrick Murdock and his partners host concerts and other gatherings at Avenue 912 in Griffith, named for the roadway that runs past it.
Todd Connor owns Emerson House, a large home on more than 30 acres near La Porte, which can be rented for weddings, corporate events and other occasions.
Breanne Stover and her husband own a century-old property in Griffith, which once served as a bank before becoming a public library and other businesses. Today it's the home for the Bankquet.
Juli Charlesworth turned an employee dining room at her Valparaiso financial services business into a small gathering space for hire, called the Pennsy Depot Banquet Room.
Michaline Tomich turned a shell of a building into the Design Barn in Hebron to not only house her business but also provide a fun place to gather.
These entrepreneurs each completed extensive renovations to make their spaces reality, but all are ready to roll out the red carpet for people and organizations seeking a unique venue.
Outside-the-box thinking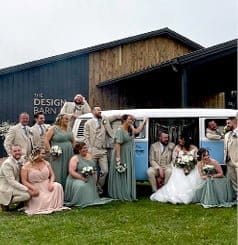 Working through the pandemic required plenty of creative thinking to keep a business viable.
Tomich launched the Design Barn at the onset of the pandemic. She convinced lenders to trust her business plan and forged ahead.
"We did all of our construction during COVID," she said.
The building was an unfinished shell. Tomich and her team had the vision to use transparent garage doors to bring in light and the outdoors for an eclectic Nashville/Austin country vibe.
The outdoor area is also designed with guests in mind. As more brides decide to hold weddings at the same place as the reception, rather than in churches before heading to a banquet hall, the new venues must plan accordingly.
The Bankquet has outdoor patio space, which makes it a popular spot in downtown Griffith.
Emerson House sits on 38 acres, which are fully accessible to guests. Deer and other wildlife are frequent guests on the property.
Many of the venues found couples postponing their weddings during the crisis. That's having a ripple effect as the rush to hold postponed nuptials conflicts with weddings of newly engaged couples.
The success of Tomich's venue came as a little bit of a surprise. Her Mixdesign business, celebrating its 20th anniversary this year, is based at the Design Barn. She got a running start when an employee wanted to hold a wedding in the new space.
"The following week, about 40 brides called us," Tomich said. The pent-up demand for weddings is rewarding new venues by rushing to fill open dates.
"We have had several re-do's already," Tomich said, after couples married earlier in the pandemic decided to have the big celebration now that vaccines are readily available.
Heather Becerra, chief marketing officer at the South Shore Convention and Visitors Authority, said the new venues are meeting a demand in the market.
"I definitely think that events are happening again," she said. "I think there's a need for venues like that."
County Line Orchard in Hobart kicked off the trend, Becerra said. People are looking for something unique and not just four walls and a dance floor.
"It's great to see new event venues popping up," she said.
The Market in Valparaiso has been open the longest of the newest venues, about seven years. Along the way, Rudy has had to do some reinvention.
He was banquet chef at Strongbow Inn, left for another opportunity, then when the Strongbow Inn property became available, he decided to purchase and renovate the historical building.
A comedy club operates there three days a week. Valparaiso is a good stopping point for comedians working the circuit between Detroit and Chicago, he said.
Strongbow was known for its banquets as well as its restaurant. The great hall can seat up to 350.
With a room divider in place, two 150-seat rooms can be created.
Rudy's kitchen is busy. It's not just for meals served in that building but for elsewhere as well.
It's a commissary kitchen not just a small operation, Rudy said.
An indoor farmers market operates every Sunday when it's too cold to do the traditional outdoor markets held across the Region.
The Design Barn now operates a weekend restaurant, 312 Café, offering dining options that weren't previously available in Hebron.
What sets the Design Barn apart, Tomich said, is the emphasis on food experiences.
Instead of doing a typical plated meal, the Design Barn offerings include a taco bar, carving station, s'mores bar and more.
"We're a little bit spunky and a little bit different," Tomich said.
Feeling of home
Emerson House is an eight-bedroom house built as a bed and breakfast. Connor wasn't planning to shop for a home, but the Realtor called and asked them to look at it. "We pretty much immediately fell in love with it and saw the potential it had," he said.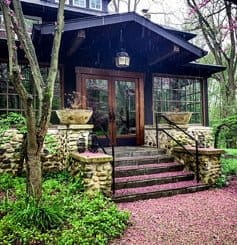 They bought it and did a massive renovation to match their vision.
"We rent it as a weekend package," he said, four days and three nights, with the guests having full use of the home and surrounding grounds.
There's no preferred caterer to use. All the arrangements are up to the guest renting the property.
"We have kind of everything you need to host 70 people for dinner," Connor said, including tables, chairs, plates and silverware.
Emerson House has seen its share of weddings, but it has been used for other purposes, too. Several family gatherings have been held there, in some cases after the death of a loved one.
By renting out the entire house, rather than just a few rooms, the guests get privacy and full run of the property. Wildlife abounds on the grounds, so it's not unusual to see deer, hawks and other animals sharing the space.
Connor's background includes facilitating events for leaders, so he sees what works and what doesn't work at event spaces. He was focused more on retreats for the 7,500-square-foot house, but he soon realized the strong market for weddings.
What sets Emerson House apart is its do-it-yourself nature.
"We don't upsell them on anything," he said. "You pay one fee and get the whole house and anything in it."
A quaint setting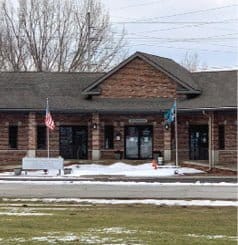 Charlesworth's Pennsy Depot Banquet Room is "small and quaint," offering space for between 32 and 40 people. Guests can bring their own food.
"We do quite a few baby and bridal showers," she said. The room also has been used for funeral dinners, wakes, baby gender reveal parties, milestone birthday parties, seminars and graduation parties.
It's good for open house-type events where guests don't show up all at once. There's enough parking for 35 vehicles. In the summer, parking on the grass isn't a problem.
The banquet facility offers a fireplace and full kitchen. "It's a very beautiful room," Charlesworth said. The building, built in 2006, won a Valpo Chamber Community Improvement Award.
The building is at the intersection of Sturdy and Comeford roads, across from Saint Paul Cemetery.
Meeting a need
Murdock's Avenue 912 opened in response to the closure of the Star Plaza Theatre and the Radisson Hotel in Merrillville. "I saw a need. I love music and said, 'Hey, let's do this,'" he said.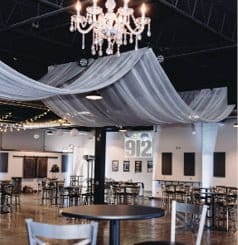 "We thought Griffith was a perfect area," Murdock said. His partners include Jack Havlin and Tony Hobson.
Much like Design Barn and the Bankquet, much work was needed to get the building ready.
"We basically built it from the ground up," Murdock said. "It was literally a warehouse, (and) there were no walls, no plumbing."
However, that allowed the partners to design and build their dream space at the old Kmart plaza in Griffith.
On March 8, 2021, Avenue 912 opened with a reunion concert by Bravo Johnny.
"We're not the Avalon," Murdock said. "We're not classy and traditional. We're edgier."
Murdock said Avenue 912 is more of a "rock 'n roll wedding place."
A wedding on Halloween featured a bride dressed in black and the father using a cane with a skull on it.
"We're diversified," Murdock said. "We do concerts, but yet we do wedding receptions, but we do fundraisers."
Murdock recognizes his business has an obligation and a responsibility to the community.
"Helping nonprofits is important to the partners," he said.
Stover, who helped launch the Bankquet, said the building originally was in "pretty rough shape."
"There was a lot of water damage," she said. Her husband, Ed, dug out the basement, which still had the original dirt, to create a kitchen.
"I really think a restaurant or a banquet hall is a perfect fit for that building," Stover said. It holds up to 70 people, plus there is a patio for events to flow into the backyard.
"We did a lot of live music events last year," she said.
It's a smaller space than a large banquet hall, but that's a selling point for the historic building.
"People are gathering much smaller now," Stover said.
In addition to small weddings, showers, reunions and funeral services, the Bankquet has hosted upscale wine and food pairings.
In one of its previous incarnations, the Bankquet was a public library.
"A lot of people tell stories about how they lived in the library over the summer," Stover said.
The downtown Griffith location is a selling point.
"It feels like you're the centerpiece of the main street," she said.
Click here to read more from the April-May 2022 issue of Northwest Indiana Business Magazine.

Latest posts by Doug Ross
(see all)