Monroe Pest Control Inc. of Hobart enjoys success with third generation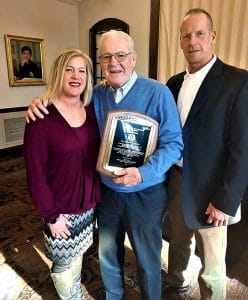 "Monroe Pest Control Inc. has benefited from a fairly consistent pest population that continues to thrive each year," said Dave Wilson Jr., president of the family business he operates with sister Kelly Tichacek, co-owner and CFO.
"Termites, ants, wasps, bees, spiders, roaches, bed bugs and mice drive demand for both remedial and preventative services each year," he said.
The family business began after Dave and Kelly's grandfather, Dewey Wilson, began working as a manager based in Gary for the expanding Monroe Exterminating Co. in Chicago. Dewey Wilson met his wife, Phyllis, when he hired her as a secretary at the firm, and after the couple married, they purchased the business in 1928 and changed the name to Monroe Pest Control Co.
"They successfully established themselves and spent many years building their brand and serving the communities of Northwest Indiana," Kelly said.
"After our dad, Dave Wilson Sr., graduated from Indiana University and completed a tour of duty in the U.S. Army, he joined his parents in the family business, and eventually became the second-generation owner, supported by his loving wife, Mary Lee, our mom."
Their mom served the business in many ways, and ultimately was responsible for the redesign of the company's logo, which has "become so well known," Tichacek said.
Wilson Sr. continued to grow the business and expanded the service territory, eventually relocating in 1975 to a larger facility at the business's current location at 3220 W. Old Ridge Road in Hobart. Now 84, Wilson Sr. retired in 1998 but continues to advise as needed.
He said one of the many reasons the leadership transition was seamless is because the next generation brother-and-sister team both have business management degrees from Indiana University and have always worked in the family business.
"I couldn't be prouder of what Dave and Kelly have done and the way they have grown the business," Wilson Sr. said. "Having gone through the same transition myself with my own parents, I appreciate the challenges, and I am grateful for their commitment."
Wilson Sr. still retains his seat on the company's board of directors along with his two children and their spouses, Michelle Wilson and Tom Tichacek.
"The family business has just recently benefited from the addition of Kelly's husband, Tom, to the management team," Wilson Jr. said. "His years of experience in the corporate world has proven to be a tremendous asset in his new role overseeing commercial operations."
Wilson Jr.'s son, Nick, and Kelly's son, Spencer, also are growing into leadership roles. He said all indications are the business will transition to a fourth generation of family ownership.
Wilson Jr. and Kelly agree Monroe Pest Control Inc. has benefited from what they describe as "a fairly consistent pest population that continues to thrive each year."
Termites, ants, wasps, bees, spiders, roaches, bed bugs and mice all rank among the most common unwanted pests to invade homes and businesses.
"Occasionally dramatic increases in the numbers of certain insects will explode with little to no explanation as to why," Kelly said. "Cicada wasps, box elder bugs, carpenter bees and earwigs are a few examples."
An example of another emerging insect enemy is Asian lady beetles, which were unknown in the U.S. for many years until they were imported decades ago to help control greenhouse pests such as aphids. They have since proliferated in large numbers throughout the country.
"In recent years, there has been an increased focus on tick and mosquito management due to these insects being carriers and transporters of Lyme disease and the West Nile Virus," Wilson Jr. said.
While the target pests have not changed much over the years, the means for controlling them have. Procedures have an increased focus on eco-friendly products and responsible application techniques. Many materials that were once EPA approved are no longer used or even available.
"Outside of rising costs and increased competition, the biggest challenge in our business is keeping thousands of customers happy and satisfied," Wilson Jr. said. "Since our main goal is continued growth, it is our main focus (that) we work hard to build relationships with as many of our clients as possible."
Monroe Pest Control Inc. employs about 30 people, and offers commercial and residential pest control services in Northwest Indiana and Eastern Illinois.
Click here to read more from the June-July 2022 issue of Northwest Indiana Business Magazine.