ECIER Foundation of Merrillville provides guidance to students for building successful lives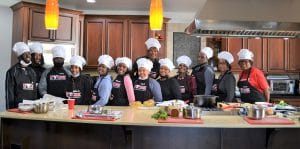 The nonprofit organization has provided guidance to many students to ensure they succeed in life.
"The idea for ECIER Foundation was designed to empower and teach inner city students how to become innovators, entrepreneurs and teach students life skills that they ordinarily would not be taught," said Chareice White, founder and CEO of ECIER Foundation.
"ECIER," or Educate, Communicate, Innovate, Entrepreneurs and Relationships, was founded by White in 2013, and since then, the program has worked with 176 high schoolers, which includes 74 who received $235,600 in scholarships between 2014 and 2021.
Scholarships have come through partnerships with the city of Gary and its former mayor Karen Freeman-Wilson and current Mayor Jerome Prince. Support also has been provided by the Hard Rock Casino of Northern Indiana and the Majestic Star Casino, which has since closed.
Mark Spencer is a member of the ECIER Foundation's board of directors and director of performing arts for the Gary Community School Corp. His role at the foundation focuses on education, and he produces ECIER's television program, "Our Future."
Spencer guides the television show, where students fill all the other roles, including hosting, operating the cameras, acting as floor director and handling the sound, and naming the program.
"ECIER is a highly effective foundation, which focuses on student achievement and exploration in the areas of entrepreneurship and leadership," Spencer said.
White said the goal of the show is to give students the opportunity to showcase their talent while interviewing local entrepreneurs.
The ECIER Foundation's student-produced TV show was featured on the "Good Morning America" spinoff "GMA3" in 2021. It showcased students and promoted "Our Future," White said.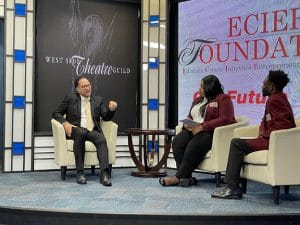 Spencer said seeing the students' recognized on "GMA3" was a highlight for him in his work with the foundation.
In addition to the "GMA3" and "Our Future" shows, highlights for the ECIER Foundation include hosting a yearly fundraiser with the Friends of ECIER for breast cancer awareness called Jubilation (Joy & Celebration). Jubilation includes a reception at Gamba Ristorante, an exclusive dinner for 10 women where a breast cancer survivor shares her story, and a reception at the restaurant where special gifts are awarded to attendees.
Another high point for the foundation was when students and their chaperons received free tickets from former First Lady Michelle Obama to attend the kickoff of her international book tour "Becoming" at the United Center in Chicago.
The foundation board of directors also gave Obama's book to participants. And the students saw Oprah Winfrey interview the former first lady.
"The evening was an unforgettable magical moment for our students," White said.
The foundation launched "Future Leaders," a pilot program, in 2021 for middle grade students. The students are mentored by Friends of ECIER, assisting the board of directors, learning how to create vision boards and money jars, teaching mentees how to open bank accounts and save money.
Workshops covering entrepreneurship take place monthly between October and May, which students are required to attend.
White said the foundation's initial goals for students new to the program are to be "well-versed and learning as much as they can."
White said she wants to continue providing educational and thought-provoking workshops for students, and have the resources to award scholarships to high school seniors and have funds to assist students returning to college.
She said, to date, some of her former students have attended 26 different colleges and universities across the U.S. And some of those students have graduated, White said.
"I see the foundation growing and starting successful productive charters in other states," she said.
Spencer agrees.
"I see ECIER growing into a greater capacity and helping even more children in years to come," he said.
Click here to read more from the June-July 2022 issue of Northwest Indiana Business Magazine.

Latest posts by Jessica Tobacman
(see all)