Extraordinary venues transport events to another plane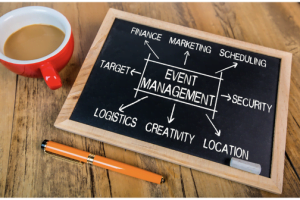 In a world where instantaneous is the new norm, even businesses and organizations are taking their events to a new entertainment level by using unique venues.
"We're in a changing time where everything is instant gratification," says Michael Angelo Bernacchi, president and founder of Michael Angelos Events, which is based out of South Bend. "We're so innovative and imaginative now that we need something that creates excitement. It's almost like the movies – they need to be so extreme to be entertaining. With events, you have to take the next step and look to some place unique."
The "event atmosphere company" has helped orchestrate events in such elaborate locations as right on the track at the Indianapolis Motor Speedway. Locally, the team has utilized spaces at the Ameristar Casino in East Chicago and the gym at Purdue University Northwest Hammond campus for the commencement ceremony.
"We take an empty space and create a pleasing event environment for our clients," Bernacchi says. Décor and lighting can transform unique spaces even more, he adds.
In the region, event organizers can channel a distinctive vibe from down-home-on-the-farm to room-with-a-train-view by booking these out-of-the-ordinary venues.
County Line Orchard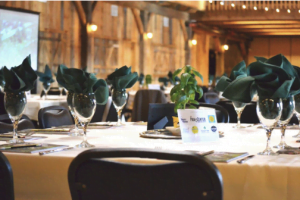 Amid the apples and big barn at County Line Orchard is an opportunity for organizations and businesses to cultivate creativity during their meetings and events.
"We have seen a trend in businesses looking for a unique venue to encourage their teams to think outside the box, explore creative options and collaborate outside of a traditional or routine office dynamic," says Jen Lefere, events and general manager at County Line Orchard. "It is a refreshing change of pace, and makes for a memorable and impactful meeting, conference or event. We love pairing with businesses to build these experiences for their company."
County Line has a full-service event venue from November to August and seasonal fall happenings from September to October that can serve as a backdrop for events. Attractions include apple, pumpkin and sunflower picking, corn maze, Moo Choo, kids farm and campfires.
"There is something special about the rustic, yet elegant charm that County Line Orchard has to offer," Lefere says. "From weekday meetings and conferences to holiday parties or networking events, we are able to accommodate events of all size and with varying needs. Given the nature of our venue, we can help you design small, intimate event settings or large-scale affairs."
The South Shore Convention and Visitors Authority has used the space at County Line for a monthly board meeting. "We look to use space for partnership events that will showcase the venues and the different features they have to offer. Also, we recommend unique venues to clients who want to break from traditional meeting spaces, such as banquet halls and hotels," says Katie Holderby, executive VP/chief projects officer at the SSCVA.
"These types of venues are great for meetings, but it is different to add an attraction, so attendees can be creative and break from lecture-type areas," Holderby says.
Fair Oaks Farms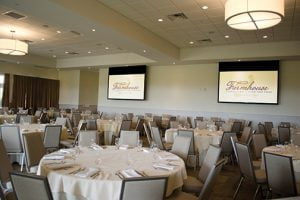 Nestled on campus is the Farmhouse Restaurant and Conference Center, which has traditional event amenities along with an American Farm Cuisine menu and farm-filled adventures.
The boardroom can accommodate 25 individuals while the ballroom has 3,500 square feet that can be open for 200 or divided into spaces for 150 or 50.
"We have some unique spaces and opportunities for corporate dinners and team-building opportunities such as the ropes course in the pig adventure," says Deann Patena, director of private dining, meeting and event sales at Fair Oaks Farms. "We do a lot of corporate picnics where they bring the whole company, including families who can use all of the grounds when they are here."
The campus features the pig, dairy and crop adventures, which bring the sights, smells and sounds of the farm to life. Outdoor activities and a play area make up the Mooville adventure.
"I think people are wanting to incorporate different spaces and engage meeting attendees more instead of just sitting in a traditional space the whole time," Patena says. "Our property lends itself to that."
Washington Park Zoo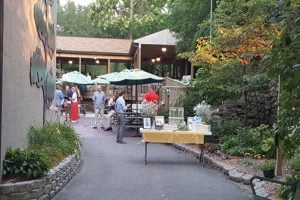 The roar of a lion or squawk of a macaw may interrupt the flow of an event, but that's part of the point, according to Washington Park Zoo Director Jamie Huss.
"I think that today's companies are looking to lose the suits and be inspired by a unique out-of-office experience, and what a better place than here at the zoo in a natural environment to stimulate fresh ideas and innovative thinking," Huss says.
Located in Michigan City, Indiana, off the southern shore of Lake Michigan, seasonal venue options at the zoo include an indoor classroom, covered Discovery Deck for day-time meetings and the chance to rent the whole zoo for an after-hours event. The zoo itself showcases exhibits with more than 90 animal species, historical walkways and buildings and the 70-foot tall observation tower.
"We offer a business room with a zoo. It's a great resource to allow corporations a different, natural atmosphere to host a meeting, a catered lunch and then a relaxing stroll alongside the lions and peafowl," Huss says. "I believe that experiencing nature, animals, trees and plants reinvigorates and connects people."
Visit Michigan City La Porte, a convention and visitors bureau organization that raises awareness of the county's events and offerings, has brought together its members and the public during an idea and information exchange event at the zoo. "We use as many destination locations as we can," says Jane Daley, community relations manager at bureau. "It gives them exposure to visitors and locals as well. A lot of local people may know about the zoo but haven't been there for a long time," says Daley.
She says the zoo's location is a key component of its appeal. "It's nestled in the sand dunes along the south shore of what we call the Indiana ocean – Lake Michigan," she says. "There's the outdoor venue and the education building, not to mention all of the animals housed there."
Linda Simmons, director of marketing at Visit Michigan City La Porte, says the animals provide a one-of-a-kind backdrop for events."The zoo teams will take the time to provide tours," she says. "They put their heart and soul into the upkeep of the zoo and animals and you always learn something new when you go out there. Everyone is impressed when they see that there is a zoo in a town our size."
"They hit 100,000 visitors this year. We're real proud of that. Next year is the zoo's 90th anniversary. With a five-year strategic plan, it's just going to get better," Simmons says.
Monroe's Crossing
The 1914 building, which now houses the restaurant, bar and banquet facility, was once a hot spot along the railroad system.
"With the 102-year-old building, we have beautiful acoustics and wood floors in the ballroom," says Rich Monroe, who owns the business along with his wife, Leslie.
The venue encapsulates a different era with one of the last old ballrooms around. It has meeting space for up to 275 individuals and there is outdoor seating available as well as menus customized to each individual event.
"In addition to the large ballroom, we have a smaller room in which we can accommodate up to 50 people with the view of Hudson Lake," adds Leslie Monroe.
Taltree Arboretum & Gardens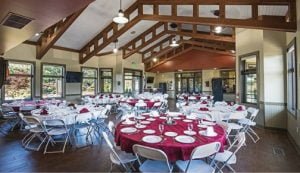 Views of the prairie and Railway Garden serve as a singular setting for corporate events and meetings at the depot. The seasonally-available space can accommodate 100 people in a classroom style and 70 for dinner. Model-scale trains chug through water features, more than 500 conifers and woody pants, limestone, and metal and wood bridges.
"Many innovative companies have come to realize that the results of any offsite meeting can be enhanced if attendees are placed in the right environment. That's why they come to Taltree: to be inspired, focused and energized," says Stephanie Blackstock, executive director of Taltree Arboretum & Gardens. "We find that businesses are seeking ways to refresh their team and our breathtaking views of the prairie, ornamental gardens and unique wildlife do just that. We offer versatile spaces for business meetings, conferences and workshops."
Taltree's offerings also include outdoor pavilion venues. The Meyer Memorial Pavilion can seat 70 and has a fireplace and garden surroundings. The new Celebration Rose Pavilion can hold 50 individuals and 200 with the addition of tents. It is located in the Bapst Rose Garden.
The space has been utilized by the Rotary Club of Valparaiso for its annual Changing of the Guard as well as St. Elizabeth Ann Seton Church for its Walk for the Poor.
"We also offer corporate memberships, which allow employees to access the arboretum throughout the year. Executives bring clients out to stroll in the gardens and some work with us on a family day for their business," Blackstock says. "We also coordinate group volunteer opportunities."
Click to read more from the Feb-Mar 2018 issue of Northwest Indiana Business Magzine.