Experts say Northwest Indiana's strong logistics network essential for competing globally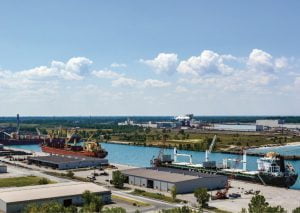 The world wants products made in Indiana.
State exporting figures prove the point. Officials say they totaled more than $38 billion last year, and there's room for growth. Northwest Indiana is in a position to get more Indiana-made products to the world.
"The Region (has) an international port and international airport, and there's tremendous collaboration taking place on the local and regional levels," said Erin Sweitzer, spokesperson for the Indiana Economic Development Corp. "All of that combined with (Indiana's) roads and infrastructure are what keep us open to new jobs.
Education, engagement, talent development, teamwork and informed insight also keep the Region heading in the right direction and moving forward in the logistics arena, experts say.
"As the Crossroads of America, we have to be able to reach people all around the globe, and Indiana leaders are working daily to bring Indiana to the world and the world to Indiana," said Bryce Carpenter, vice president of industry engagement at Conexus Indiana.
He said Indiana's motto, the Crossroads of America, is accurate because the state has the most pass-through interstates in the country. It's Conexus' mission to ensure Indiana maintains and grows its national position as a logistics center.
"We have $65 billion worth of goods go through our state each year," Carpenter said. "One-third of our GDP is from manufacturing, and those are big numbers."
Forming alliances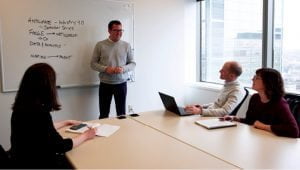 Conexus Indiana has been connecting logistics leaders since 2008, and since then, has brought together logistics players in innovative ways toward growth and development.
"We exist to advance the manufacturing and logistics in our state from any part of the supply chain — that includes water shipping, air shipping and freight shipping professionals and companies as well as third-party warehousing and distribution," Carpenter said.
Conexus has assembled a far-reaching network with six geographic regions and 75 partners across the state.
"The councils are not only geographically diverse but also sector diverse," Carpenter said. "We work together and lift up each other's efforts."
Carpenter explained how an issue such as a truck-driver shortage has a ripple effect and why the problem must be addressed with a broad perspective.
"Not only does a shortage affect trucking companies but also warehouse and manufacturing and possibly the workforce," he said. "We view things on how they affect the whole network and the interdependency of all of these areas."
Strengthening the state's logistics network means a broader strategy is needed.
"We don't center around one sector but bring all of these parties together to take on challenges that affect the whole industry," Carpenter said.
Sweitzer said there is "unprecedented regional collaboration" with the Ignite the Region economic development plan that includes Northwest Indiana's seven-county Region.
"It outlines strategies to further market the Region and attract new business," Sweitzer said.
One organization particularly is working on the transportation section of that NWI Forum report.
"We are trying to ensure that the Region's transportation meets future needs and how we can leverage federal and state money for that," said Eman Ibrahim, planning manager at the Northwestern Indiana Regional Planning Commission.
Peter Kimball, regional planner/spatial analyst at NIRPC, said it's critical to establish a group of experts with a diverse background. Representatives from the private sector, municipalities, economic development and the NWI Forum have different perspectives but can worker together to develop solutions, he said.
Eye on infrastructure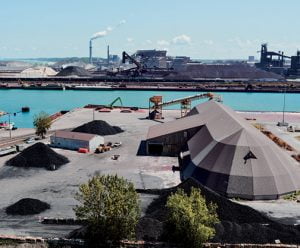 Gov. Eric Holcomb's Next Level Roads plan is infusing a $3 billion investment into highway construction, operations and maintenance, Sweitzer said.
"That's on top of investment in local road construction, our world-class airports and water ports that connect Indiana to the world," she said. "Gov. Holcomb (recently) announced a more than $22 million investment in broadband expansions across the state."
Scott Weber, transportation planner/analyst at NIRPC, said the agency has been working toward and tackling major transportation projects.
These include re-striping and refreshing overhead sign guides at the Borman Expressway and I-65 interchange, the grade separation project at 45th Street in Munster, the extension of Willowcreek Road in Portage down to State Road 130 and the reopening of the Cline Avenue bridge, slated for the end of 2019 or early 2020.
"These projects will help traffic flow more smoothly and reduce the amount of delays," he said. "The Cline Avenue bridge has not been open since 2009, and we're excited to get it back online."
Weber said the Cline Avenue bridge project is nontraditional because it's not being paid for with government funds but by private investment. When the bridge reopens, tolls will be collected electronically to keep traffic flowing.
"Gov. Holcomb's administration has worked to improve major roads and highways across the state — bridge repairs and overpass improvements that help freight and logistics move more smoothly," Weber said.
Kimball said there is also a focus on rural and urban freight corridors, which are roadways connecting interstates to such areas as intermodal and manufacturing facilities.
In the water and air sectors, the Gary airport recently expanded its runway and established a new customs facility, and the Port of Indiana-Burns Harbor is taking on infrastructure projects.
Alicia Thomas, spokesperson for the Port of Indiana-Burns Harbor, said there has been an expansion of rail infrastructure, additional dock space and construction of a new 2.3-acre cargo terminal with multimodal connections.
"Ships come through the St. Lawrence Seaway directly to our port where cargoes are unloaded and shipped by rail, truck or barge to their destinations," she said. "We have exceptional infrastructure to allow companies to share what Indiana does exceedingly well — manufacture and move products essential for modern life, and grow and ship food for the world."
Talent development
The logistics and supply chain management program at Ivy Tech Community College is bringing students up to speed for jobs in the industry.

"It's mostly geared toward job-ready career-oriented individuals looking to enter the field or go back," said Andy Mason, assistant professor of logistics and supply chain management at Ivy Tech Community College in Michigan City. "One of the biggest misconceptions of logistics is that truck driving is the only component. There are a lot of career paths or avenues."
Jack Schoenfelder, who is acting vice chancellor, department chair and professor of business administration at Ivy Tech Community College in Michigan City, emphasized how logistics is a component of so many industries, such as retail, which has shipping and receiving.
"There's warehousing, purchasing, dispatching," Schoenfelder said. "We're not talking about menial jobs."
The Ivy Tech program allows participants to earn certificates and go on toward an associate degree.
"As the field continues to expand and there's technology-driven warehouses, the job market, we feel, continues to expand, and we're enhancing skills to offer the opportunity for individuals to grow with their passions and professions," Mason said.
Sweitzer said the governor's Next Level Jobs initiative is providing free statewide training for in-demand industries. Employers are receiving reimbursements to train workers in high-growth fields.
"Indiana is a hot spot for logistics and transportation talent with 146,552 jobs in 2018, which is 20 percent above the national average," Sweitzer said.

Jennifer Mann with Conexus Indiana said perceptions are key to continuing to develop talent.
"I think to stay competitive (in) an area of focus is: How do we break down misconceptions of manufacturing and logistics and support a better understanding of the impact offered by the leading industries in the state?" she said. "We want to reach different audiences, such as high-school age or younger and the influencers who help make decisions, such as parents and educators, who are leading them to career choices."
Conexus Indiana's yearlong speaker series, Movers, Makers & Mixers, seeks to spotlight how manufacturing is more than just automotive parts and what is being done outside of the traditional focus of the industry.
What's next
At the Port of Indiana-Burns Harbor, Thomas said the future is focused on infrastructure investment, including a new bulk transload facility and rail yard, expansion of bulk-handling facilities and a new truck marshaling yard.
"We care about improving air quality and won the Partners for Clean Air Industrial Award," she said. "We also became the first inland waterway system and the first statewide port authority in the nation to secure a Green Marine certification."
Weber said keeping an eye on effects of increasing logistics activity is also important as it affects the whole Region. Truck platooning uses technology to allow tractor-trailers to stay close while traveling.
"Following closely, they can draft off each other and increase fuel efficiency," he said. "You will see trains of trucks on the highway … it's a small step, but things like this can help our Region have a higher quality of life."
A prepared and diverse workforce is essential to bringing businesses to the Region, Ibrahim said.
"As we attract more businesses to locate here, we can help be an advocate for those employees to have the proper training and proper skill set and be a partner with communities," Mason said of the Ivy Tech program.
At NIRPC, Ibrahim said the organization recently completed a 2050 plan looking at all aspects related to transportation, including e-commerce.
"With more e-commerce, how are we going to handle more traffic and changes that affect land use here and the workforce?" Ibrahim said. "With the high vacancy rate of retail locations closing because of e-commerce, we can make recommendations or guidance on how to re-purpose these prime locations to accommodate e-commerce."
Weber said the Region must adapt to accommodate future growth in e-commerce and automation.
"How are we preparing our Region to adapt to trends and get ahead of the curve will help us grow more and develop," he said.

Carpenter said Conexus Indiana and its councils also are more centered on larger issues and not just infrastructure.
"There's challenges with the adoption of technology and incorporation of digital technology in warehouses," he said. "We are still interested in transportation with the challenges and opportunities related to congestion, but it's also important to look beyond the day-to-day issues for the bigger picture and anticipate what's coming ahead instead of just being reactive."
Click here to read more from the Oct-Nov 2019 issue of Northwest Indiana Business Magazine.