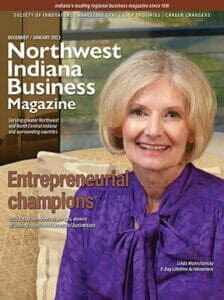 We interrupt our regularly scheduled programming for an important announcement!
For the last few years, this page has included a note from our Managing Editor Larry Avila previewing the articles in this issue. After almost five years, Larry is leaving us to pursue a new opportunity. He is joining Industry Dive, an online business news organization, as a staff editor.
As this is Larry's last issue, I want to break away from our normal "Inside this issue" roundup to take a moment to recognize Larry's contributions. The magazine has never been better editorially, and that is in large part because of his efforts. I thank him for his skill, hard work, good nature, dedication and friendship. I wish him much happiness and success in his new endeavors. Hopefully, we can persuade him to write the occasional story for us in the future.
I also want to take a moment to introduce our new Managing Editor Heather Pfundstein. For those of you with a keen eye, you might have noticed Heather's name in the masthead as our Design/Production Manager for the last four years. Heather joined us initially as a part-time proofreader. In short order, she quickly took on fact checking, copy editing, design and much more.
As luck would have it, Larry's departure coincides with an increase in Heather's availability. She has agreed to take on most of Larry's responsibilities while continuing to do graphic design work.
Heather earned a journalism degree from Southern Illinois University, and has an impressive 27-year background in local news coverage. Before joining us, Heather worked in various positions, including regional editor, local news editor, community news editor and associate managing editor. She typically managed a portfolio of three to seven suburban daily or weekly newspapers for either Sun-Times Media or Tribune Publishing companies. Heather has enjoyed reconnecting with the Region over the last few years. She started her newspaper career here with the Times of Northwest Indiana before moving to the Chicago suburbs.
I hope you will join me in wishing Larry well and welcoming Heather to her new expanded role with the magazine! Thank you for your attention. We now rejoin our regularly scheduled programming.
I hope you enjoy this issue!
Click here to read more from the December-January 2023 issue of Northwest Indiana Business Magazine.