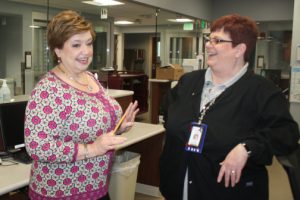 Educators and one-on-one guides for patients' health care journeys
Nurses serve patients through stronger roles in health care world
While education, roles and opportunities have evolved in the nursing world, the patient has remained at the core of the profession.
"Nurses are leaders. They have a leadership role in ensuring patient safety and quality of care," says Paula Swenson, vice president of patient care services and chief nursing officer at St. Catherine Hospital in East Chicago. "Nurses are innovators, too. They are good at problem-solving. Being a patient advocate is a priority in nursing and first and foremost in a nurse's mind is how to help patients and their families."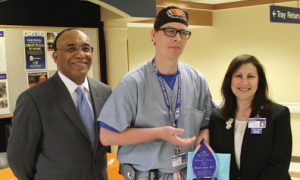 "It's one of the most trusted professions," says Shelly Major, vice president and chief nursing officer at Methodist Hospitals. "The beauty of the profession is in who we are as individuals. Intrinsically, it's who we are as care givers and how we help people.
"Integrity and trust are things that you really can't teach people."
A stronger role
Historically, nurses were seen as handmaidens to doctors, says Swenson, whose own career began in 1981. She has a bachelor's degree in nursing and a master's degree in health administration. Her roles have ranged from being a bedside nurse and nurse manager to being a nursing supervisor and working as a consultant.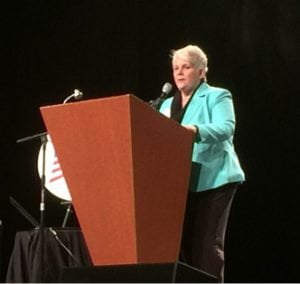 "Today, nursing is an independent, strong and critical-thinking profession," she says. "It's very collaborative whereas when I first got out of nursing school, nurses were more assistants to the team."
"Today, doctors work alongside nurses and respect their knowledge," says Sandra Behrens, director of the NW Indiana Area Health Education Center at Purdue University Northwest. The center focuses on workforce development in health care for eight counties.
"They work as a team. Nurses have moved into leadership roles and many hold high positions in administration."
Nurses often take on the role of educators and are a one-on-one guide for a patient's health care journey.
"The devil is in the details," Swenson says. "Nurses can provide the whole picture and spend a lot of time educating the patient.
"We are teaching patients and keeping our focus on preventing diseases. We have nurses championing programs on how to prevent disease."
Diabetic programs are an example of how nurses can take the lead in education.
"We have a very strong nursing-led program that teaches healthy habits to manage diabetes and help prevent kidney and vascular diseases," Swenson says.
A changing environment
Behrens says the field has transformed in numerous ways since she entered the profession, from the uniforms nurses wear to how they chart.
Behrens launched her career in 1992 after graduating from Indiana University Northwest with an associate's degree in nursing. She has worked in long-term care, home health, OB/GYN, pain management, orthopedics and pediatrics. She continued her education, receiving a B.S. in health care administration and an MBA with a concentration in health care management. She has served as executive director of a community health center and dental clinic for IU Health in La Porte.
"Even in 1992, I was required to still wear a white uniform and shoes," she says. "I did not have to wear the well-known nursing cap and could wear pants.
"Patient charting was all done by hand, writing in their charts. Most IV fluids were in plastic bags, but many still came in glass bottles. Computers were only used to enter some physician orders for labs, X-rays, etc."
Major says the focus has shifted in hospitals from just being on acute episodes of care.
"We are caring for patients on the continuum of care: before, during and after," she says. "We look at patients holistically."
Major also sees how the role of nursing in patient care has evolved to a problem-solving approach centered on utilizing evidence-based practice, she says.
Swenson says, "Science and evidence have become part of how we practice. We look at why we do things and the evidence to support the activity."
Education evolution
In the past, nurses were trained and educated through hospital-centered programs, which offered hands-on and on-site instruction.
"Now education is based in universities and educational-type organizations and hospitals are out of the business of educating nurses," Major says.
Today, the college-based process allows nurses to tailor their education to fit their needs and goals, whether they choose to become LPNs, RNs or nurse practitioners.
"We have advanced practice nurses who have a master's degree or doctorate," Swenson says. "The knowledge base they need to learn is tremendous. They are doing dialysis and putting in arterial lines.
"Advanced practice nurses can practice independently, such as a midwife or nurse anesthetist."
Techno-savvy
Technology continues to boost training and education.
"The students can learn so much more on simulators," Behrens says. "Nurses can continue their education online, making it so much easier to do with work schedules and family commitments."
Technology's presence in the health care world has impacted a nurse's job.
"Since I have been out of nursing school, technology has mushroomed," Swenson says. "There was a point in time when a blood pressure reading could only be done by a physician. Now, technology has ballooned at hospitals."
Behrens highlights some of the changes brought on by technology:
Electronic records.
Old glass thermometers have been replaced by electronic ones.
Machines can take blood pressure and pulse, and can also be set to retake these measurements at set intervals.
IV machines regulate the drips of medication, and nurses no longer do it by hand.
Pain medication can be given via a machine that allows patients to control when they receive it, but the machine can be locked once the maximum dose has been given.
Heart monitors and EKG readings can all be done on a portable machine and the data can be sent to the nurses' station to be monitored at all times.
Blood work results can be received in minutes rather than hours or even days.
All X-rays, MRIs and CT scans are done digitally and viewed on computers.
"All of these have made the nurse's job much easier," Behrens says. "However, keeping up with all of the advancements and the speed at which they came was a challenge."
Opportunities abound
Major says there are varied avenues nurses can travel down in today's health care environment, including being case managers, nurse navigators, insurance reviewers or holding leadership positions.
"The beauty of nursing is the plethora of opportunities available," Major says. "For someone moving into the profession, there is part-time work, full-time work, working in a private or public setting, for-profit or not-for-profit, the corporate world, health care sales."
She says nurses are taking on administrative positions that go beyond traditional roles.
"Nurses are leading and managing health care organizations," she says. "Nurses are CEOs."
Behrens adds, "They can work in hospitals, clinics, home health, long-term care, research, administration, quality, insurance, corporations and education to name just a few. They work in every medical field. Advanced degrees bring us the advanced practice nurses. Nurses can control their work schedules to meet their personal needs."
Remembering the past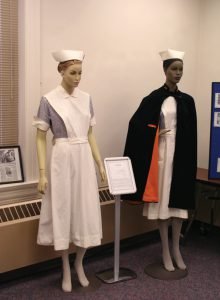 Major has been in the health care field for 37 years and has a bachelor's and master's of nursing, an MBA and a Ph.D. in leadership and business. Since 2008, she has been part of the executive team at Methodist Hospitals, which had its own school of nursing from 1923 until 1967.
The school's first nursing students were 10 women from Indianapolis Methodist Hospital – the "mother hospital" of the Gary facility. In 2009, the Methodist Hospitals School of Nursing Alumni Association, along with the hospital, launched a museum celebrating the school and honoring the history of nursing. Visitors can view nursing uniforms through the decades, former tools of the trade, books, newspapers and a hospital bed. The museum is on the first floor of the hospital's administration building in Gary, where the nurses once lived.
"The museum was put together by the nursing association led by Hazel Witte, chairman of the association, in January of 2009," says Evelyn Morrison, marketing and corporate communications manager at Methodist Hospitals. "The museum was later renamed in her honor when she passed away."
What's next?
Major expects a nurse's part in the health care world to only grow stronger in the future.
"Because of our history and the way we have been able to adapt to external forces and be leaders in a trusted profession, I believe nurses will have an even bigger role in the care of patients," she says. "I believe nurses will play an even bigger role on the wellness side, in the health care setting and the end-of-life hospice setting.
"I'm a big proponent of men and women getting into the profession. People will always be sick and need to be cared for and at the end of the day, you are proud to be a nurse."
According to Behrens, "With many baby boomers retiring, there will be many nursing positions that will need to be filled. The need also rises as the aging baby boomers require more health care for themselves.
"The need for new nurses is rising daily. Every state is looking at shortages."
Swenson says as the population ages and a shortage of physicians is possibly on the horizon, nurse practitioners could take the lead in primary care at some point.
"Nurses are the backbone of any hospital and really the backbone of health care in the United States," Swenson says. "They serve so many roles in so many different ways. It's a wonderful profession and they certainly bring so much to the world and our communities."