South Shore Arts leader postpones retirement to help organization regroup after year like none other
The decision came after consulting his staff and the board of directors for the nonprofit that is the umbrella organization that oversees the Northwest Indiana Symphony. They decided in April to delay his previously announced retirement for one year.
"With all of the instability resulting from a year of COVID, we thought it better not to create more (uncertainty)," Cain said.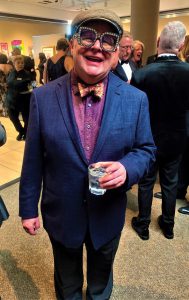 In late 2020, Cain announced his timeline for retirement, including a written explanation. It also named his successor, as published in the fall September-November 2020 issue of "Convergence," the South Shore Arts quarterly magazine.
"At the end of the current fiscal year that began on July 1, 2020, and ends June 30, 2021, I will retire as executive director of South Shore Arts, and by extension, the symphony," Cain wrote. "Micah Bornstein was recently named deputy director by the board and has begun to take on a range of executive duties."
Cain also promised with his previous 2020 announcement that he "would continue to assist as able with fundraising and other projects on an as-needed basis."
Formerly called the Northern Indiana Arts Association since 1970, the nonprofit in 2006 was rebranded as South Shore Arts to reflect balanced emphasis on both music and visual arts.
With a mission "to stimulate interest and appreciation of art in our Region," the entity began in 1936 when 10 artists formed the Hammond District Art Association with membership limited to Hammond and Calumet City artists. When the Community Foundation of Northwest Indiana built and opened the Center for Visual and Performing Arts in Munster in 1989, the South Shore Arts and the Northwest Indiana Symphony moved their headquarters to the 1040 Ridge Road site.
"When I became executive director in October 1993, we recognized our relatively new home in The Center for Visual and Performing Arts was a dream come true," Cain said. "But we also became referred to as a 'country club arts organization,' in light of our programming that seemed to be geared exclusively for a privileged class of people in a multi-million-dollar building."
Cain said given this wake-up call, the organization immediately took stock of the Region's diversity and identified ways to serve it, making its facilities and programming more accessible to everyone.
One of the dominant challenges Cain conquered in recent years was the December 2017 closing (and subsequent 2018 demolition) of the 3,400-seat Star Theatre in Merrillville, which for more than three decades had been the home of performances for the Northwest Indiana Symphony. At the start of 2020, the NWI Symphony, under the baton of Maestro Kirk Muspratt for the past two decades, announced it had found a permanent home with scheduled concerts for the new season in the 1,000-plus seat auditorium of Living Hope Church in Crown Point.
After a year of canceled concerts and performance hiatus because of the pandemic, in April 2021, Cain and Muspratt welcomed the return of live in-person concerts with limited audiences and social distancing. Unveiled April 9 at the first of three spring concerts, the trio of performances continued with a May 14 date and then June 18 concert, the latter heralded as "The Return of Kirk!"
"John Cain has been our guiding force through this pandemic," said Tammie Miller, marketing coordinator for the Northwest Indiana Symphony. "We remain safe while cautiously optimistic about attendance numbers, and also balancing virtual concert programming with live in-person audiences.
"Our April concert allowed for about 75 to 100 people able to attend in person, and then while monitoring health department numbers and guidelines, we ideally hope for increased attendance by the June concert date and outdoor summer concerts," she said. "It's John's leadership that is getting us through what's been the most difficult year anyone has ever experienced in our organization."
Cain said the pandemic has resulted in losses of "well over $250,000" because of the cancellation of the annual Beaux Arts Ball charity dinner gala in 2020, as well as canceled arts classes and revenue losses at the organization's popular gift shop.
He said the organization has benefited from a Payroll Protection Loan, as well as a $50,000 loan from CARES Act funding from the National Endowment for the Arts, as well as the generous support of their donors, patrons and business underwriters.
Click here to read more from the June-July 2021 issue of Northwest Indiana Business Magazine.