Region firms work to blend modern while preserving a classic building's charm
Through a modern-day lens, redevelopment and construction leaders across Northwest Indiana continue to examine the rejuvenation of old sites and old structures.
Developers say they take it project by project to determine if structures can be restored or need to be torn down to build new from the ground up.
"There is value and a sense of place to community members who know buildings and grew up around them," said Brandon Dickinson, Valparaiso's redevelopment director.
It creates nostalgia for some residents and connects them to growing up, he said.
"If a building is important, it is part of our duty to rehabilitate and preserve those buildings the best we can, if it is financially reasonable to do so," Dickinson said.
Weighing old versus new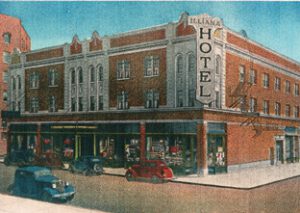 Bruce Stolman, economic and community development director for the city of Whiting, said a team shopped around the former Illiana Hotel that stood on the corner of Atchison Avenue and 119th Street.
"We were looking around to rehab the building as it was pretty cool on the outside but inside had water damage," he said. "The economics just didn't work to rejuvenate it, and we started to get discouraged."
But later, a piece fell from the top of the building and struck the sidewalk.
"Fortunately, no one was hurt," Stolman said. "Upon further examination, we found the masonry damage was getting worse, (so) we had to declare an emergency."
The damaged structure had stood vacant for decades and was torn down in 2017. The cleared site paved the way for Holladay Properties to take over the Illiana Building project, which pays homage to the former hotel that opened in 1928.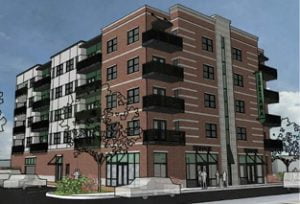 The five-story multi-use building will feature 4,500 square feet of commercial space on the first floor and 32 two-bedroom apartments. A lease agreement with Calumet College earmarks about a dozen of the units for foreign exchange students who attend the college with the rest available to the public. The project is on track to wrap up in 2020.
"As much as we wanted to preserve the structure as it had been part of our community for so long, it just became a danger," Stolman said. "There is double the parking that the Illiana Hotel had. … There were fewer cars in the 1920s. You have to have modifications to accommodate modern life."
Igniting a spark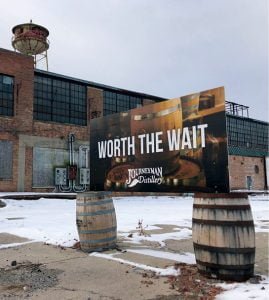 Bringing life back to the ANCO property on South Campbell Street in Valparaiso could cultivate further development in the area, said Rob Thorgren, Valparaiso Redevelopment Commission president.
"Reinvesting in areas that were once busy corridors is very beneficial to the city," he said. "We have done that in other locations, and we are hoping to have the same results here."
He said the strategy behind redeveloping the ANCO property is to peak interest in other potential redevelopment sites.
The ANCO site has been vacant since the mid-1980s but now is heading toward a new beginning with plans for a transit-oriented, mixed-use space. Three Oaks, Michigan-based Journeyman Distillery is in the process of taking over the site and its structures as an anchor tenant of the project.
"They have already torn down the buildings that were past the point of use," Thorgren said. "The ANCO site has four buildings, and the plan is to rehabilitate all of them."
Thorgren said the city is finalizing the transfer of land and the development agreement with Journeyman Distillery.
"Once, it was known that Journeyman was coming to Valpo, other folks came online to express interest in the area," he said.

Bill Welter, founder of Journeyman Distillery, said his goal in Valparaiso, is similar to the vision he had in Three Oaks, Michigan.
"Our ambition in Valpo, like Three Oaks, is to preserve as much as we can of the original structures," Welter said. "We believe the buildings in Valparaiso have a story to tell, and our goal would be to complement the buildings with our own uses, but at the same time, let the buildings tell their own stories."
Welter said it is important to his company's story, because he believes in authenticity not only in his distilled spirits but in the spaces he occupies.
The vision for the site includes a restaurant, event space and barrel storage, along with the distillery and brewery. The four ANCO buildings add up to 125,000 square feet of space.
Beyond Journeyman, the city is working to develop housing as well as commercial and retail space in partnership with Indianapolis-based Flaherty & Collins Properties.
"I think we can look to what Bill accomplished in Three Oaks with that rehabilitation and expect it to be just as spectacular," Thorgren said. "Here, their plan is to keep as much of the original look as possible."
Dickinson said the industrial look is what a lot of businesses are going for, and often new buildings are built to look like they are 80 years old.
Creating connections
Connecting to the community is key for Welter, who grew up in Valparaiso and had hoped to take First National Bank into the future.
"My grandfather and my dad (Chuck) had a vision of family-owned and operated businesses that could last for multiple generations, (and) I believe in that same vision," Welter said.
"While my opportunity to take First National Bank into the third generation was cut short when my uncle sold the bank, I am thrilled to have the opportunity to be part of an incredible community and to see what impact we can make."
Welter said he wants to carry on both the family business tradition and play a meaningful role in the community.
Dickinson said seeing the ANCO site come back is also important to strengthening the city's ties to its roots.
"It's a reflection of our community (and to) those who worked at the former windshield-wiper manufacturing plant (who) were proud to work there," he said.
"Preserving the buildings is a reflection of those who built this community into a desirable place to live and work, (because) it pays homage to the hard-working and great people who have come before us."
Freshening up
Façade and sign grants also help prompt business owners to boost their curb appeal.
In Whiting, Stolman said the program has been available for more than 10 years and most business owners in the downtown district have taken advantage of the matching grants. For the façade grant, the city will reimburse up to $7,500, depending on the total amount spent.
"It's tough to maintain these old buildings and expensive, (because) we want them to restore the original look whenever possible, such as masonry work and not cover up with aluminum," he said. "There's an application to follow as well as parameters."
Stolman said, for signs, developers "can't do some kind of crazy neon."
If the proposal conforms to the historic guidelines and color schemes, it is approved by the redevelopment commission," he said.
Dickinson said the ANCO project reflects how the city can be a vital team member.
"The redevelopment commission has grants that we can put into play for façade improvements, and we have our sign program, (and) obviously, with projects like Journeyman, it takes a little more than a façade or sign grant to make the project work," he said. "The scope and depth of the project spotlights how the city can participate and be good stewards of public money and participate at a reasonable and appropriate level."
Beyond the old ANCO site, Thorgren said other areas in Valparaiso are in various stages of redevelopment, including the old St. Paul School at Campbell and Chicago streets, East Lincolnway corridor, the former White House restaurant on Morgan Boulevard and the former Kmart site.
St. Paul Square now features a condominium community ready for residents, while the site of the restaurant is waiting for a new phase.
"The old White House restaurant is one of those situations where it's too far gone," Thorgren said. "We have tried redeveloping the site, but the structure is going to have to come down at some point."
Thorgren said the Urschel family is studying the best use of space at the former Kmart and the adjoining properties. "That could be a big development in the city's future," he said.
Specialized skills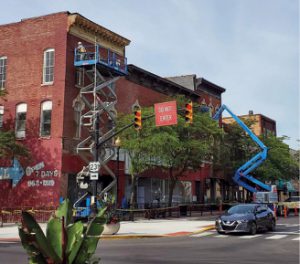 In Crown Point, John Yaney and the Yaney Masonry team have taken on many restoration projects, including the antique mall on the square and various buildings at the Lake County Fairgrounds.
"We have completed multiple levels of masonry and stone restoration projects on restaurants such as Tavern on Main, and up-and-coming businesses opening in old historical buildings in downtown Crown Point," he said.
Yaney said working to preserve old structures can be more cost-effective than building new and can be more environmentally friendly.
"We are re-using existing materials instead of creating more," he said. "By preserving the efforts that were poured into the creation of these historical buildings, we are preserving the legacy of these buildings."
Yaney also highlights how working with historic structures can be a delicate balance and present challenges.
"You have to be cautious in this type of work as to not further harm the integrity of the structure around the areas of work," he said. "Matching and sourcing in terms of color, look and material can be a challenge."
In business for more than 30 years, Yaney has watched the industry continue to evolve.
"The fall of the availability of tradesman and companies that still do this type of historical work has changed over the years," he said. "Tradesmen skilled in the art and knowledge of the historical restoration trades are becoming scarcer, (and) being a multi-generational company, we continue to pass down the trade."
Click here to read more from the April-May 2020 issue of Northwest Indiana Business Magazine.