More workers, employers embrace flexible work arrangements and reap benefits of working remotely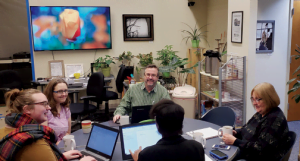 Today's economy is more than finding business opportunities and a qualified workforce locally. The expectation now is to replicate that model for success in a global marketplace.
Thanks to advancements in technology and a changing mindset among workers and companies, it's no longer necessary to house all employees under one roof. As many of today's professionals will say, with a little coordination, collaborative environments that lead to successful outcomes are achievable even when team members are miles apart.
"Remote work is no longer a perk — it's becoming an expectation," said Brie Reynolds, senior career specialist at FlexJobs, an online service for professionals seeking remote and flexible work. "Professionals overwhelmingly say they expect work to get even more flexible in the future."
Reynolds said between 80 percent and 90 percent of working Americans want to work remotely at least part time, and 68 percent say they expect to work remotely instead of commuting to an office daily.
"The shift towards more remote work is being driven by several large factors," Reynolds said. "The socio-economic makeup of the American workforce is shifting: the rise of single-parent households, women as the main breadwinners, a more global workforce overall and millennials becoming the largest generation in the workforce."
The FlexJobs crew teamed up with Global Workplace Analytics to break down the latest on telecommuting across the country. Among the report's key findings are that regular telecommuting grew 115 percent in the last 10 years; half of the telecommuters are 45 or older; and telecommuters are more highly educated.
"Technology has advanced and improved the way we telecommute now," said Cyndi Harbin, president of NWI Society for Human Resource Management. "All the advances with virtual apps and high-speed Wi-Fi have definitely attributed to why more and more employers are considering telecommuting as an option."
Harbin said this is leading employers to offer flexible work schedules, which is helping to attract, engage and retain the best and most skilled employees.
Benefits for both sides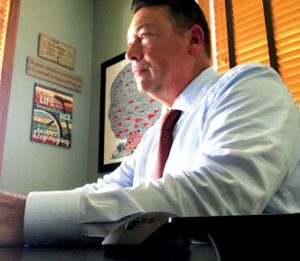 "From the employee standpoint, flexibility and not commuting into a physical office location help with that work-life balance that everyone is looking for," said Michael Telesky, vice president of sales at UnitedHealthcare in Chicago. "Job satisfaction is important as it improves performance, and it helps deliver value to have folks out in the field."
Telesky has managed telecommuters and recently has begun telecommuting himself. UnitedHealthcare has been developing and implementing flexible work schedules for more than 15 years.
The team's telecommuting options are continuing to evolve to meet workforce needs.
"There are hybrid work options where they can work at home and at the office," Telesky said. "Employees can have an arrangement where they share the office and flex their schedules.
He said there can be training in the office, and once complete, those employees can be full-time telecommuters.
Tony Marusic, communications director at UnitedHealthcare, said between 35 percent and 40 percent of the company's employees nationwide have the option to telecommute, which contributed to the company landing on Fortune's Most Admired Companies list.
"With 160,000 to 170,000 employees in the U.S., that is a huge number telecommuting, and it saves money on renting office space," Marusic said.
Harbin adds that beyond decreased overhead costs, employers with telecommuting options can use it to attract and retain workers.
"Employers benefit through improved production, attendance and less turnover and decreased employee conflicts," she said. "For employees, telecommuting eliminates commute time and improves concentration through isolation from office interruptions."
Harbin said eliminating commutes and providing a flexible schedule can produce other positive results.
"Flexible work hours help fulfill personal appointments and provide better opportunities to volunteer and give back to the community," she said. "Not having to commute relieves stress, saves on gas and eases the 'what to wear' question, which in turn increases employees' well-being, attitude and loyalty to their employers."
The Global Workplace Analytics and FlexJobs report also found that telecommuting benefits can include an increase in employee engagement, reduction in technology costs, enhancement in creativity and innovation, expansion without increasing a geographic footprint and a focus on results versus employee presence.
"For small businesses, hiring at-home workers allows them to expand into new territories without opening up expensive offices and tap into a new candidate pool to find the best talent regardless of location," Reynolds said. "For some, having a job they can do from home means the difference between working or not working, including people with disabilities, stay-at-home parents, caregivers or military spouses."
Staying on track

One of the top myths about telecommuting is that employees work less than in-office workers, but they are more productive, Reynolds said.
To stay successful, there are important steps telecommuters can take to remain a productive component of their company.
"You should be able to proactively speak up when you have questions, need to clarify something you're working on, or want to voice your opinion or suggestion for something," Reynolds said. "This sort of proactive communication is key to being successful."
In addition to staying in touch with their company and its leadership, telecommuters need to get expected work completed, Harbin said.
"These two things will build trust with your employer and ensure that although you are absent from the office, you are still connected and accountable to your team, your boss and your employer," she said.
As a telecommuter, Telesky found approaching his day from a certain mindset led to his success.
"My personal advice is to approach the day the same as you would if you were in an office," he said. "I used my calendar to schedule time to make sure I was allocating time for my most impactful items throughout the day. I got dressed in business casual, so if I had to jump on a video conference call, I was ready to go.
"I approached it from the same standpoint as I managed my day when I was in an office, but now I was just working from home."
Cultivating culture
On the flip side, employers and company leaders must ensure there is a team atmosphere that extends to their remote workforce.
Telesky said UnitedHealthcare maintains its core culture with its remote workers through community and charitable involvement as a team. They find team activities, including charity runs and stair-climbing challenges.
"You have to allow opportunities to get together the office workers and telecommuters to engage in community events," he said.
Technology plays a key role in creating and maintaining connections, Harbin said.
"Conference calls, Zoom, Skype, Facetime, Dropbox, Google apps and instant messaging apps all give the opportunity to meet virtually," she said.
Telesky said maintaining communication is critical.
"You have to continue to have these team meetings and take advantage of technology to connect that way," he said.
Harbin said it also is important to include remote staff in employee appreciation activities and wellness fairs.
"Employers can do this by mailing packages to remote workers that include the same company/logo items given or gift cards for lunch or coffee," she said.
Reynolds with FlexJobs said remote workers must feel part of the larger company culture.
"They'll be more engaged and productive if they really feel like a part of something larger," she said. "That might mean occasional meetings or visits to the office or creating an employee resource group for telecommuters by telecommuters."
Harbin said discussion and planning should be behind any strategy.
"Best practice would be to discuss and design your telecommuting plan with your team, maybe by department, prior to 'rolling it out,'" she said. "Continually monitor and evolve your remote work plan. Be clear about expectations and measure performance often."
A special space
Co-working spots are another avenue for telecommuters to have constructive work time while creating ties with other remote workers and entrepreneurs.
"Co-working spaces are a relatively new idea, having only been conceptualized in 2005," said Kayla Greenwell, community coordinator at greenCOW Coworking in Hammond. "These spaces, focused on community, fill a much-needed gap in the needs of working professionals."
Places such as greenCOW, Zoseco Coworking in Valparaiso and 101Co3 in Mishawaka all offer office amenities along with a community atmosphere.
"Workers have an open space that is, in greenCOW's case, expertly designed to encourage focus, calm and productivity," Greenwell said. "The green in greenCOW stands for the fact that we have real plants in our spaces, something proven to reduce techno-stress and promote positive feelings."
Greenwell said both co-working and telecommuting provide flexibility for workers, who have the freedom to find places that fit their location and schedule.
The mix of individuals at co-working spots also adds up to a unique perk.
"They have the benefit of working in a community of others from a variety of different fields," Greenwell said. "The buzzword for the general idea of this aspect is 'cross-pollination.' We have members from a wide variety of fields, including health care, insurance, business consulting, career coaching, resume writing, and even a bona fide magician and fire eater."
Greenwell said that, every week, co-working space members connect and work in the same space.
"Their individual expertise helps individuals to expand their horizons, and it may even change how some view their work, adapting methods across fields to be more efficient and effective," she said.
Embracing the future
With employers such as UnitedHealthcare having many telecommuting positions open across the country, the option continues to grow and develop in today's working culture. The UnitedHealthcare team is looking to start positions as telecommuting from the start, even doing training in a remote setting.
"Remote job listings increased 48 percent between 2016 and 2019, and 43 percent of people report being able to work remotely some of the time, compared with just 9 percent in 1995," Reynolds said.
The idea that telecommuting is only for working parents and senior-level professionals who have "put in their time" at the office are just myths, Reynolds said.
"The genie is out of the bottle, and it's not going back in," said Kate Lister, president of Global Workplace Analytics. "Eight in 10 employees say they'd like to work from home at least some of the time."
Lister adds another 30 percent would take a pay cut for the privilege.
"I think over the next five years, working remotely will become so ubiquitous we will no longer feel the need to put a label on it," she said. "It will just be one of the many ways people work."
Click here to read more from the Aug-Sep 2019 issue of Northwest Indiana Business Magazine.