OE enriches lives of adults with disabilities,
creates community connections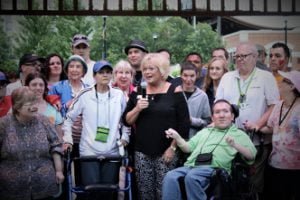 For more than 50 years, Opportunity Enterprises has helped individuals with disabilities forge new paths toward amazing achievements.
"We say we are in the business of amazing people because we are. It's been an incredible journey," says Ellen DeMartinis, OE chief executive officer. "It started with just 10 families who wanted a better life for their children. Now, we see close to 1,000 adults with disabilities on an annual basis. It's about giving them the opportunity to reach milestones and goals not thought possible before."
"Through the years, it's not just the clients, but their families, that we have touched and been able to support. It comes down to believing in people and the potential of people and what support can do."
OE services, such as Secure Shred, Clean Team, Simply Amazing Market and JobSource, not only provide opportunities for clients to grow and develop, but also help OE connect with the community.
Treats with a purpose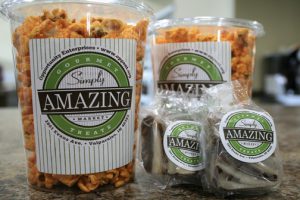 The Simply Amazing Market provides adults with disabilities a platform to build skills and meet community members while offering sweet and salty treats to shoppers.
"These individuals make our popcorn, fudge and Bavarian nuts," says Jennifer Fine, OE retail director. "Depending on their skill set and comfort level, they provide customer service, food production, product packaging, and gift assembly.
"The market brings people into our building, exposing them to our wonderful staff and inviting them to become more involved."
"It gives them the opportunity to feel a sense of pride," adds DeMartinis. "When they see community members appreciate their hard work, it builds self-esteem and confidence."
Job opportunities
JobSource partners with approximately 100 businesses in Northwest Indiana to connect clients to workplaces.
"For more than 25 years, we have been placing and supporting qualified individuals with disabilities in a wage range of careers," says Kathleen Parks Savich, director of OE's JobSource Community Employment.
Her team works to place clients in a variety of roles from entry-level jobs in food service and assembly work to professional positions in restaurant management and teaching. The job placement program not only assists individuals with disabilities, but also helps professional individuals who may be affected through an injury or illness.
"The program allows clients to serve, earn a paycheck and contribute back to the community," Parks Savich says.
Assessing clients' skill sets while fueling their passions and preparing them for employment are the initial stages of OE's JobSource program, which also assists with job training.
"We spend a lot of time getting to know the clients up front – their skills and passions. That matching is key to our 97 percent job retention rate," Parks Savich says.
Community connections
Austin Blackman, 27, began participating in the JobSource program nearly three years ago and landed at Strack & Van Til in Valparaiso as a utility clerk. His position includes duties such as organizing shelves, sweeping and bagging groceries.
Austin's mother, Tammy, says he has found a connection to the community that is evident when they're out and about and run into people who know Austin from the store.
"It's been life-changing and such a blessing," she says. "He has blossomed. Earning a paycheck makes him feel part of something and feel independent. He has a purpose and enjoys getting up and going to work."
Meaningful place
Monday through Friday, Austin Deavers, 22, arrives at OE ready to take on what the day has in store for him.
"Austin works in production at OE, which is the prevocational program," says Kristi Deavers, Austin's mother. "Austin loves being able to earn a paycheck every two weeks. To add variety, he also participates in the art enrichment program a few hours each month."
"Each November, OE has an ArtAbility art show where the public can bid on and purchase client artwork. Each client earns back a percentage of the purchase price. Austin has had artwork displayed and purchased from the show for the past three years."
Kristi says Austin's OE schedule adds value to his days. "We love that OE gives Austin a meaningful day. He has friends at OE – peers and staff – and he looks forward to going there every morning," she says. "OE is an important part of the community because it gives folks with disabilities a place to go during the day and interact with others in a safe, caring environment."
Keys to success
DeMartinis sees OE's success as branching out from a strong, supportive network.
"OE is OE because of the community we live in," she says. "People love where they live and give back with time and talents and treasures. We have a very open, accepting, supportive and financially generous community. The community has embraced and supported us and believed in our mission and the people that we serve."
Click to read more from the Apr-May 2018 issue of Northwest Indiana Business Magazine.