Indiana sets sights on becoming nation's leading production center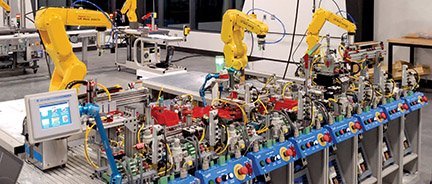 The state, officials say, arguably is the nation's most manufacturing-intensive state, and sector leaders want to retain that designation well into the future, so they are taking steps to ensure its ongoing vitality.
As manufacturing technology evolves, so will the skills workers need in that industry.
Mitch Landess, vice president of innovation and digital transformation at Conexus Indiana, is focused on helping manufacturers prepare for the future.
Students learn in school about the industrial revolution hundreds of years ago, but the revolution is continuing. As new technologies come online, industry adapts to them and evolves.
Robust information technology developments are being embraced by manufacturers for what's referred to as Industry 4.0, Landess explained.
"The future of advanced manufacturing is headed, like anything else we do in tech, at an ever-increasing pace," said Juan Lopez, dean of the School of Advanced Manufacturing, Engineering and Applied Science at Ivy Tech in South Bend/Elkhart. "Advanced manufacturing is making jobs cleaner, safer and changing the nature of what you consider entry-level work."
Lopez recently toured a factory that had two lines — an older one and a newer one.
They had the same gigantic, heavy machines making the exact same product. At the old line, the worker was closer to danger, having to pay extreme attention. At the other, a worker was behind a safety shield to monitor what the machinery was doing.
"Same processes, same machine, but one had automation and the other did not," Lopez said.
Landess said that's all part of industry's evolution.
"Extract humans from monotonous and strenuous and dangerous work and get them doing the human stuff," he said.
Automation advances
Landess said the saving grace for the workforce as manufacturers embrace automation is that machines must be carefully programmed and monitored to ensure they're functioning properly.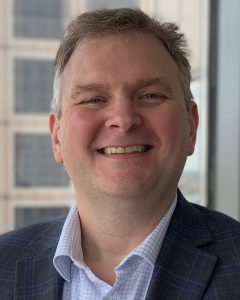 "This is enabling and uplifting for upward mobility for the workforce," he said.
Giant companies can afford to embrace new technologies quickly. Landess is helping small and medium manufacturers with the Manufacturing Readiness Grant program. Conexus Indiana, a nonprofit, manages the grant program in partnership with the Indiana Economic Development Corp. and in collaboration with the Next Level Manufacturing Institute. The grant program spurs private sector investments to modernize Indiana's manufacturing sector.
The grant program has been wildly successful. Initially, organizers announced a $4 million program offering up to $200,000, with the private sector expected to provide at least half the cost of each project. They expected between 20 and 40 projects would be launched.
"We had 60 applications in the first three days, and it was supposed to be a two-year program," Landess said. "The program was oversubscribed."
He said high interest in the program surprised state leaders, which later led the state to give additional funds to the program. More than 120 awards have been granted, Landess said.
"Reading these applications, you find yourself saying, 'I had no idea we had a company doing that here,'" he said.
A peer review team of industry professionals looks closely at the details of grant applications. Landess said filling out the grant application can take four to eight hours and forces the business owner to focus on the bigger picture, not just the nuts and bolts of operating the business on a day-to-day basis.
Investing to grow
Troy Bengford, owner of Custom Cut Décor in Elkhart, is using a Manufacturing Readiness Grant to add 3,200 square feet to his production facility. He's ready to hire more workers to operate the machinery.
An employee told him about the grant program, Bengford said.
Bengford's story begins with his school days. As he rode the school bus each day, Bengford sold more than 2,000 jigsaw puzzles he created in the woodshop, he said. He's still cutting wood, but he's doing so much more.
"We are a rapidly growing business," Bengford said. "COVID hit us with four times normal sales, (so it) really helped us in that respect."
The pandemic forced people to stay home, and as they looked around at their homes, they decided to redecorate.
"Mom and dad's running the rat race 24/7, 365," Bengford said. "They're sick of looking at the same old crap hanging on the walls for four years."
With extra time on their hands during the pandemic, many spent hours online, "looking to see what's out there," he said.
Custom Cut Décor is among the winners from this trend.
Bengford still operates a website development business. He got a large contract with a client who basically said, "We want you available 24/7 if something goes down."
"Basically, that meant (a) 9-to-5 job," he said. "I was bored as hell."
Bengford married his internet experience with his woodworking experience, and sales have gone global.
"Have you ever seen these letters cut out of tin? Old barn tin?" he asked. A woman whose antique shop was selling his products challenged him to try it.
He then began selling products on Etsy. "That really took off like mad," Bengford said. Amazon Handmade then approached him.
"Within three months, we were doing three times the sales we were doing for two years on Etsy," Bengford said.
"Letters is probably 80 percent of my total sales," he said, but he began doing other shapes to augment sales and started doing wholesale work.
Custom Cut Décor has machinery for metal, wood and plastics to fabricate just about anything the customers want, he said.
The state Manufacturing Readiness Grant Bengford's business received will allow him to add a 3,200-square-foot structure. He already has an 8,000-square-foot production facility.
Bengford is looking for workers.
"The programming on the front end is not an entry-level skill process, but because of the advanced software we use, if someone has basically graphic design skills, in two or three weeks, I can have somebody ready."
"I see this employee crunch," he said. "I see automation becoming the wave of the future."
Growth in robotics
At Sullair in Michigan City, robotic welders work seamlessly with the production line to build bases for air compressors. Sullair's difficulty in finding skilled welders led the company to turn to robots to do the work, said Chad McKeever, vice president of operations.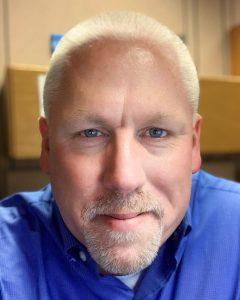 Sullair recently installed an 80,000-square-foot fabrication facility.
Sullair's parent company, Hitachi, had acquired a Michigan firm that programs robots, so the sister company solved Sullair's problem.
Understanding the type and gauge of steel and the potential for heat warpage, along with the type of weld, takes a lot of programming. But in about 90 days, it all came together.
"It was the first time that we had worked together," McKeever said. "We had to work with them during COVID, which was probably the biggest challenge."
The line was fully installed and ramped up for production in late spring 2021.
"The robots are assembling the frame that is the structural base" of air compressor units that are used around the world, McKeever said.
"We see air as the fourth utility," he said. "It's a utility required in order to make something transglobal."
McKeever said every manufacturing facility around the world uses air compression.
Robots' strength is their ability to function in environments that are challenging for humans, including extreme heat and cold.
"I think that robots are good for any type of a position that requires high standards and repetition that would be difficult to achieve every single cycle out of a human," he said.
McKeever said robots won't replace the dexterity and skills of an operator, but they can handle repetition without the injuries a human might sustain.
As manufacturers work to control costs, especially the growing cost of health care, they will be more likely to use robots that don't need to sleep and whose health care is only in preventative maintenance that keeps them in operation.
"Robotics will be a solution that we'll need to evaluate to be a competitive manufacturer in the United States," McKeever said.
Sullair is working to enhance and upskill workers, he said, including developing apprenticeship programs. "As a manufacturer, we can no longer count on trade schools or universities to supply our employees with the specific skills that we require," he said. "With Hitachi, we believe we should control our own destiny."
Training a workforce
Sullair and other air compressor manufacturers in La Porte County are being served by a new manufacturing lab and training program at Ivy Tech Community College's campus in Michigan City.
"We know it's the world's capital for air compression manufacturing," Chancellor Aco Sikoski said.
Thus, Ivy Tech is fulfilling its mission to offer training for jobs available in local industries.
A compressed air academy at Michigan City High School also is offered in partnership with Sullair.
Ivy Tech's lab experiences set it apart when it comes to higher education, Sikoski said.
"We are heavy on hands-on exercises," he said. Students are required to work in the lab to understand processes, equipment and safety as part of earning their certificate or degree.
Jennifer Furmanek, dean of the School of Advanced Manufacturing, Engineering and Applied Science at Ivy Tech in Valparaiso, said the college is setting up training for specific industries, including a certificate program for Urschel Laboratories employees.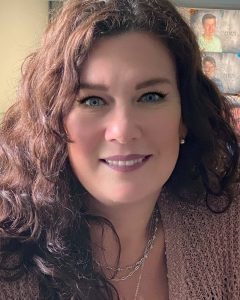 "It's one that we've created for them," she said.
The Steelworker for the Future program offers a certificate and paid internships, with a guaranteed job for those who successfully complete the training program. The two internships help Cleveland-Cliffs Inc. vet the students for the best positions for them, Furmanek said.
"They're really down on employment right now," so this training program is essential for the steelmaker, she said.
She said whoever needs more education with their employees, Ivy Tech wants to help.
Sikoski said the training is part of manufacturing's future as it evolves into Industry 4.0.
"Manufacturing is going to be very integrated between technology and information technology," he said.
The future is going to be vastly different, with developments including use of a 3D printer to manufacture replacement parts in the workplace, he said. The electronic file could be sent from the manufacturer to the printer to lesson downtime for customers.
The energy industry is evolving, too, which also will affect the labor market. Sikoski's campus is doubling down on training workers for solar installation jobs.
At Ivy Tech in Elkhart County, a new 10,000-square-foot Larry and Judy Garatoni Center for Advanced Manufacturing and Automation — known as the iFlex lab — offers the flexibility to train workers to meet current and future workforce needs.
"We are expanding the future of advanced manufacturing," said Lopez, the Ivy Tech dean.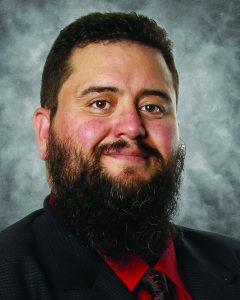 Classes offer micro-credentials to prove to employers that the student has industry-ready skills. In addition, a new degree in smart manufacturing and digital integration focuses on the next generation of automation, including smart manufacturing with enterprise-level software.
"You want every part of your production to know what every other part of your production is doing," Lopez said.
A corner of the lab is dedicated to an integrated smart factory system. Robots operate in conjunction with assembly lines. Software allows quality control, order management and handling, and more.
Humans will handle troubleshooting and larger-scale programming.
Lopez said the point of the training program is to turn students into workers prepared to deal with challenges, whatever they might be, in the future. The hands-on experience at Ivy Tech is important to truly understand the technology.
That's vital to manufacturers as they continue to evolve.
Other uses for robots
At Purdue University Northwest's Commercialization and Manufacturing Excellence Center, Associate Director Mont Handley is working on Project TRAVERSE, which aims to use a robotic arm to harvest tomatoes. That addresses both a shortage of workers and the need to do backbreaking, sun-baking labor.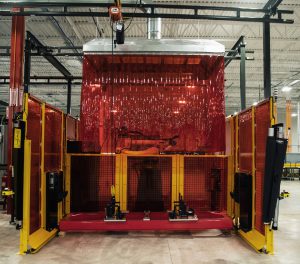 There's a lot of education to do, both for the researchers working on this project and for the robotic arm.
Some of the successes in the artificial harvesting field are in the 20% range, which isn't going to cut it. "I've grown tomatoes all my life, and that's kind of how they grow," some ripe and some green, he said.
The robotic arm has a camera attached, and a worker can see the live feed at home, using a standard home gaming system to select ripe tomatoes for the robot to pick.
This offers job opportunities for house-bound people, perhaps kept there because of a pandemic, and does some deep learning for the artificial intelligence driving the robotic fieldworker, Handley said.
"This could translate to manufacturing at some time, this idea of a remote workforce," he said.
Think big, and it could even apply to operating machinery on the moon or Mars or some other inhospitable location, Handley said.
"These technologies can be ways to create new jobs," he said. "There's options, there's opportunities."
Industry is ever-changing, and individual firms need to keep investing in technology to keep it.
Click here to read more from the October-November 2021 issue of Northwest Indiana Business Magazine.