Together with our editorial board of local business and community leaders, our mission is to publish stories about people and ideas that inform, inspire, challenge and education our readers helping them improve the economy and quality of life in our region.
We publish our content in various formats including our flagship bi-monthly Northwest Indiana Business print magazine and our mobile-friendly www.nwindianabusiness.com website. New formats for 2018 are our weekly eNewsletter and our weekly Northwest Indiana Business Podcast. In addition, we are also eager to partner with local subject experts and sponsors to develop ebooks / white papers, webinars, live events and online courses.
Our Readers are Decision-Makers
We deliver your marketing message to the region's most influential and engaged community and business leaders. Our region-specific, long-form content created by local writers and photographers is highly valued by our readers who consider Northwest Indiana Business Magazine their primary regional magazine for its in-depth coverage of the local business community.
We Reach Regional Community and Business Leaders
Nearly 14,000 copies of Northwest Indiana Business Magazine are read on a bi-monthly basis by businesses and community leaders and subscribers in a ten-county region of Northwest and North Central Indiana.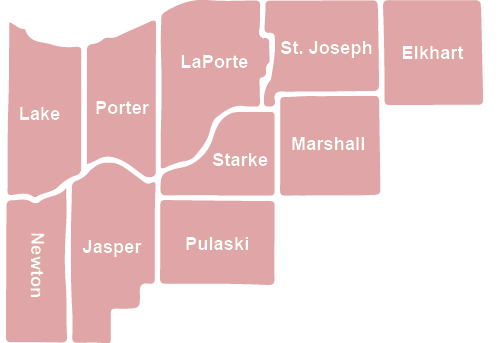 The magazine is mailed directly to company presidents, CEOs, business owners, as well as top managers and supervisors. Copies are provided to universities, health care providers, economic development regional offices, not-for-profit organizations, local chambers of commerce and selected hotels.
Our 2018 Calendar
February / March
April / May
Topics
Entrepreneurs
Construction
Financial Services
Meetings & Events
Engineering
Topics
Best of NWI & SB
Manufacturing
Staffing / HR
Real Estate
Logistics
Ad Reservation:
December 25, 2017
Ad Reservation:
February 19, 2018
Ad Material:
January 2, 2018
Ad Material:
February 26, 2018
Publication:
February 2, 2018
Publication:
April 2, 2018
June / July
August / September
Topics
Marketing
Tourism
Education
Small Business
IT/Comm. Technology
Topics
Managing People
Diversity
Workforce Training
Worker Benefits
Fitness
Ad Reservation:
April 23, 2018
Ad Reservation:
June 25, 2018
Ad Material:
April 30, 2018
Ad Material:
July 2, 2018
Publication:
June 1, 2018
Publication:
August 3, 2018
October / November
December / January
Topics
Business Law
Healthcare
Accounting / CPAs
Architecture / Design
Energy / Environment
Topics
Innovators
Agriculture
International Business
Entertainment
Succession Planning
Holiday Gift Guide
Ad Reservation:
August 20, 2018
Ad Reservation:
October 22, 2018
Ad Material:
August 27, 2018
Ad Material:
October 29, 2018
Publication:
October 1, 2018
Publication:
December 3, 2018
Our 2018 Media Kit
Learn more about our mission, our partnership opportunities, our 2018 editorial calendar, our readers, and our reach by downloading the 2018 Northwest Indiana Business Magazine Media Kit.
Contact Us
We are optimistic about the prospects for the Northwest Indiana economy in 2018 and excited to offer business and community leaders a variety of partnership opportunities where working together we promote innovation, entrepreneurship, leadership and excellence in Northwest Indiana. Contact us to discuss how we can partner together to meet your marketing goals in 2018.
Troy Linker
CEO/Publisher
219-230-3739 (direct)
888-915-0339 x101