South Shore Leadership Awards recognize "our region's greatest asset."
by Jerry Davich
Michael Griffin knew he would be awarded the inaugural Crest Award by the South Shore Leadership Center at its third annual "Leaders as Heroes" event at Avalon Manor in Hobart. But the advance warning didn't brace him for the waves of humility that washed over him just seconds before receiving it in front of hundreds of guests.
The pinnacle honor of the evening was created to exemplify five tenets of professional excellence through being a teacher, mentor, model, historian and, of course, a leader.
"When I heard the remarks made by board chairman Jim Walsh, I was at once moved, heart-filled and a bit in doubt if they had the correct person," recalls Griffin, the long-time clerk-treasurer for the town of Highland. "I know of so many who do so much and quietly lead each day."
Walsh told the hushed crowd that not all heroes are leaders and not all leaders are heroes. Griffin, however, is both. "And he excels in every aspect of leadership," Walsh told the audience.
Griffin, who exemplifies each role, quoted Voltaire in his modest acceptance speech. But only after first thanking his staff, friends and family, including his wife Christy, his daughter Abigail and his father.
"It is not lost on me that I am the first recipient of the award," Griffin says. "I am especially determined to merit the recognition, but also do nothing to the detriment of the award's nascent yet special reputation."
The fund-raising awards presentation honored 11 finalists by shining a spotlight on local leaders who are "often the unsung heroes in their communities," says Keith Kirkpatrick, SSLC's president and CEO. "The community leaders we are celebrating work tirelessly to improve their communities and make Northwest Indiana a better place to live," he says. "The center is honored to serve as a catalyst for leadership recognition in the region."
Support for the event came from the Skillman Corp., NIPSCO, Microbac, First Merchant's Bank, the Better Business Bureau and Northwest Indiana Business Quarterly, among other sponsors, donors and volunteers.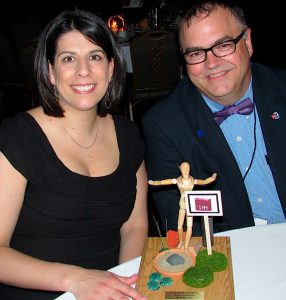 The center uses 10 principles–such as engaging, innovative and ethical–to choose the finalists and final five honorees. Those finalists were: Rachel Delaney, Demond Ligon Sr., Angela Nelson Deuitch, Ryan Strode, Colette Weitknecht, James O'Connor, Timothy D. Rice, Beth Sciackitano, John Cain, Ben Clement and Marty Corley.
Five of them received top honors–Cain, Nelson Deuitch, Corley, Clement and Strode–recognized with custom-made awards reflecting their efforts through the years.
John Cain
"I was, as always, the oldest and whitest," jokes John Cain, executive director of South Shore Arts since 1993 and executive director of the Northwest Indiana Symphony since 2008.
He was nominated by a longtime supporter of his two beloved organizations. "So, for me, the honor really began there," he says. "It's one thing to be recognized by a state agency, quite another to be recognized locally. I think that's where it really matters."
Roughly 100,000 kids are served each year through his agency's educational programs and its grantees, and even more adults through similar programs. Taking over the symphony was a bold and innovative move since general arts organizations typically do not manage symphonies. Under his guidance, ticket sales experienced a crescendo of 22 percent despite obvious economic challenges.
Cain says it was fun to meet the other honorees who represent a broad spectrum of residents in regard to age, ethnicity and vocation. "To me, my award is recognition that the arts matter," says Cain before again painting his accomplishment with a comedic brushstroke. "In the immortal words of Woody Allen, showing up is 80 percent of life."
Angela Nelson Deuitch
Since awarded the honor, Angela Nelson Deuitch, public affairs manager for NIPSCO, has refocused her priorities, zeroing in on youth leadership and mentoring.
"I realized that I was spreading myself too thin, and I needed to focus on what I really have a passion for," says Deuitch, a former Michigan City councilwoman who resides in that city with her husband and two daughters, one in college, the other in middle school.
She has served on numerous boards, including CASA/Harmony House, American Red Cross, United Way and Dunebrook, where she received the 2013 Lester Radke Community Service award. She also has hosted a college and scholarship workshop for–who else–local youth.
"It's about what you do, not just what you say," she says flatly.
A perfect illustration of this attitude played out last summer when she took it upon herself to counsel the family of the young boy who was buried by Mount Baldy. During the emergency rescue mission, she sat and prayed with his family, once again putting action into the word activist.
The Leadership Northwest Indiana 34 graduate has a newfound appreciation for true leaders who take similar action, not "bandwagoners," who instead are all talk.
Her job is public affairs manager at NIPSCO, but her passion is to help others. One pays the bills, the other pays her daily gratitude. And her custom-made award is adorned with magnets for good reason; she draws others toward her without much effort.
Deuitch's advice to younger leaders of any age: Be authentic and be passionate about your career, your personal cause, your public activism.
"Also, surround yourself with strong, positive people," she says. "I am who I am today because of those people I surrounded myself with."
Marty Corley
For Michigan City police officer Marty Corley, the adage "to serve and protect" means more than merely responding to calls as a Michigan City police officer. It means setting an example as a man, a public servant and a Christian.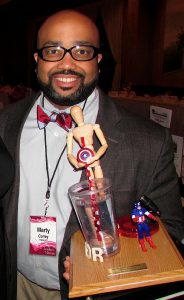 "We cannot save the world by ourselves," says Corley, who volunteers time with a number of organizations in LaPorte County. "Just as Jesus enlisted the help of his disciples, we have to work with others to do the work that God has intended for us to do."
That work, for him, is serving holiday meals to the less fortunate, organizing Easter egg hunts for inner city kids and serving on the Michigan City school board, among other selfless offerings.
"I was thrust into a leadership role because of my want for those around me to have better lives. And I'll continue to focus on helping others without any recognition," says Corley, a member of Leadership LaPorte County. "This award has affected how I help my community, and it has made the community more accepting of my will to help. Sometimes there's a disconnect with the community and the police force. I wanted to showcase that we do care."
He cites the ripple-effect power of critical mass by enlisting five people to conquer any challenge and, in turn, they enlist five people, and so on.
"Receiving this award was a great honor, as it affirmed my dedication to this community and hard work toward making other people's lives better," he says. "The best part was to be in the company of others who share the same pursuit of happiness for others."
Ryan Strode
Since Ryan Strode, associate director of Arabella Advisors, walked in front of hundreds of guests to accept his award, he has realized the strong community of leaders this region boasts. It's a common refrain from LNI graduates who become more entrenched in this multi-county community.
"It was a very humbling experience to be honored among a group doing such important work in the region. It's rewarding and incredibly supportive to know there is a strong network of leaders we can draw on that celebrates good work," says Strode, who has worked to promote sustainable development and conservation goals.
As board president of Save the Dunes, he embodies its timeless mantra–preserve, protect, restore. He not only supports strengthening the organization through grassroots efforts, he wants to expand its impact.
"The award represents a broader acknowledgment of the impact of our organization and the incredible work of our staff and volunteers," he says. "It serves as a testament to the importance of the organization and our mission, which is the ultimate reward."
Strode supported multiple efforts to promote renewable energy in the region, such as the installation of solar panels on Merrillville High School. He also has taught courses on nonprofits and social innovation at Purdue University Calumet and supported the development of a nonprofit curriculum for the university.
A teacher at heart, his advice to other aspiring leaders echoes his fellow honorees.
"Strong leadership means creating the conditions necessary for others to succeed," he explains. "No one can be successful on their own. We are all the product of those who we work with. I would say that if you put doing good for others at the center of everything you do, everything else–being successful in your career, a meaningful personal life–will fall into place."
Ben Clement
Ben Clement, president and CEO of Mediaflex, was probably more shocked than any other honoree, especially considering he was the last of the five to be announced. Why so surprised?
"To receive such recognition is not only an honor but also somewhat surprising because hard work and effective leadership is often ignored or overlooked until the leader is in a casket and unable to hear the accolades or enjoy the foie gras." The accomplished writer, actor, producer, motivational speaker and entrepreneur says his award is now a fixture near his computer "as a constant reminder and motivator."
Clement has a long history of innovation and community impact in Gary through his initiatives in economic development, film and education. As director of economic development for that city, he pioneered a film office and the film industry there.
"'Transformers 3' director Michael Bay, is the most recognized filmmaker in the industry, and filming in Gary shows our children that opportunity is right here," he says.
Since 1997, he has served as executive director of the Gary Office of Film and Television and, for the past five years, as president and CEO of Mediaflex, a marketing, media and crisis management firm.
"My advice to younger leaders is to always exceed expectations," he says. "Most will settle in the safe comfort of mediocrity. Find satisfaction in striving for excellence and inspiring others to do likewise."
By constantly raising the bar, you can't help but accomplish goals, achieve success and, as he puts it, "ultimately improve the human condition."
"If you do that someday you just might be recognized as a great leader," he suggests to others. "It starts on the individual level to see a spark in the eye, or spirit of a single student, up to a universal impact on the world, to see that you are here for a reason."