It's easy to pick a new business winner when you choose to franchise. But you may have to check your creativity at the door.
by Michael Puente
Tyler Carter and Lindsay Dudzik are young, ambitious and relatively new owners of businesses. But both took different routes in earning that distinguished title of business owner.
The 30-year-old Carter owns and operates the hottest new franchise restaurant in Northwest Indiana, Chick-fil-A, in Hobart. "The response has been overwhelming," Carter says.
Dudzik, meanwhile, opened her Pure Envy Salon and Spa in St. John last June, hoping her years as a hair stylist pays off. "It's going very well. It's better than I thought it would be," the 27-year-old Dudzik says.
The business model for both outlets, whether it's a franchise or start-from-scratch new business, is vastly different, each coming with its own set of skills, demands and expectations.
In Carter's case, he started working at a Chick-fil-A to make some extra cash while he went to college. That was nine years ago when Carter was studying management and marketing at Anderson University, a small Christian university in Anderson, Ind.
But it wasn't long before his superiors at a Chick-fil-A restaurant in Anderson noticed just how hard working and dedicated Carter was. After earning his degree and MBA in 2003, Carter didn't bolt for a job on Wall Street or some big firm in Indianapolis. He decided to stay with Chick-fil-A.
"I'm really thankful and blessed to be with a company like Chick-fil-A," Carter says. "The values of Chick-fil-A and its positive influence on its employees and customers keep me motivated."
It wasn't too long before Carter moved up the management chain at Chick-fil-A. Soon, he was managing another outlet in Fort Wayne. Last year, a major opportunity called.
Chick-fil-A, with 1,600 outlets nationwide, offered Carter a chance to become an owner-operator with minimal financial investment for its newest store, near the Westfield Southlake Mall in Hobart. So with his wife and two young children in tow, Carter arrived in Northwest Indiana to open the store.
"We were kind of surprised by the response we received," Carter says of last October's opening of the Chick-fil-A store. Hundreds of customers camped outside the store to become the first in line when the restaurant opened its doors for the first time in Northwest Indiana. "The response has been overwhelming," says Carter, now a Northwest Indiana resident.
Carter said the Chick-fil-A corporation, based in Atlanta, provides lots of training and support for its owner-operator. About 60 percent of all Chick-fil-A owner-operators come from within the ranks of the restaurant operation. "The other 40 percent come from all walks of life," Carter says.
But because becoming an owner-operator came with only a minimal financial investment, Carter says the company made a chance-of-a-lifetime even easier to achieve. "I didn't have the millions it takes to open a McDonald's or something like that," Carter says.
According to FranNet, a franchise consulting group based in Louisville, Ky., the number of U.S. franchise establishments is expected to increase by nearly 14,000 in 2012 with the number of jobs expected to grow by about 168,000.
Moreover, the economic output generated by franchise business is expected to grow by 5 percent, from $745 billion to $782 billion. And, according to World Franchising, there are more than 3,500 active franchise systems in North America.
Some of the top food service industry franchises, says World Franchising, are basically those that you find in a typical suburb or mall: Arby's, Applebee's, 7-Eleven, Church's Chicken, Little Caesar's and Auntie Annie's pretzels. For retail, Radio Shack and Snap-On Tools are listed among the top franchises.
FranNet's Chris Coleman, who helps pair the right franchise for prospective clients, says not all franchises take a huge investment. "Most people, when they think of a franchise, they think of McDonald's, Subway, something like that," Coleman says. "But there's been a pretty good shift in demand for franchise businesses that are very low investment and service based. Maybe something you can run out of your own home. Fewer employees. Let's just call it more simplified business models."
Coleman says franchises are a great option for entrepreneurs, since "the advantage is that it's already been done before," Coleman says. "There are blueprints, or a road map – a strategy that's in place that you follow vs. going out and starting on your own, from scratch."
But whether it's opening your own business from scratch or investing in a proven franchise model like a Chick-fil-A, there are a lot of decisions that need to be made, says Janet A. Fye, regional director of the North Central Indiana Small Business Development Center in South Bend.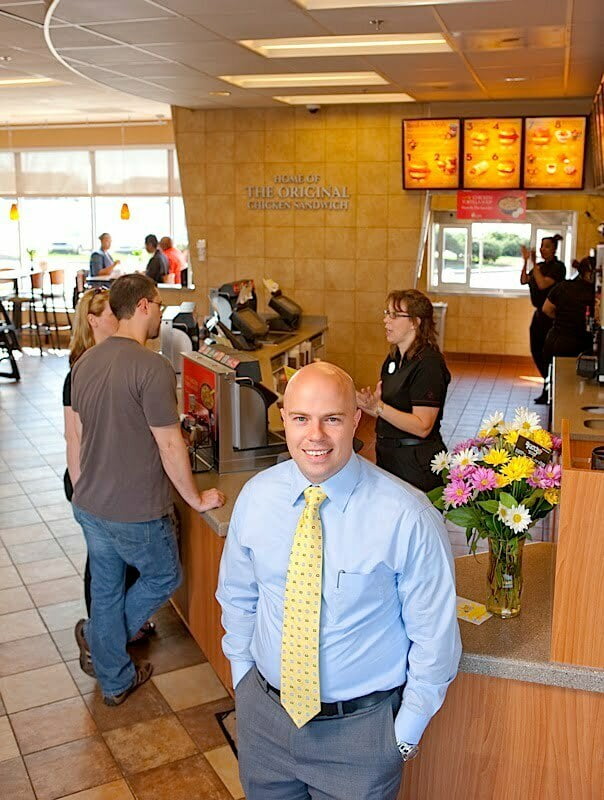 "We help our clients make informed decisions. We are going to do a reality check," Fye says. "We're going to really sit down and talk about what it is you're thinking about and the feasibility of it. Are you going to make money out of it? That's really the point isn't it?"
Fye says the center works with people who want to start a business or to grow and expand an existing business. "About 52 percent of our clients are established businesses," Fye says. "Sometimes people will ask us about a franchise. Franchises are near and dear to my heart."
Fye's family owned an Arthur Treacher's Fish and Chips franchise restaurant in the South Bend area. She said there are pros and cons to investing in a franchise as opposed to a new business.
The benefits, she says, is that most of the hard decisions are already made for you. "The greatest pro is you've got a business model there. Those people researched the suppliers; all the recipes are coming to you, all the business procedures. It's basically a turn-key. You walk in, you pay the franchise licensing fee," Fye says.
"For example, like Subway, people already know you. They expect a certain quality. If I have my own sub sandwich shop, and even if it's 100 times better than Subway, you're not going to know that. You've got to spend a lot of money getting people into your restaurant."
Fye says the main drawback is little creativity is allowed in owning a franchise. "The con is the very thing that is also a pro: How much creativity does that allow?" Fye says.
Fye also adds that since a lot of the bigger decisions are made for you, it doesn't prepare a franchise owner well to go it alone. "Owning a franchise does not necessarily prepare you to own a business because a lot of your decisions, a good number of your decisions, were made for you in a franchise," Fye says. "You don't worry about food costs because these things came to you prepared."
But let's say your business is making money and is successful. Does that mean it's ready to be franchised? "No," says Mark Siebert, who founded the iFranchise Group, a franchise consulting firm in 1999. The firm, based in Homewood, Ill., works with some of the top franchises in the country.
"Just because it's profitable, doesn't mean it's going to work as a franchise," Siebert says. The main question a person needs to know about their business is will it work in a different market?
Siebert also says a business has to have that "sizzle." "Is it something that people want to buy as a franchise?" Siebert says. "Is it something that people want to be involved in?"
Siebert also says a business looking to franchise also has to be more successful than the typical business. He says there are three reasons why a business owner may want to franchise their business: speed of growth, motivated management and capital.
He says it's difficult for a business owner to borrow $200,000 to $300,000 to start a new store, outlet or restaurant. "That's an awful lot of money. They would have no way to grow that fast. So you use another person's capital," Siebert says.
He says there are people who are ready to learn how to do "what you do." "You expand yourself by teaching somebody else. It allows you to grow much faster," he says.
That's exactly what's happening to Jim Weaver, who opened his first Wings Etc. Restaurant & Pub in 1994 in Mishawaka.
Weaver didn't come from a restaurant background. In fact, he worked as a public accountant for 14 years, doing computer audits for a company's IT department. "I was doing a lot of traveling and I decided when my last kid was in college that I wanted to make a change. I always wanted to open my own business, but I didn't really know what that was going to be and how I was going to do it. But soon enough, I left my job and became a 'wing slinger.'"
In no time, Weaver opened his second restaurant in South Bend in 1998. But much of the chain's growth came between 2004 and 2007 when Wings Etc. expanded through franchising and pushed the total number of stores to 20, with most in north central Indiana, a few in suburban Chicago and southwest Michigan.
The weak economy kept more stores from opening but a rebound is leading to new restaurants in Fort Wayne and Indianapolis. Six of the stores are considered "corporate" stores, the rest operated by franchisees.
"The way to grow the business is to get qualified franchisees and that's been tough with the market," says Weaver, who lives in Niles, Mich. "If you want to grow, you've got to do more than just what you can do on your own, that's for sure."
Weaver says the business is looking to expand more in the coming year. "That's primarily because of the rebound in the economy, we hope," he says. "We experienced some really tough times but we're growing again."
Lindsay Dudzik is running her own business without a background in business but a lot of industry experience. She worked for another salon for eight years and thought it was time to venture out on her own.
"Because I was young, I wanted the freedom of making my own hours. It was kind of a spur-of-the-moment decision," Dudzik says. "I have a big client base and we're just across the street from the high school."
That's Lake Central High School in St. John, where Dudzik graduated in 2002. She says she never thought about opening a chain salon primarily because of the sizeable financial investment that would come with it.
She feels small businesses have an advantage over corporate owned businesses. "You can incorporate your own rules and prices and things like that," Dudzik said. "People in a recession tend to support small businesses before they support a corporation."
Opening Pure Envy in June 2011, Dudzik employs seven people and is gearing up for the all-important prom season. "We can't wait. We do a lot of the services that high school girls like. We have a very young staff who are into the trends and stuff young girls love," Dudzik said. "We're full service. We do massages, facials, manicures and pedicures."
Dudzik has a word of advice for those looking to start their own business. "Keep in mind, it takes a lot of dedication and commitment to get where you want to be," Dudzik says. "Make sure you have the background in that field to support it."
As of now, Dudzik has no plans to franchise her business.
Back in Hobart, Carter says he doesn't feel at all stifled or confined by Chick-fil-A's recipe for success. He hopes to be in a position to own and operate another Chick-fil-A outlet one day.
But first, it's finding a home to settle down with his family in Northwest Indiana.
"It's been tremendous so far," Carter says.