You never know quite what you're going to get when a new place opens up and calls itself an Italian restaurant. Sometime that means the restaurant can make a tasty pizza and a terrific plate of spaghetti. An Italian restaurant is something special when it embraces the richness of northern and southern Italian cuisine.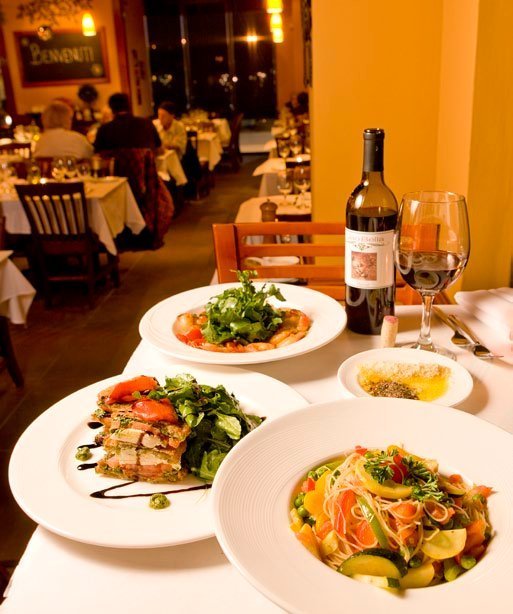 Happily, Ciao Bella is one of those gems where the meal gives diners a glimpse of what it's like to eat at small Italian trattorias, cafes where fresh ingredients from the market and the chef's experience and creativity combine to create something wonderful.
On a recent visit, we knew this eatery was special as soon as we sat down. Before each of us were set large water and wine glasses, then the waiter placed a warm loaf of bread on the table. The unspoken message was clear: "Sit back, settle in and get comfortable." Even when every table was full, we never felt rushed. The interior—painted in warm tones of gold and orange highlighted by a large mural on one wall—and the attentive staff made this busy restaurant feel cozy.
The restaurant has a small wine bar and a good selection of wines from which to choose. It does not serve hard liquor. Our waiter was helpful in recommending a wine to begin our evening.
We began with the prosciutto and melon appetizer. Cubes of honey dew and cantaloupe were marinated in port wine and then wrapped in thin slices of prosciutto ham. These were served in a brittle made with parmesan cheese and drizzled with balsamic glaze. The combination was fantastic and set the tone for a wonderful meal.
We followed that with soup and salad. My husband chose the soup, a hearty offering made with garbanzo and kidney beans that was warm and filling on a cool night. I opted for the salad made with baby spinach. The fresh leaves were tossed in vinaigrette dressing and topped with slices of crisp pear, gorgonzola, tomatoes and roasted walnuts. This simple combination of fresh vegetables, fruit and nuts was amazing—light, satisfying and tasty.
For the main course, my husband chose the battuta di pollo, a chicken breast pounded thin, char-grilled and set atop fresh, seasoned mushrooms and peppers. Served drizzled with a balsamic reduction, this robust combination was filling without being too heavy.
I could not visit an Italian restaurant without trying a pasta dish, so I chose the rigatoni boscaiola, featuring rigatoni noodles with mushrooms, peas and Calabrese sausage in a mild cream sauce. The sausage is made with pork and chile peppers. While it didn't have the hot kick sometimes associated with chiles, the sausage added the extra bite that made this an amazing dish.
We spoke later with owner Giuseppe "Joe" Scalzo, the former general manager of Rosebud Restaurants in Chicago, a small chain known for quality food in an upscale setting. Scalzo, who lives in Highland, said he decided Northwest Indiana was ready for a different kind of Italian restaurant. "I had a vision of what we could do here," he says.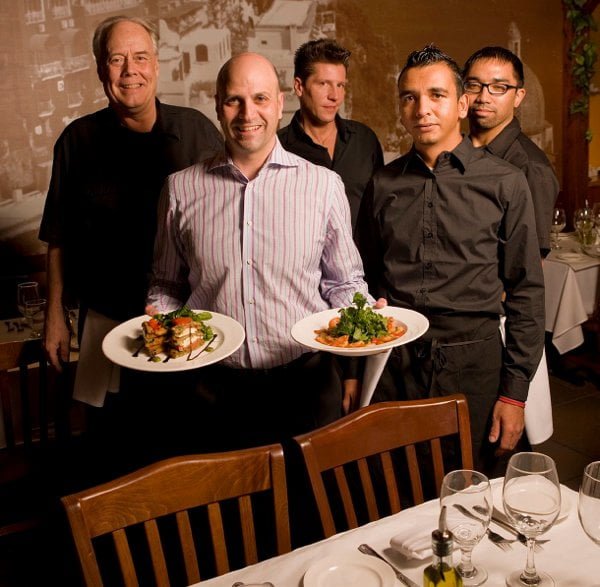 He wanted a menu unlike any other in the area, he explains. "Our menu comes from my own experiences, my family recipes. I've gathered recipes from throughout the different regions of Italy."
Ciao Bella (which translates to "hello, beautiful") is a reminder that Italian food can be much more than lasagna, ravioli and spaghetti. "The Mediterranean diet is one of the best in the world," Scalzo says. "Just good, authentic food made with love and passion. Pair with a beautiful wine and it's wonderful."
Scalzo was raised in southern Italy, where he studied mechanical engineering. He fell in love with cooking while in Florence, spending time working at a small, intimate restaurant in the evening. "They showed me the ropes," he says. He was offered the chance to take over the restaurant, but already had plans to come to the United States.
He arrived about 15 years ago to study international business at Loyola University in Chicago. He soon discovered that his desire to operate a restaurant had not gone away. Having a place where people can share love and friendship over good food that's prepared with experience and skill is "something beautiful," Scalzo says.
He owned two Chicago restaurants, Piazza Bella (since sold) and Via Carducci (now owned by his brother) before joining Rosebud Restaurants. When he decided to open Ciao Bella, friends warned him it was a mistake. "At first, people told me it's not the time, not in this economy," he says.
He didn't let that deter him. "You have to have the energy and the guts to do it," he says. "And you have to have a feeling that people need a place like this."
Ciao Bella is at 1514 U.S. 41, Schererville. The restaurant is open daily. Call 219/322-6800 for reservations.