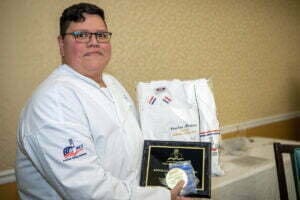 Learning disabilities and high school academic struggles haven't stopped Carolina Martinez, a culinary student at Ivy Tech Community College's Lake County campus, from earning awards in her field or from making history at the campus.
Martinez, of Merrillville, recently was named Student Culinarian of the Year by the American Culinary Federation Chefs of NWI Inc., taking home $300 and a new chef's jacket, a medallion and chef's patches, as well as $250 and a plaque for her activities with the organization.
"Winning this award means so much to me," Martinez said. "I would have never thought that I would win something so amazing. I am truly honored to have been nominated and win."
Martinez dropped out of high school and made several unsuccessful attempts to earn her GED.
"I always struggled in school due to my learning disabilities," Martinez said. "I have worked in the culinary industry for years. After my daughter was born, I knew that I needed to be an example for her. I could not tell her to finish school if I never did."
She said a Goodwill adult education program at the Excel Center in Hammond was the catalyst for change.
"For the first time, I was open about my disability," Martinez said. "I received so much support, and I learned so much." "
A college fair was where she met Elida Abeyta, hospitality program chair at Ivy Tech.
"(Abeyta) was so excited to talk about the program," Martinez said. "I had never even considered college."
Now, she is on track to graduate in May with honors, wants to gain more experience as a chef and hopefully open a small business.
Upon graduation, she will have the opportunity to apply for the professional titles of certified pastry chef and certified culinarian through the national ACF organization. Martinez would be the first Ivy Tech Lake County student to receive those two titles, according to Abeyta.
"Carolina's love of cooking and baking shows through her work," Abeyta said. "She has volunteered at the Meals on Wheels Gala, shown seniors how to prepare healthy meals and worked with future chefs from the Hammond Career Center. Any student that is struggling, Carolina is ready to help them. She is a model student."
Martinez said she never thought she'd make it this far.
"The culinary department has supported my entire college journey, and I could not be more thankful," Martinez said.
Ivy Tech Community College is Indiana's largest public postsecondary institution and the nation's largest singly accredited statewide community college system, accredited by the Higher Learning Commission. This story originally posted on the college's website.