Call pioneers an automated way to keep patients from returning to the hospital.
by Shari Held
Launched in 2003, HealthCall LLC has successfully transitioned from a fledgling startup, operating on unchartered waters, to an industry leader in automated health care communications. For the past three years it has grown at a rate of 20 percent year-over-year. Located in the Purdue Technology Center of Northwest Indiana, HealthCall's solutions have connected more than 3 million patients and providers nationwide.
At this point many entrepreneurs might think they'd succeeded, but not Daniel Hayes, HealthCall's president and CEO. "We're still a small business and everyone puts in many hours," he says. "I am pleased with our growth, but we have more to do. The demand for our products continues to increase as the pressure builds on hospitals to reduce cost while improving care."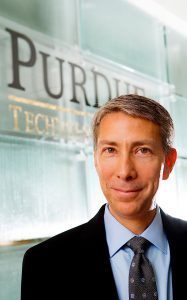 Hayes' dedication and drive–and a bit of luck–have paid off. HealthCall is well-positioned for the future. Its products were reducing readmissions years before the passage of the Affordable Care Act, which began penalizing hospitals and physicians last year for patient readmissions within 30 days of discharge.
Setting the stage
Hayes, age 52, took a roundabout route to entrepreneurship. His initial interest was in electrical engineering. "My dad was an electrician, so I grew up around wires and was very comfortable with that," Hayes says. "It just seemed to make sense."
He worked hard, another trait he shared with his dad, and graduated from Purdue University in West Lafayette with a double major in electrical engineering and business. By that time his focus was on manufacturing.
His first job was with Florida-based Harris Semiconductor (now Intersil Americas LLC), working on the commercial manufacturing side. After rotating through all facets of manufacturing there, he was asked to manage the Apple account, eventually becoming worldwide account manager for Apple Computer.
"I loved it," Hayes says. "I traveled to Singapore and all over the United States. It was just an incredible experience. I was very impressed with Apple and how they did things. They had a very strong entrepreneurial spirit."
That didn't stop Hayes from leaving the world of manufacturing integrated circuits to work with California-based Cadence Design Systems, a company that created software used by Apple to design circuits. From there he began working with software startup companies. "It was a good education in product value and growing companies," he says.
Starting his own company was always appealing to Hayes. "At a very young age I loved building things and making things," he says. "From day one, it was always in the back of my head to start my own company."
A big reader, another trait he has in common with his dad, Hayes became fascinated with books on behavioral health and science and what makes people tick. His library includes Jim Bond's "The Brain That Changes Itself" and Kerry Johnson's "Science of Self Discipline," and back in the '90s he began working on his five-year and 10-year business plan. The stage was set.
Taking the leap
Hayes launched Yescorp, a web application development firm, in 1994 although he continued to consult with software startups. "We had the idea to marry databases with the web; we were really leading edge," he says. "At that point people were still saying that the web was just a fad and that it would die out. Seriously!"
As the company grew, it began to specialize in applications specific to medical communications and the name no longer fit. Hayes did some research and came up with the name HealthCall, owned by a barely viable company. "We contacted the owner and were able to buy the intellectual rights to the name," Hayes says.
The idea for HealthCall came in 2003. Prior to the start of a meeting with a group of cardiologists for a different project, he overheard them discussing their "successful" disease management program, and how unfortunate it was that they had to shut it down. "I asked why they would end a 'successful' program," Hayes says, "and one of the doctors said, 'it's too expensive to operate, but if you can find a way to cut our costs, we will buy it.'"
Hayes mulled it over while on his way to a lunch meeting, and as he was walking into Chili's the idea came to him. "I thought, 'There is a way to do this.'"
Giving it the PersonalTouch(TM)
Hayes and others sat with nurses who operated the existing disease management program. They listen to their patient calls, and asked many of questions that enabled HealthCall to build a method to automate their interactions. "Fortunately I had a longtime love for behavioral science, so I took to it naturally," Hayes says.
The result was PersonalTouch, the company's flagship product, which today is used to coordinate care in disease management, medication therapy management, post-discharge monitoring of patients–any instance where hospitals or physicians need to stay in touch with patients and monitor their well-being over time.
Since it's a cloud-based solution, there's no software or hardware to install. All that's needed is an account with a user name and password and initial training to teach health care providers how to use the system. "It's a complete turnkey solution," Hayes says.
Before being discharged, patients are assigned to an appropriate care plan based upon their diagnosis–heart failure, for instance. PersonalTouch manages everything that should be done for that patient over a 30-day window. It prompts health care providers when to follow up with patients, how to set expectations, highlights the information health care providers should share and notes the key signs and symptoms data to collect and enter into the system. The program also conducts automated health assessments directly with patients and alerts staff if a patient begins to trend outside the designated limits. "The coordinated care, more timely communication and HealthCall's intuitive decision-support tools leads to predictable results with fewer readmissions," Hayes says.
Making an impact
Using PersonalTouch took the cardiology practice's disease management program from six nurses down to one, allowed the practice to serve 35 more patients and reduced their readmission rates by 72 percent–all while containing costs.
The results were published with the Heart Failure Society of America, and a study of 300 patients the following year duplicated them. Patients monitored with HealthCall actually improved the health of their heart.
After that the company began expanding its offerings–heart failure, heart attack, pneumonia, COPD and diabetes management programs, weight loss and stress management programs as well as surveys for patient satisfaction and appointment reminders.
A major milestone was receiving $1.2 million in 2007 from the 21st Century Research & Technology Fund to further commercialize its technology. HealthCall was one of only three companies that actually achieved commercialization goals and commitments.
HealthCall has continued to grow by word-of-mouth. In fact, Community Home Health of Indianapolis learned about PersonalTouch from a nurse who had used it at her previous workplace. Now Community uses PersonalTouch to monitor home patients for heart failure, COPD and diabetes. "We've seen very positive results," says Lisa Collins, chief clinical and operations officer for Community Home Health, part of Community Health Network. "We've been able to help people with heart failure and COPD stay out of the hospital longer and actually change their behavior so they can do self-care to prevent future hospitalization. We've also seen some significant drops in A1Cs (blood-sugar level tests) in our diabetics." Currently HealthCall is working with Collins to develop a hospice application.
Courting success and challenges
It hasn't been an easy road at times, but it's been a very satisfying one for Hayes. "When I started in my career working with integrated circuits, I was fascinated by the technology, but it was somewhat hollow," he says. "It wasn't until I moved into health care that I really found my passion. That's when technology and behavioral health came together."
He recalls the time he was in a client's office and witnessed a patient giving a bouquet of flowers to the nurse who had monitored him. "He called her his guardian angel," Hayes says. "That's when I experienced the positive impact we were having in people's lives. Up until then our outcomes were more theoretical."
Hayes advises potential entrepreneurs to build a strong team and be persistent. "It doesn't happen as fast as it does on TV," he says. "You have to be able to stay the course and view setbacks as opportunities for growth. You have to have confidence and focus on the positive."
HealthCall pioneered cloud-based collaboration platforms and patient engagement innovations, but the field is rife with competition now. "Our competition is back where we were 10 years ago with only theories," Hayes says. "Along with awards and demonstrated studies, PersonalTouch is proven in production nationwide with thousands of real patients every month."
As far as the future, Hayes sees the PersonalTouch program offering new and expanded services to clients. "Not only do our clients continue to recommend us to their colleagues, they also come to us with new challenges of their own. Our growth is fueled by our clients' success as they are pressured to improve their quality of care and reduce cost."