Our readers suggest some of the region's standouts in medical care.
Thousands of people work in health care across the region, all helping patients get healthy and stay that way. Who is exceptionally good at doing so? We asked our readers for nominations in our third annual compilation of Northwest Indiana Business Quarterly Health Care Honors.
ADVANCEMENTS IN HEALTH CARE
Franciscan St. Margaret Health-Hammond
Federal statistics indicate that one in every 12 people in the U.S. suffer from asthma, which adds up to a $56 billion annual price tag in terms of medical costs, lost productivity or school time, and early death. For those with severe asthma, the impact on quality of life is huge.
Franciscan St. Margaret Health-Hammond is offering a new procedure called bronchial thermoplasty, which has proven to be a life-changer. "A lot of people say they have gotten their life back (following the treatment)," says Dr. Leonard Buccellato, who offers the procedure along with fellow pulmonologists Dr. Bassel Ericsoussi and Dr. Tapan Desai, with Franciscan Medical Specialists in Munster.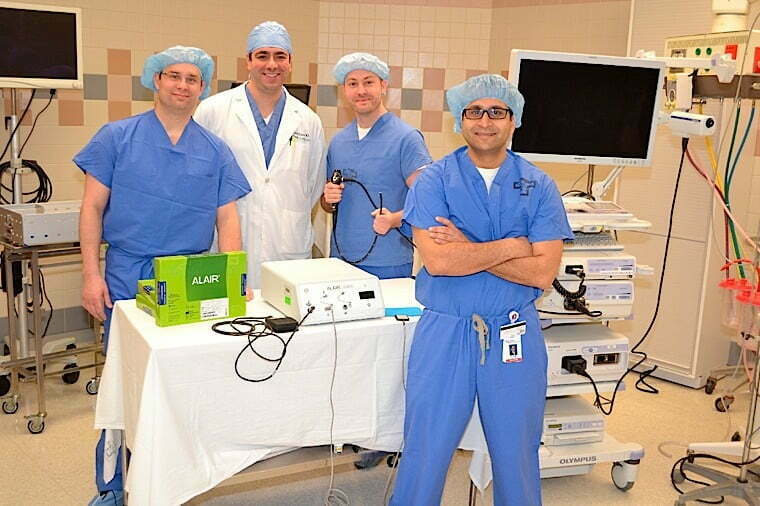 Patients receive three outpatient treatments in three-week intervals. The process sends therapeutic radiofrequency energy to airway walls through a catheter from a bronchoscope. The energy bursts destroy some of the muscle tissue that otherwise would constrict during an asthma attack, and that can reduce the frequency and severity of attacks.
Clinical trials found that the treatment can yield a 32 percent decrease in asthma attacks, an 84 percent reduction in emergency room visits for respiratory symptoms and a 73 percent drop in hospitalizations for those symptoms. Patients reported a 66 percent decline in asthma-related days lost from work, school and other activities, and four-fifths said their quality of life improved significantly.
"The goal of using bronchial thermoplasty is to reduce the need for steroids, the need for hospitalization, to reduce costs and to improve quality of life," says Dr. Buccellato.
COMPASSIONATE CARE
Franciscan Alliance
The business of health care is complicated and costly, and even with the implementation of the Affordable Care Act, not-for-profit health care organizations provide millions upon millions of dollars in uncompensated support for their communities–focused on health care and other factors important to quality of life.
Franciscan Alliance is a prime example of the compassionate side of the business. Its Northern Indiana hospitals provide millions of dollars in uncompensated care, community education and essential services for those in need. Not-for-profits refer to this as "community benefit"–valuable services provided not because they bring in revenue, but because they support the organization's mission.
Community benefit reports from the organization provide some examples. St. Anthony Health-Michigan City, for example, reported overall community benefit of $62.2 million, about a third of the organization's total expenses. The percentage was almost as high at St. Margaret Health, where the community benefit value was $106.0 million. St. Anthony Health-Crown Point reported community benefit of $32.7 million, 14.5 percent of the organization's expenses. And Franciscan Physicians Hospital reported community benefit of $6.3 million.
Gene Diamond, the regional CEO for the Franciscan Alliance, says such things are all part of the mission and Franciscan values–along with a wide range of other kinds of outreach, from the Catherine McAuley Clinic for uninsured patients to the St. Monica Home for teen mothers. "The Sisters of St. Francis believe that we should make every patient feel consciously aware of being loved. Every patient who comes through our doors may not be able to be cured by us, but we will do everything in our power to heal them."
OUTSTANDING PHYSICIAN
Dr. G. Larsen Kneller
"There is never a reason to not be nice to someone." So says one of the people who nominated Dr. G. Larsen Kneller for Outstanding Physician, reciting Dr Larsen's motto. "He truly is a role model and inspires every one of us to be a better person."
Dr. Kneller is medical director with Beacon Medical Group in LaPorte, and has been serving patients in the area for more than 25 years. He's board-certified by the American Board of Family Practice, earned his medical degree at the Indiana University School of Medicine and completed his residency in Texas. His credentials and outcomes are exemplary, but it's his approach to both patients and coworkers that earns him particular praise.
"He almost always receives a perfect 10 on our patient satisfaction surveys," says a colleague in Dr. Kneller's nomination. Another nominator adds that Dr. Kneller seems to always have time for everyone. "He is always willing to work patients in that need to be seen. He knows his patients well and takes the time to listen to their concerns and needs," the nominator writes. The same holds true for the people with whom he works. "He is always available to troubleshoot when problems occur with either staff or patients, and provides excellent support and feedback."
Dr. Kneller says current trends in medicine hold real promise to improve quality of life–in particular, the ever-increasing emphasis on keeping people healthy and out of the hospital. "If the evolution toward population health and disease management works the way it's supposed to," he says, "it's a good thing."
Dr. Thomas Ludwig
Patients can certainly spot outstanding physicians, but the nurses with whom they work often have additional insights. It was a nurse who regularly cares for pediatric patients who nominated Dr. Thomas Ludwig as an Outstanding Physician.
Dr. Ludwig has worked since the early 1980s with Associated Pediatricians, which has offices in Valparaiso and Portage. "While giving a most pleasant presentation with patients and family, he also maintains an expertise and skill that has not wavered with time," reports his nominator. "He is very knowledgeable, and willing to patiently share that knowledge in understandable terms with those who need it: patients and parents, nurses and students."
Watching young patients grow up is a joy that comes with the job of pediatrician, says Dr. Ludwig, who studied at IU and did his residency at Riley Hospital for Children. He's there for good times and bad, offering education and advice along the way, preparing kids and parents for what lies ahead. "It's kind of like being a parent to all of these kids," he says.
Much has changed over the years, he says, including the role of social media and other communications technology. The practice has a patient portal that allows some interaction over the Internet, and Facebook also offers opportunities to get messages out. Despite the electronic avenues for communication, there's still plenty of time for in-person appointments, he notes. "There's nothing quite like that one-to-one with a person."
And according to his nominator, that's where Dr. Ludwig excels. "One outstanding attribute is his patience and stable composure. After working with him on Porter Regional Hospital's pediatric unit since the 1980s, I can say I've never known him to lose his patience or raise his voice, even in the middle of the night and in the most dire circumstances."
OUTSTANDING HEALTH CARE WORKER
Irene Stevens
"The most rewarding part of working in the health care industry is every day there is an opportunity to help people," says Irene Stevens, customer service representative for Beacon Medical Group.
Her nominator says she does that quite well. "She always demonstrates compassion and concern, and does it so sincerely. She is well known and loved by the patients and her coworkers."
According to the nomination, she has served as a medical assistant, medical receptionist and biller, a certified professional coder and a customer service rep. "She always meets every new patient with a big smile and informs them of all the services available. When a patient has a concern or problem, she works with them and listens to them."
Stevens reflects the praise back on her colleagues. "On a daily basis, I am in awe of the brilliant minds of our physicians and associates at Beacon Medical Group and so proud of the great work that we do. It truly is an amazing feeling to be part of this fabulous team!"
OUTSTANDING VOLUNTEER
Marianne Dimos
Marianne Dimos is a volunteer's volunteer. She works five days a week, in charge of all of the 175 or so volunteers who serve Porter Regional Hospital. "Marianne is a passionate and dedicated volunteer," her nominator writes. "She coordinates all the volunteers within the hospital. She also coordinates the job shadowing for any student who may have an interest in pursuing a career in health care. I can always count on Marianne to coordinate a volunteer."
Dimos has volunteered with the hospital for nine years, the past seven of which she has served as volunteer coordinator. As much time as she has given, she says, "I get a lot more out of this job than I put into it."
She spent years working in a wide range of paying jobs, from magazine writer to teacher. With her late husband, she spent more than two decades operating a Gary restaurant, catering service and liquor store, as well as selling commercial real estate, and her husband also taught at Purdue Calumet and North Central as well as IU Northwest and South Bend. Her connection to Porter came when she went there for treatment of heart-related issues and was pleased with the care. "I felt comfortable and safe and well-taken-care-of. I made up my mind that I would try to help Porter any way I could."
The volunteers she coordinates perform a wide variety of tasks, lending a hand in all sorts of supportive situations, helping keep costs in line and, perhaps most important to Dimos, helping provide the atmosphere and experience she found so important as a patient. "We are there to provide them with the feeling that Porter is like their home."
As her nominator says, "She is an inspiration!"