Hobart fire chief thanks St. Mary Medical Center on two-year anniversary of COVID fight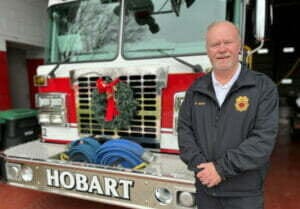 The cursor on Randy Smith's computer screen blinked among the sentences in an open Word document.
"I'm working on a document today, and if I don't keep that up in front of me, I'll forget," he explained.
The brain fog and memory loss are remnants of his COVID-19 battle. Smith, chief of the Hobart Fire Department, is a "long hauler," the name for people who experience long-lasting symptoms of the virus.
Jan. 15 marked two years since Smith was released from St. Mary Medical Center after COVID-19 treatment. His two-month hospital stay included 16 days on a ventilator to give his scarred lungs a chance to rest.
Instead of complaining about the fatigue, hoarse voice and the need to write reminders on index cards, the 60-year-old Hobart resident focuses on his life's newfound purpose.
"I think God kept me here to do good things for people and to give back, because I've been given a second chance," he said. "I had plenty of time to sit in the ARU (Acute Rehabilitation Center) and think, 'Would I ever be able to go back to work? And if I don't go back to work, what am I going to do? I can't sit around. I can't just be stagnant. If I go back to work, what can I do to be a better fire chief and a better part of the community?'"
Those answers came quickly.
During recuperation, Smith read about a fire department on the West Coast that set up a program to connect people with new or gently used medical equipment. Smith had some equipment he no longer needed, such as a cane, walker and shower chair and figured someone in Hobart could use it.
"So we started the Hobart Fire Department Health Equipment Loan Program (HELP)," Smith said.
On its Facebook page, the department posted a request for medical equipment donations.
"Two weeks later, I had a bay at the fire station full of equipment," Smith said.
The department has a room filled with all sorts of equipment to loan to Northwest Indiana residents.
"We recently partnered with a couple of estate sale companies, and they donate medical equipment to our program when they have it left over," Smith said.
The fire department also started working with the care coordination team at St. Mary Medical Center to aid patients in need, whether it is loaning a piece of medical equipment or driving someone to a doctor's appointment.
"They have come up with a lot of out-of-the-box, creative ways to help our patients," said Amber Williams, administrative director of patient care services.
Smith also volunteers to give emotional support to patients at St. Mary Medical Center.
"When they have somebody who is down in the dumps, I go in and I tell them a little about my story and a little about the things that I did to make it through, kind of a one-day-at-a-time thing," Smith said.
Taking recovery one day at a time is how Smith endured the darkest days of his COVID-19 fight. A goal setter his whole life, he told the rehabilitation therapists he would walk out of the hospital.
"When I got to ARU, I could barely feed myself," he said. "I could barely get my left hand to my mouth, and my right hand I could move a little bit."
Therapists would set a goal, and Smith, an Air Force veteran, would set it higher.
Seeing Smith motivated to recover reassured his fellow firefighters.
"We were all very relieved to learn that Randy was recovering from his life-threatening bout with COVID," Assistant Fire Chief John Reitz said. "Not only did the Hobart Fire Department need him at the helm, but the city in general needs his care and compassion."
Smith thinks he caught the virus at a downstate meeting in November 2020. He returned home on a Friday, felt sick the next day, was swabbed at the Community Hospital testing site and received a call the next morning confirming a positive COVID-19 test result. He stayed downstairs at home while his wife stayed upstairs. In the throes of COVID, Smith had no sense of time. Days felt like hours.
"Things went downhill quickly," he said. "I'm a medic, and I didn't even recognize it. I thought I was downstairs for two or three days. I was downstairs for seven days. I stayed there and just slept."
His wife insisted Smith go to the hospital. He called Reitz to strategize how to get to St. Mary Medical Center without exposing members of the fire department to the virus.
"I was lying on the couch in our basement," Smith recalled. "I tried to get up, and I couldn't. I thought I would lie there for a minute. The next thing I heard was Velcro on a blood pressure cuff. I opened my eyes and my medics were standing over me. John Reitz had noticed the weakness in my voice and thought, 'We're coming to get you.'"
Once at the hospital, he had difficult conversations with family about end-of-life decisions, finances and other loose ends.
"I got done with those conversations and said, 'Let's do it,' and then they put me on a ventilator," he said.
Smith plunged into 16 days of deep sleep and dark dreams.
"The next thing I remember is my wife standing in the doorway of my room," he said.
Just as he predicted at his first rehabilitation session, Smith walked out of the hospital on his own two feet. It was two months to the day he arrived. The halls were flanked by health care workers, many of whom had a hand in his recovery. They cheered and applauded as he made his way out the door. Nurse Carrie Cruse remembers Smith from his time as a patient at St. Mary Medical Center and is glad his health has taken a turn for the better.
Smith said words cannot express the amount of gratitude he has for the team at St. Mary Medical Center.
"They saved my life," he said.
For information about the COVID clinic for "long hauler" patients at Community Healthcare System, visit COMHS.org/coronavirus.
This story originally posted on Community Healthcare System's website.