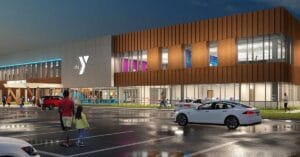 The Crossroads YMCA is one step closer to realizing its goal for a "destination" YMCA. Officials broke ground on the $70 million, 120,000-square-foot facility April 28 next to the Hammond Sportsplex.
The facility was made possible by a partnership with the city of Hammond and the Dean & Barbara White Family Foundation.
"This is a game-changing development for Hammond and the Region," said Mayor Thomas McDermott Jr. in a press release. "The city could not be more excited about this new $70 million investment in Hammond."
The new location on 165th Street is expected to serve up to 50,000 people a year. The goal is to complete it at the end of 2024. About 200 jobs will be created to run the facility.
"A destination YMCA of this size and scale will be a key economic driver for the city of Hammond," said Bill Hanna, executive director of The Dean and Barbara White Family Foundation.
The new YMCA will include three pools to support more water safety education. An outdoor waterpark will be a highlight. It also will include an indoor track, wellness center, gym and studios for youth and adult programs, juice bar and community meeting room with a teaching kitchen.
"Crossroads YMCA is very excited to partner with Mayor McDermott and the city of Hammond and officially break ground on our new destination YMCA," said Jay Buckmaster, CEO at Crossroads YMCA. "The new Hammond YMCA will provide spaces and opportunities for all ages to connect through experiences that will help create a healthier community."
It will take the place of the former Woodmar Mall, which was torn down in 2006. Its anchor store, Carson Pirie Scott, was open till 2018, and then torn down a year later.
"Having the Y locate on the former Carson's and Woodmar Mall site is a huge success for our community," McDermott said. "Along with the Hammond Sportsplex, it will be a cornerstone attraction for the city and a strong economic development driver for additional development."
The YMCA's current location in Hammond at 7322 Southeastern Ave., serves 17,000 members each year. The site will stay open and offer different programing from the new YMCA. A needs assessment will be completed, according to the YMCA's website.
The new YMCA will continue its income-based scholarship program to make sure all who want to use the facilities can. More than 6,000 participants received financial assistance in 2019.