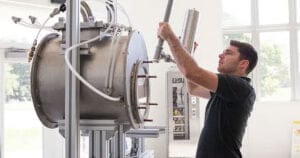 Carbon Solutions LLC has asked engineering students from Valparaiso University to help it develop tools to address climate change.
Michigan-based Carbon Solutions was awarded a two-year grant from the U.S. Department of Energy to find ways to incorporate solar energy into direct air capture units that remove carbon dioxide from the atmosphere.
"It is about as direct a project addressing climate change as you can get," said Luke Venstrom, Valparaiso University associate professor of mechanical engineering and Paul H. Brandt professor of engineering, in a press release. "It's about solving the problem that is the carbon dioxide already in the atmosphere."
Project manager and Valpo alumnus Jonathan Ogland-Hand, director of energy systems analysis at Carbon Solutions, thought the partnership would be beneficial for both organizations.
"Valpo has a lot of expertise in solar energy research. I thought it would be a great partnership," Ogland-Hand says. "The whole purpose of these machines is to take CO2 out of the atmosphere, so if you emit CO2 to get that energy, you're defeating the purpose. You need a carbon-neutral source of energy, and the sun is one of those."
James S. Markiewicz Solar Energy Research Facility researchers and students will help create models that use solar energy to power the capture systems. Carbon Solutions will then use the research to help businesses find the best places for the units and how to store the captured carbon.
The James S. Markiewicz Solar Energy Research Facility investigates ways to use sunlight for fuel and other commodities in a 200,000-square-foot facility, which features a solar furnace.