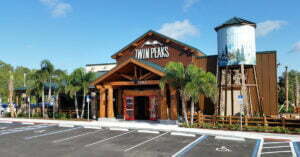 Twin Peaks sports bar will remodel the former Houlihan's restaurant in Schererville.
The Dallas-based company will open its third Indiana location after the remodeling of the 7,778-square-feet of space at 1550 U.S. 41 in the Fountain Park Shopping Center. Work will begin in the first quarter of this year.
"We are thrilled they see the same great opportunities NWI has to offer businesses as we do," said Myles Rapchak, vice president of Latitude Commercial in Crown Point, in a press release. The Crown Point-based commercial real estate brokerage represented the building owners in the deal.
Twin Peaks touts its bars as having a "lodge mantality" that features 29-degree in-house beers, wall-to-wall TVs and friendly customer service.
"We're proud of the work our teams put in to ensure that Twin Peaks stays at the forefront of the sports bar segment and the restaurant industry as a whole," said CEO Joe Hummel, who was named one of the most influential restaurant CEOs by Nation's Restaurant News readers in 2022, in a press release.
The company opened nine new lodges in 2022 and has signed four new agreements to add 26 U.S. lodges in 2023. Its menu includes burgers, sandwiches, flatbreads, tacos, wings, among other offerings.