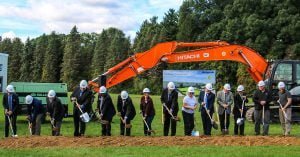 Sullair in Michigan City recently broke ground on a $30 million plant rehabilitation and expansion project that is expected to create between 30 and 40 new full-time jobs.
Representatives for the compressed air equipment maker, its parent company Hitachi and community leaders were at the firm's North American operations and headquarters for the ceremonial event.
"In our nearly 55 years of business, this $30-million-dollar investment is one of our largest – if not the largest – on record," Jack Carlson, chairman of Sullair, said in an announcement posted on the company's website. "Many call LaPorte County one of the 'compressor capitals of the world.' We are confident this investment helps ensure LaPorte County maintains this reputation for generations to come."
Michigan City Mayor Ron Meer expressed appreciation to the company for its investment in the community.
"This day demonstrates Sullair and Hitachi are putting down even deeper roots in Michigan City," he said. "We thank Sullair and Hitachi for providing 500-plus jobs to our community, on top of adding another 30-40 high paying jobs with competitive benefits and opportunities for progression upon completion of this project."
The expansion includes a new 80,000-square-foot manufacturing building, a canopied storage building and an additional parking lot for employees. The project also will reconfigure and optimize portions of the existing 280,000-square-foot manufacturing facility.
Construction was expected to begin this month and will create nearly 80 construction jobs with Tonn and Blank Construction, the company said.