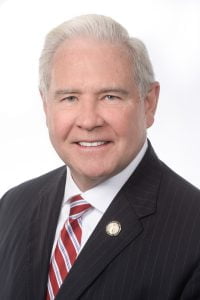 In the early months of 2020, Indiana appeared to be on a roll as far as the state's economy was concerned.
Indiana's jobless rate was 3.2% in March. State officials were riding a wave of optimism of ongoing economic prosperity after 2019 recorded 296 commitments from businesses to either locate or grow existing operations here.
Then growth came to a screeching halt as a global pandemic sparked by the new coronavirus grabbed the attention and resources of leaders worldwide. They sought answers about how to slow the spread of the disease, maintain order as well as public safety and set strategies to eventually resume daily life.
The hurdles facing state leaders in recent weeks amid the pandemic were not easy to overcome, according to Indiana Commerce Secretary Jim Schellinger. He was the featured presenter in an online address June 4 hosted by the Northwest Indiana Forum.
Schellinger commended Gov. Eric Holcomb for his leadership during the crisis and did not envy the burden Holcomb has shouldered.
"(Gov. Holcomb) is showing great strength and maintaining his image for all the tough things he's going through as governor," Schellinger said. "(The job as governor) is beyond speeches. He has to deal with a lot of stuff daily that's anything but glamourous, but that's the job."
Schellinger said decisions Holcomb has made regarding how Indiana should reopen after prolonged isolation were well thought out. They are based on input from assorted experts and medical data. The Back on Track Indiana plan, the state's process for businesses to reopen that Holcomb revealed May 1, was a collaborative effort, and has since drawn national and international praise, Schellinger said.
The plan offers guidelines on how businesses should reopen, as well as available resources to assist those requiring guidance.
"By in large, Hoosiers I think are (going) back to work so long as they feel they have a safe workplace and are given the time they need to adjust to the new normal," Schellinger said.
Throughout the crisis, daily activity continued at the Indiana Economic Development Corp., which Schellinger leads. He said IEDC has 119 business projects in its pipeline, and since Jan. 1, there have been more than 11,000 new job commitments from businesses around the state.
"(Gov. Holcomb) has said it's time for Indiana to go back on the offensive," Schellinger said as it relates to active business recruitment. "About 19 of these projects have been announced, but many haven't because the main concern recently has been over public health."
Schellinger did not offer specifics but noted several major new job creation announcements were coming soon, ranging between 150 and 1,000 new jobs, including some for Northwest Indiana.
The state recently announced spending cuts as the crisis led to reduced tax collections. Schellinger said the state's various business incentive programs are unaffected.
"In terms of our (economic development) toolbox, we're not cutting back our incentives," he said. Priority funding was given to business development as well as higher learning and K-12 education, Schellinger said.
Schellinger encouraged businesses seeking financial help to contact his office and take advantage of the various federal programs to aid companies during the pandemic. He referenced the Small Business Administration's Paycheck Protection Program and disaster loan programs as effective initiatives.
The state also recently revealed assorted programs, including the Small Business Restart Fund. The grant program for small businesses provides dollars to help with expenses, including rent costs as well as purchasing personal protective equipment for employees. It also launched the Economic Activity Stabilization and Enhancement program for manufacturers, which offers aid for new equipment and technology investments.
"We went into this crisis strong, and we will come out if it strong," Schellinger said.