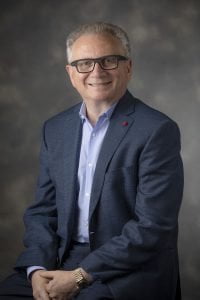 Dr. Sam El-Dalati joined Beacon Health System of South Bend as chief clinical officer.
El-Dalati will lead the organization's clinical excellence and quality outcomes initiatives for all inpatient, outpatient and physician office-based locations. He is a board-certified cardiothoracic surgeon and served as the chief clinical officer and chief network integration officer for the past 11 years at Bon Secours Mercy Health in Ohio.
El-Dalati earned his medical degree at the University of Bristol, United Kingdom, and a master's degree in health care from Cleveland State University.
Beacon Health System operates Elkhart General Hospital, Community Hospital of Bremen, Memorial Hospital of South Bend, Beacon Children's Hospital, Beacon Medical Group and Beacon Health & Fitness. It employs more than 7,000 people and 1,100 physicians.