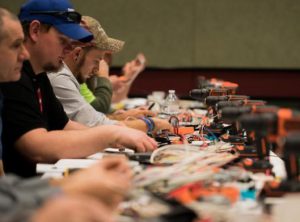 A new facility to train technicians to repair and maintain recreational vehicles in the heart of the state's RV manufacturing hub will host a grand opening event on Sept. 23.
The event is from 5 p.m. to 7 p.m. with a ribbon cutting scheduled at 5:30 p.m. at the RV Technical Institute 3333 MIddleburry St. in Elkhart. The institute was founded by the RV Industry Association.
The new 18,000-square-foot facility features seven classrooms and 10,000-square-feet of bay space for hands-on technical training for individuals and groups. It also features 17-foot ceilings to accommodate up to three RVs (depending on RV type), enough space for learning, and component training.
RVTI students will be attending their first week of classes beginning Sept. 23.
The center was built to help the RVIA meet its goal of improving customer satisfaction, the RV Industry Association said. Improved training for technicians can improve the RV consumer experience through reduced repair times and solve the RV industry's shortage of trained technicians.
A recent RVIA and RV Dealers Association Repair Event Cycle Time study found better-trained technicians reduces the time to get RVs repaired and back on the road for RVers to enjoy, enhancing customer satisfaction.
RVs are big business in Indiana, according to the RV Industry Association. The industry employed more than 14,000 people in the state, including manufacturers, suppliers and dealerships, with an estimated economic impact of $4.6 billion.