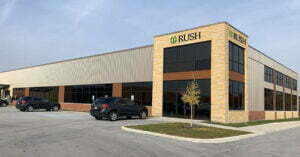 Rush University System for Health expanded its services in Northwest Indiana when it opened an outpatient center earlier this year in Munster.
"Rush Munster will bring outstanding patient care to Northwest Indiana, providing patients and communities with convenient access to Rush's nationally ranked clinical programs," said Dr. Paul Casey, chief medical officer at Rush University Medical Center, in a press release.
Casey said about 14% of the system's patients come from Northwest Indiana.
In September, Rush and the Franciscan Alliance also agreed to offer coordinated care at hospitals in Crown Point, Dyer, Hammond, Michigan City and Munster. The agreement also states that patients in Northwest Indiana can access Rush's latest clinical treatments.
"Our organizations have a shared goal of bringing the best and latest treatments to the communities we serve," said Dr. Omar Lateef, Rush president and CEO, in a press release.
Rush also partnered with Franciscan Health to provide thoracic surgery services in 2022, among other strategic partnerships.
Outpatient services at Rush Munster, 9200 Calumet Ave., include imaging, stress echocardiograms, X-rays, electrocardiograms and ultrasounds.