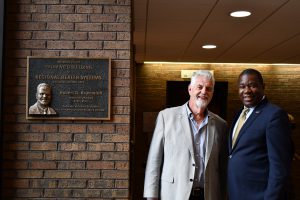 Robert Krumwied, the executive who consolidated Region mental health care services into a central organization, was memorialized by the group he helped form.
Regional Care Group in Merrillville honored Krumwied by renaming the Geminus building, the Krumwied building.  
"It is a privilege to honor a person who brought our community a revolutionary health care concept—that a person's mental, physical and social health are central to quality of life," said Terry Quinn, chairman of the Regional Care Group board of directors. "Bob united our focus on whole person health, and worked to create access to services that could not only help individuals recover from substance misuse or manage a mental illness, but also help them survive and thrive in life."
For more than two decades, thousands of Northwest Indiana families have received access through Geminus to affordable early childhood education opportunities, family social services and suicide-prevention and substance-use-prevention services. The not-for-profit formed in 1992 and was originally created as a management company for Northwest Indiana's two community mental health centers: Tri-City Community Mental Health Center and Southlake Center for Mental Health, now Regional Health Systems.
Krumwied, who on different occasions served as president and CEO of Geminus, also served as the president and CEO of Regional Health Systems, formerly Regional Mental Health Center, from 1989 to 2019.
"Bob wasn't afraid to take on the challenges of social health care programs," said Don Levinson, vice chair of the Geminus board of directors. "He believed that if we help ease the impact of mental health, addictions, health care or social issues in one person's life, it will impact the community surrounding the individual."
The organization credits Krumwied for leading the transformation from a management company to a community-based resource for social services. Today, the not-for-profit routinely employs more than 500 people for support services for federal, state and local governmental organizations. Services include Head Start, Early Head Start, childcare resource and referral services, community-based programs focusing on rental assistance, child abuse prevention, domestic violence intervention, substance-use and suicide prevention, case management, residential services and truancy prevention services.
Krumwied was recognized early in his profession and received the Distinguished Hoosier Award from Gov. Robert Orr, and the Sagamore of the Wabash award—the highest civilian honor presented by an Indiana governor—from Gov. Evan Bayh. Prior to joining Tri-City Mental Health Center, now Regional Health Systems, as CEO in 1989, Krumwied served as the acting commissioner for the Indiana Department of Mental Health.